Floating Wetlands in Lake Arthur - an Earth Week activity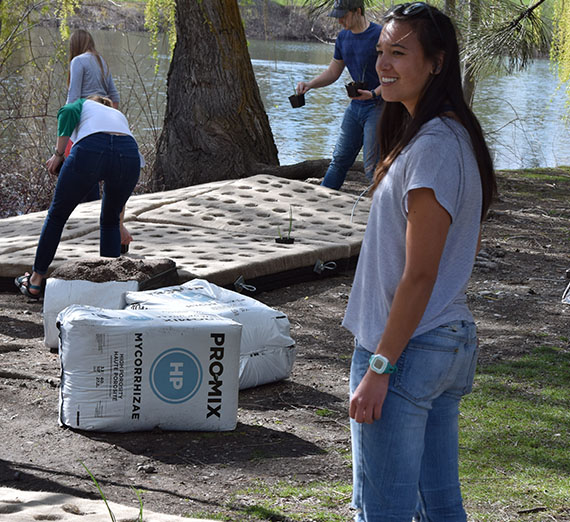 ---
As part of Earth Week, Gonzaga University environmental studies students installed two Biohaven floating wetlands in Lake Arthur on Gonzaga's campus April 21 to improve the lake ecosystem and provide a living laboratory for students.
The students invited the community to the event to learn about the initiative to plant native vegetation into the wetlands and to discover more about the history of Lake Arthur, an integral part of Gonzaga's campus that has the potential to become more than just a scenic landmark.
Greg Gordon, Ph.D., associate professor of environmental studies at Gonzaga, said the addition of the floating wetlands will reduce nutrient concentrations in the lake ecosystem and offer habitat for native wetland species.
"Lake Arthur has the potential to be a vibrant and thriving ecosystem in the heart of the city," Gordon said, noting that the floating wetlands installed offer a unique opportunity to explore innovative bioremediation techniques. A form of biomimicry, the two 100-square-foot wetlands will create a concentrated "wetland effect" that can remove excess nutrients as well as dissolved solids and organic carbon in the water.
"The wetlands being installed are big enough to have a large positive impact on the Lake Arthur ecosystem. This new technology is an exciting chance for students to explore new grounds in environmental stewardship," Gordon said.
Biomimicry seeks sustainable solutions to human challenges by emulating nature's patterns and strategies.
This event is but one step in an extensive plan to make Lake Arthur into a natural feature for the city. The Gonzaga community will develop informative signage, an expanded riparian zone, and much more.
"Lake Arthur can become a valuable educational and ecological resource for the whole