The Music Issue - Soulful Sounds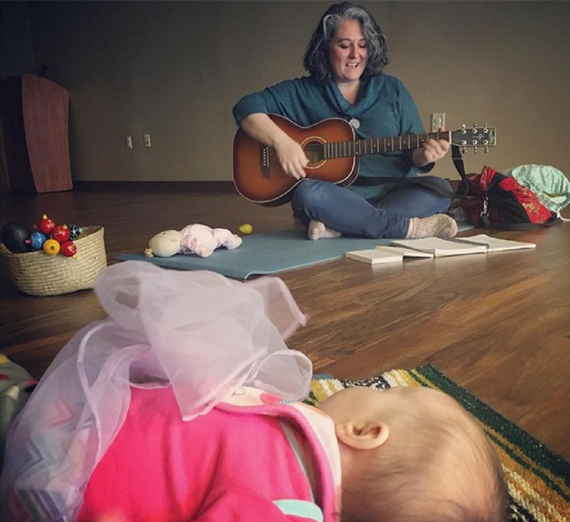 ---
By: Kourtney Schott '18

For many music majors, the often heavily traveled path after graduation is to become a music teacher. Without a doubt, Beth (Larson) Rousseau ('00) knew that tread wasn't for her.
Today, Rousseau is a 12-year board-certified music therapist who worked in private practice for a decade in Portland and now is director of Carroll University's Music Therapy program in Waukesha, Wisconsin. Here, she shares more about her story of becoming a music therapist and how its shaped her life.
What is music therapy?
Music therapy is an ideal career for someone who wants to marry a love of music with the Jesuit mandate to be a "person for others."
I use my own skills on guitar, piano and other instruments to help my clients make their own music with me, developing a therapeutic relationship that targets physical, emotional, cognitive and social needs. Together, we work on improving functional life skills, communication delays or other issues impacting their quality of life.
How did you learn about music therapy?
A standardized test at the counseling center suggested a possible career as a recreational therapist, which I knew nothing about. My curiosity eventually led me to music therapy, which then provided the inspiration for my honors thesis. A friend from Gonzaga told me about Naropa University in Boulder, Colorado, and I entered the Masters of Transpersonal Counseling Psychology program, which would allow me to become a masters-level counselor, as well as a music therapist.
How did you launch your career?
After finishing my degree, my husband (Chris Rousseau, '00) and I decided to move to Portland. There, I got in touch with Jodi Winnwalker, CEO and founder of Earthtones Music Therapy Services, who let me shadow her for three months. Once she knew I was a good match, she would let me subcontract. It really was the perfect situation because I was completing the board requirements for work in the field, but I was also getting paid to do it. Eventually, I became board-certified and worked for Jodi for another five years before starting my own small private practice.

What experiences have shaped your work?
After the birth of my first child, I suffered from postpartum traumatic stress, making a joyous occasion very upsetting. Because of this experience, I wanted to help mothers work on conquering their post-partum depression. I felt that this was my calling as a music therapist: to help women reframe their identity after giving birth and build a relationship with their new baby.
How did you land your current role at Carroll University?
My husband got a job in Wisconsin and I started my private practice there. One day at a birth event, I met a young woman who said her husband worked at a local university that was going to start a music therapy program. The very next day, her husband called me and asked if I would consider applying to be the director of the program. I laughed because the idea had never really occurred to me! However, it turns out that my years of experience in the field, combined with teaching experience in the Music Therapy degree program at Marylhurst University near Portland certainly made me a qualified candidate.
Needless to say, I took the position, and it has been beyond rewarding to watch the program develop and grow.
What's the best part of your work?
I always knew that whatever I did for a living would be oriented toward making the world a better place. As a music therapist, I do just that; I make people's lives brighter, improving their quality of life, at least for that day. Now working as an educator, I can take what I've learned and instill that into the next generation of therapists.
Read about other alumni careers in music.