The Music Issue - Powerful Language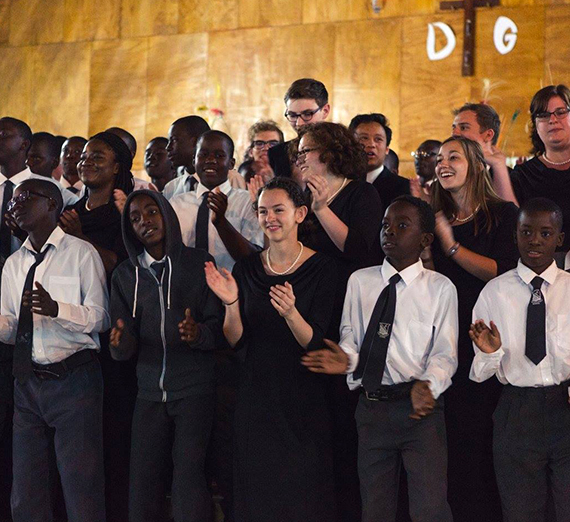 ---
Powerful Language
By Kourtney Schott ('18)
When we turn our gaze to other countries and cultures, we sense a seemingly endless list of differences: Language. Race. Behaviors. Expressions. Mannerisms. Dress. Hobbies. Food. Music.

Then there are the common threads that call us together: a parent's love, a child's laugh, the language of music.

Our very lives begin with music – the rhythm of our hearts beating in our chests. From that moment, music connects us to each other.

Crossing Borders
To invoke musical connection, the Gonzaga University Chamber Chorus participated in intercultural exchanges the past two summers.
In 2016, the group ventured to Colombia with a mission to exchange songs and dances. The group on occasion teamed with the Jesuit Javeriana University Choir from Bogotá and the community college choir in the town of Buga.
Among the broken strings of English and Spanish, there was a new community, one built on shared emotions, felt in the reverberations of the songs they sang and danced together. Happiness, despair, excitement, worry, love – the manifestation of notes on a page, air crossing the vocal chords.
Listen to the choir sing with their newfound friends in Colombia
The choir traveled to Zambia and Zimbabwe in 2017, where again they stamped their feet and raised their voices to new songs, with new connections.
Katie Kenkel ('17) saw the power in focusing on similarities. "The media often portrays Africa as foreign and exotic, but it's just a place where there are wonderful people living their lives and experiencing the same feelings we do."
Love, for example. And the power of communities made real through music. "Love is truly the most powerful thing on this planet," Kenkel says.
Bringing It Home
As with the complementary clefs on a music staff, real harmony comes when guests of one culture become the host for another.
This coming March, Gonzaga will host Director Ana Paulina Alvarez and 25 choir students from Javeriana University as part of the Center for Global Engagement's Visiting Global Scholar Program. In addition, the department welcomed its first Zambian music education student, Michel Kapwe Somwe ('20), who started as a student in January 2017. During the African exchange, students visited his home parish in Zambia.
Kapwe Somwe believes that music is one's identity, and that it gives people a common ground. "Music is more than something you listen to, he says, "it's a language, a connection, a powerful message you can share with the world."
Watch a video by former choir member Danny Chastain, who accompanied the choir to Zambia.
Cultural Celebrations, Here
"The focus in the arts today is on what makes us human," says Timothy Westerhaus, chair of Gonzaga's Music Department. "Music helps us understand why we are here and what we are supposed to be doing and how it relates to other people."
That's really the crux of the focus on intercultural expressions for the ensembles Westerhaus directs.
In addition to the exchanges in Colombia and Zambia, Chamber Choir students celebrate the opportunities to appreciate other cultures here in Spokane. It begins with performing traditional African American tunes and standing with the Black Lives Matter movement, and swells to moments held in solidarity with refugees.
During the last academic year, the Choir partnered with St. Mark's Lutheran Church to host a benefit concert for World Relief, at the prompting of Jackson Stiemel ('16), a choir alum who now works
at the organization that helps refugees adapt to their new lives in America. The event was an international festival of sorts, with musicians from Nepal, central Africa and Iraq participating. Ultimately, nearly $8,000 was raised to support the essential work being done to help welcome refugees to Spokane.
Westerhaus notes, "This is art for the sake of the betterment of our community – here and globally."