Monica Elenes: An Artist for Others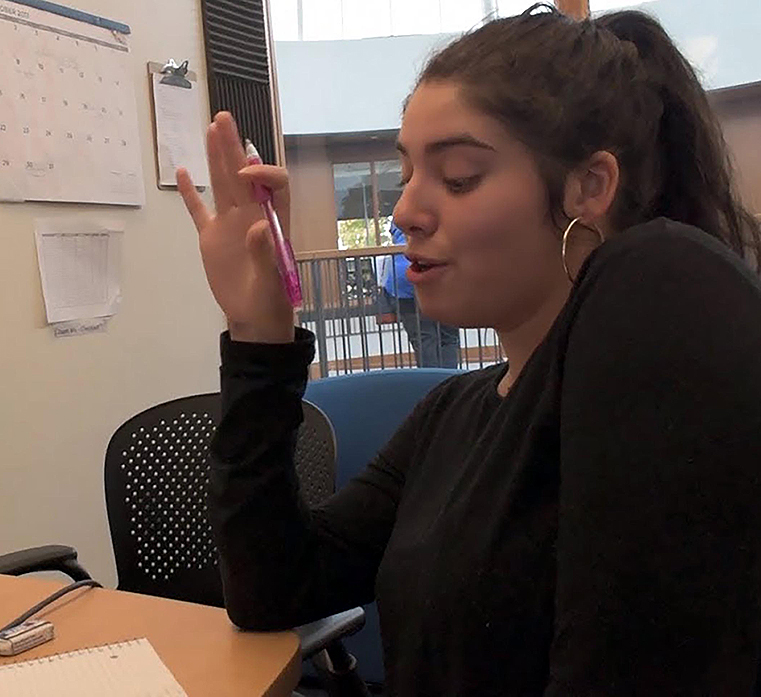 ---
By Megan Carroll
Class of 2018
SPOKANE, Wash. – Monica Elenes, a junior transfer student from Seattle, cannot imagine her life without melodies. Throughout her childhood, she sang in church, listened to hip-hop and music in Spanish with her family, and wrote songs with her older brother.

"I think I realized I could sing when I was nine years old. That was the first time my brother and I had written a song," she said. "I had to keep pursuing music and figuring out what it meant to be a singer."
Elenes is a Southern California-born and Seattle-raised daughter of Mexican immigrants who is proud of her heritage. Before arriving at Gonzaga University this fall, she attended South Seattle College for two years through its 13th Year Promise Scholarship, which offers underrepresented, first-generation and low-income high school seniors one free year of college. Recipients also receive close support and advising.
"It was a grind," Elenes added. "There was no stopping . . . it was incredibly difficult to get to where I am. But I don't take anything for granted."

Elenes received a transfer merit scholarship upon admission to Gonzaga and won a competitive Transfer Opportunity Scholarship. She also received a Washington College Bound Scholarship in addition to a Gonzaga grant and other financial aid.

Despite a rigorous school and work schedule, Elenes has made it a priority to serve as an "artivist" to support young hip-hop artists. She has considered tattooing the word on her body as a permanent reminder of her passions and aspirations.

"Social justice is the center of everything I do," Elenes said. "Regardless of what people think hip-hop is now, it's based in this culture of understanding that every day is a constant fight and music will help get you through it."

Gonzaga's commitment to social justice appealed to Elenes from the start of her college search. She admires the University's focus on "embodying and representing all groups in an equitable way," she said. During her two years at Gonzaga, Elenes aims to be involved with the Unity Multicultural Education Center, La Raza Latina, the Black Student Union, and other Gonzaga clubs.

As a sophomore at Cleveland High School, Elenes worked for the Seattle nonprofit Arts Corps, which promotes arts and education for low-income students and persons of color. Elenes offered her talents to two of its divisions: The Youth Speaks poetry collective and nonprofit student recording label Totem Star, where she "fell in love with music management and business."

In 2016, she collaborated with young musicians to write, produce and perform two original hip-hop tracks at the summer Hip-Hop Artists' Residency (now called The Residency), a partnership between Arts Corps, Seattle's Museum of Pop Culture, and hip-hop superstars Macklemore and Ryan Lewis. Performers produced a CD, and performed on KEXP-FM Seattle and at the museum's Sky Church.

At Gonzaga, Elenes is studying political science to better understand policymaking. In the future, she hopes to work as an advocate for arts education in public schools and equitable education for minority students.

"I want to learn how to make policies for the betterment of humanity," she said. "I want to fight for the equity of all humanity and what it means to be human."

In July, Elenes participated in the weeklong Arts Leadership Liberation Institute program through Arts Corps, where she helped young artists write original songs. From Spokane, she maintains connections with the Arts Corps community by answering questions and assisting young artists.

"It's those little things that I get to do to help the artists that are super inspiring and empowering," she said, beaming.