'Amen, Amen: Religion & Southern Self-Taught Artists' Exhibition Opens Oct. 4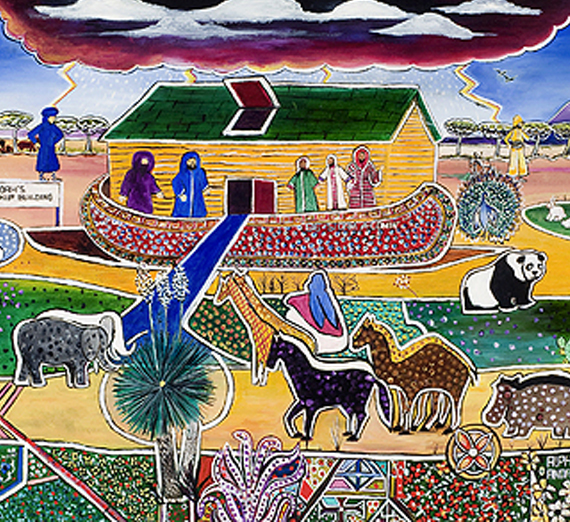 ---
SPOKANE, Washington – The exhibition "Amen, Amen: Religion and Southern Self-Taught Artists in the Mullis Collection," which features more than 100 paintings, drawings, sculptures and ceramics created by self-taught artists from the American South, opens Oct. 4 in Gonzaga University's Jundt Art Museum and runs through Jan. 10, 2015.
Organized by the Jundt Art Museum, the exhibition will be on display in both the Jundt Galleries and Arcade Gallery. A free opening reception will be held from 4-9 p.m., Friday, Oct. 3 as part of the Fall Visual Arts Tour and "Create Spokane," October's month-long celebration of local arts and culture. The reception will incorporate a special performance of music related to themes in "Amen, Amen," sung by the Gonzaga University Chamber Chorus, directed by Timothy Westerhaus, at 7 p.m. in the Jundt Galleries and amid the exhibition.
"Amen, Amen"offers a survey of selected objects from a single private collection in Atlanta with a focus on images with religious or spiritual subject matter. All of the more than 100 objects in "Amen, Amen" are borrowed from the collection of Carl and Marian Mullis.
"The Jundt Art Museum is extremely grateful to Mr. and Mrs. Mullis for their willingness to share their private collection of significant works by self-taught artists with Gonzaga and with the citizens of the Inland Northwest," said Paul Manoguerra, director/curator of the Jundt Art Museum. "The Southern artists in 'Amen, Amen' felt compelled, for visionary or didactic reasons, to create religious imagery, and the Jundt Art Museum at Gonzaga University is thrilled to present their images and artifacts in this special, large exhibition."
The exhibition features objects by Minnie Adkins, Howard Finster, Clementine Hunter, Tim Lewis, Sister Gertrude Morgan, J. B. Murray, Jimmy Lee Sudduth, Mose Tolliver, and many other important Southern folk artists. "Amen, Amen" will include a large selection of painted angels and devils by Georgia self-taught artist R. A. Miller, a regional celebrity who once decorated his farm with hundreds of whirligigs and other works. The sight of his vibrant property caught the attention of the Athens, Georgia-based rock group R.E.M., which in 1984, along with filmmaker Jim Herbert, chose Miller's home as the setting for their "Left of Reckoning" music video. The exhibition will also contain several examples of Southern face jugs, ceramics in the form of devils, created by Georgia, South Carolina, and North Carolina potters.
The exhibition deals with the significant Christian fervor and conviction of many of the artists in the display. The artists' stories and visions present personally meaningful and often edifying conceptions to give the viewer a sense of God's plan. Objects with religious themes created by Southerners unschooled in the art world and its academic institutions represent an essential part of our shared American visual heritage. "Amen, Amen" demonstrates these artists' collective and individual attempts to investigate visually and intellectually the nature of sin and suffering, the conflict of good and evil, and the mysterious workings of the supernatural and the divine in the world.
The collector, Carl Mullis, was born in Lancaster, South Carolina, and received a bachelor's degree in economics from Yale University and a law degree with dis­tinction from Emory University Law School. Mullis was an attorney with the U.S. Department of Justice before entering private practice in Atlanta. In 1994, he started collecting work by self-taught artists. Works from his collection have been shown in numerous exhibitions around the country, and he has donated many works of art to the Georgia Museum of Art, the High Museum of Art, the Michael C. Carlos Museum at Emory University, and the Yale University Art Museum. He and his wife live in Atlanta.
"It is timely for Gonzaga University and the Jundt Art Museum to host this important exhibition, curated by Paul Manoguerra," said Elisabeth Mermann-Jozwiak, dean of Gonzaga's College of Arts and Sciences. "As a Jesuit, Catholic, and humanist university, Gonzaga recognizes the role of all forms of human creativity, along with intelligence, in the construction of society and in the promotion of cross-cultural understanding."
"Amen, Amen" will be accompanied by a 64-page, full-color exhibition catalogue featuring an essay by Manoguerra, a record of conversations between Manoguerra and the collector, and numerous illustrations and a checklist of the religious and visionary objects in the exhibition. The catalogue will be available at a retail price of $20.
The exhibition and publication are supported in part by the museum's Carol Albright Publication Fund and the donors to the museum's 2013-14 and 2014-15 annual campaigns.
A free public exhibition tour with Manoguerra, director/curator of the Jundt Art Museum, will begin at 10:30 a.m., Friday, Oct. 10. The Jundt Art Museum invites scheduled free staff- or docent-led tours of "Amen, Amen" for school, community, and church groups. For tour information please call (509) 313-6613 or email Karen Kaiser, curator of education, at kaiser@gonzaga.edu.
The museum's exhibitions are always free and are open to the public Monday through Saturday, 10 a.m.-4 p.m. The museum is closed Sundays and University holidays. For exhibition times and general museum information, please call (509) 313-6843 or visit the museum online at www.gonzaga.edu/jundt.