Road to GU's 125th Anniversary: A Look Back at 1887-88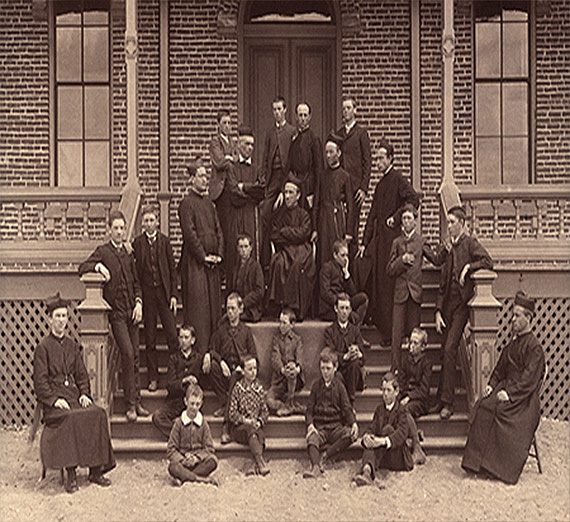 ---
By Stephanie Plowman
Special Collections Librarian
SPOKANE, Wash. — Gonzaga College officially opened on Saturday, Sept. 17, 1887 with a total student body of seven boys. At the time, Spokane Falls included 7,000 residents, 18 churches, seven schools, and 25 saloons. The Mass of the Holy Ghost was offered that first day to implore God's blessing on the enterprise. Enrollment might have been higher but Gonzaga only admitted boarding students. Everyone involved in the school — students, and faculty alike — were housed in one building.
In the summer of 1887, before Gonzaga opened, its Jesuit administrators sent out a small prospectus describing Gonzaga College, its purpose, and admission requirements and fees. Within a few weeks, three students arrived several weeks before school was to begin. A Jesuit Scholastic was assigned the role of looking after them.
In 1887, Gonzaga's tuition and room and board totaled $250 for the 10-month academic year. By the end of the first year, 20 students were admitted under the requirements that the male students be able to read, write, and be at least age 10. According to the handwritten enrollment register for 1887-1888, the students ranged from ages 10-17 and were from Spokane Falls, Seattle, San Francisco, and Great Falls, Mont. All students were required to stay on campus — even during holidays, including Christmas. According to the first catalog, President Rev. James Rebmann S.J. was part of the teaching faculty of eight; other Jesuits in training helped care for the students.
Upon admission each boy had to take an achievement test to determine his standing in one of the two divisions: Higher Class and Lower Class. One of the most serious problems for faculty was the students' wide range of academic abilities. As a result, rigorous supervised study was enforced to help students.
Students could go to town only with the permission of either their parents or the prefect. Such visits were generally discouraged by the administration; if permitted, a prefect was required to go along —and for good reason. The only bridge across the Spokane River was at Post Street. Students lived a Spartan life: waking at 5:30 a.m., and prayers and lights out at 8:30 p.m. Sunday was the only day without classes.
Winter's first cold weather brought widespread discomfort for students and Jesuits. One major problem was freezing of the water pump. Students had to fetch icy water from the Spokane River and chopped the ice with an axe. When the dry firewood gave out, green wood had to be burned for cooking and heating.
In May of 1888, Gonzaga held its first picnic ever for students and faculty. Two large farm wagons carried the boys to a location about 7 miles away; the faculty traveled on horseback. For St. Aloysius Gonzaga Day on June 21, Gonzaga founder Rev. Joseph Cataldo, S.J. offered the eulogy.
On June 28, after final examinations, the first commencement exercises were held in one of the large study halls of the Original College Building. No diplomas were handed out as no one had completed a degree. The program opened with a violin solo by Robert Monaghan followed by the performance of several elocution pieces, and concluded with the "premiums," awards for academic excellence.
By year's end, total enrollment dipped to 18 students, and the Jesuits viewed Gonzaga's first year as successful.
As President Rebmann aptly stated at the end of his closing address, which was published in its entirety in the Morning Review the following day: "Bright then, though our future be, it cannot be more bright than we wish it. But be it ever so bright, ever so blessed by the Almighty, we will not forget nor cease to revert with pleasure to the dawn of our day, the starting point of all our prosperity, our first year of Gonzaga College."