Alumnus Nate Higgins Competes against World's Best Swimmers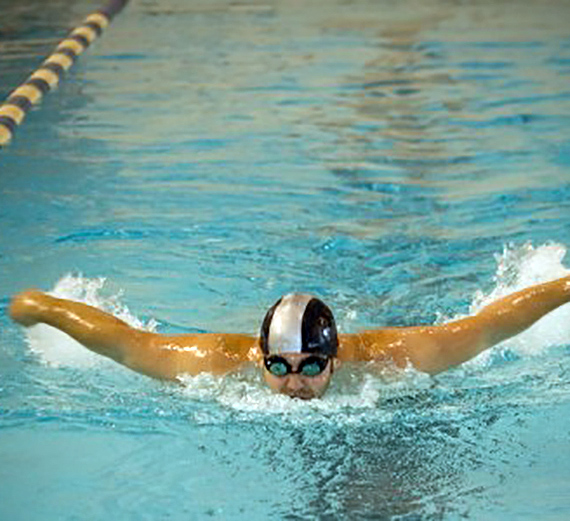 ---
By Peter Tormey
SPOKANE, Wash. — Gonzaga alumnus Nate Higgins ('09) is paralyzed from the waist-down from a tragic accident in 2004 after his senior year at Richland (Wash.) High School. His habits of heart and mind have transformed him into a person for others, and a world-class athlete.
A fierce competitor in athletics before the accident, Higgins refused to believe doctors who said he'd never compete again. Higgins threw himself into swimming — first as a therapy and ultimately as a source of personal triumph. Swimming has given Higgins an opportunity to help other disabled athletes while inspiring many others through his swimming, public speaking and mentoring of youth.
He was selected to represented the United States in the 2011 Parapan American Games (Nov. 19-27 in Guadalajara, Mexico). Higgins is ranked among the best in the world in several events. He is in Guadalajara preparing for competition next week.
Higgins said he is enjoying his time at the Parapan American Games and appreciates all the support he has had over the years from the Gonzaga community. Higgins notes he is nervous but mostly excited to represent the United States in the competition.
"I look at this as a once-in-a-lifetime opportunity," said Higgins, whose story of overcoming adversity to become a role model is detailed in the video created by Gonzaga University News Service, titled "The Nate Higgins Story."
"When I look at the incredible difference swimming has made in my life, a medal would be a simple bonus," Higgins said. "I think Jesse Owens said it best: 'What is a gold medal? It is a trinket, a bauble. What counts my friends are the realities of life. The fact of competition, and yes, the good and the great friends we make.' I can honestly say there is no way I would have graduated from Gonzaga if it hadn't been for swimming. It is very difficult to put into words the difference that swimming has made in my life."
No matter how he fares in the Parapan American Games, Higgins said he will always remember the journey matters most.
"It was that journey that taught me self-discipline, mental toughness, focus, and helped me piece together my life after sustaining a life-altering injury," Higgins said.