Projects Class a Blend of Ideas and Experiences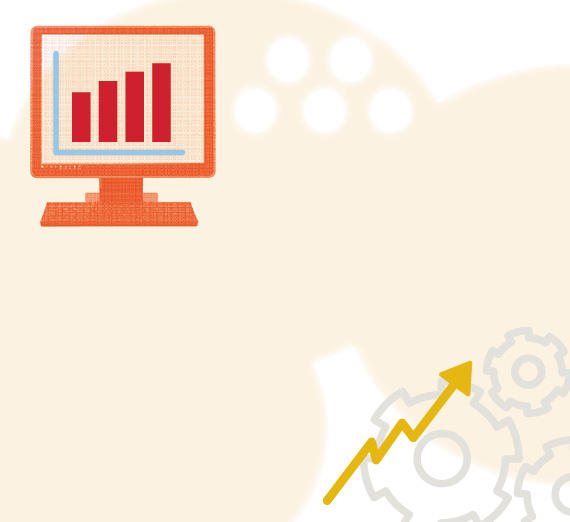 ---
After a semester of research and preparation, a team of business students walked into the Hogan Board Room to present the culmination of their hard work. They expected to see their classmates and a few company stakeholders representing their client, Washington Trust Bank. To their surprise, the room was filled with senior executives eager to hear their ideas.
The students' presentation on the bank of the future and gamification (adding the mechanics of digital games into a nongame environment) was a huge success — just one example of the many projects championed by students in the School of Business multidisciplinary action projects class.
Here's how the 15-week course goes each semester. Students separate into small groups and pair with a business looking to utilize student talent. Not restricted to business majors, the class may include students from many disciplines who often work on projects outside their area of study. Each semester is different. Past and current projects include: developing marketing plans for nonprofits; creating diversity and inclusion best practices for businesses; getting products to market; aiding recruitment campaigns; and creating cost analyses. Guest speakers and community member feedback supplement the project work throughout the semester.
"The future of the course is bright" - Ken Anderson, Professor & Dean
The only test is adaptation
Ken Anderson, dean of the School of Business Administration and professor for this projects class, created it in 2014 after he received a variety of inquiries for student help on projects. He began gathering the requests and brainstormed a way to assist the organizations and give students the opportunity to get hands-on experience in the community.
Colleagues Maureen Duclos and AJ Hawk serve as instructors who also coordinate every detail, from vetting projects to arranging guest speakers and connecting with
students.
Unlike most courses, the projects class provides little structure and a lot of ambiguity. Anderson's favorite part is watching student teams face the challenges, adapt and ultimately succeed with this new style of learning.
"By the time a student gets to that class, assuming they're from the American education system, they've probably had 17 years of education and a lot of that has been spent figuring out what's going to be on the test," Anderson said.
There are no tests in the course – just real-world scenarios with real complications to address. Students work with clients for understanding and guidance, gaining insights into the types of obstacles they may need to address in their own careers.
The class draws on everything students have learned in the classroom up to this point. It requires flexibility and growth, as finance students work on marketing projects and HR-concentrations study financial spreadsheets.
Besides being educational and experiential, it also gives students something to reference during the job search. It's a necessary resumé booster when students graduate and compete against thousands of other qualified new graduates.
"You're going to get a success story, and you're going to gain a strong network," Anderson said.
"I was blown away that they took the initiative to research multiple stakeholders. Every time students impress me, I want to see if I can help them." - Jeff Brown ('94)
An alumnus of the Gonzaga School of Business, Jeff Brown ('94), has been involved with the class since 2015. The CEO of Mivation, a company that uses recognition and gamification to motivate personal improvement, Brown still remembers the student project team that
worked with him one semester.
"Every time students impress me, I want to see if I can help them," he said. He offered them internships at his company, and had them present their ideas to the CEO of Salesforce for higher education. Over the years, students have been able to aid with a variety of important community projects. One of the class's first projects was helping Second Harvest plan and build a kitchen in the back of its warehouse. The kitchen has been used since for free community cooking classes where Second Harvest teaches how to prepare food and cook at home.
One project challenged students to organize and develop a coffee kiosk at Spokane City Hall. Students partnered with the Arc of Spokane, which employs people with developmental disabilities to build skills and gain confidence. In another endeavor, students started a restaurant that would teach young people work and communication skills. In total, Anderson's classes have supported more than 45 nonprofit and for-profit organizations.
Unlimited Possibilities
"We stood as consultants for a small-business owner," says Liz Hogan ('22), a business administration major with a concentration in marketing. "After taking this class, I feel like I have a better idea of what I may experience in a career. I learned problem-solving skills with a hands-on approach."
"The class is unique and will be one that I will carry throughout my career." - Liz Hogan ('22)
"The future of the course is bright," says Anderson. "We see opportunity to develop more options that are specific to a variety of business disciplines, and to make them available to more students."
Duclos agrees. "This is a place where our wonderful business partners, our fantastic alumni, and our students come together. We are continually on the lookout for new project ideas with the school's alumni and supporters — even those outside the Spokane region, thanks to available technology."

Consider that an invitation to be part of educating the next business leaders.
Want to connect students to real-world work with your business? Email us!
Did you know? The School of Business Administration is 100 years old.