Zag MacDaniel Graff Keeps on Sunny Side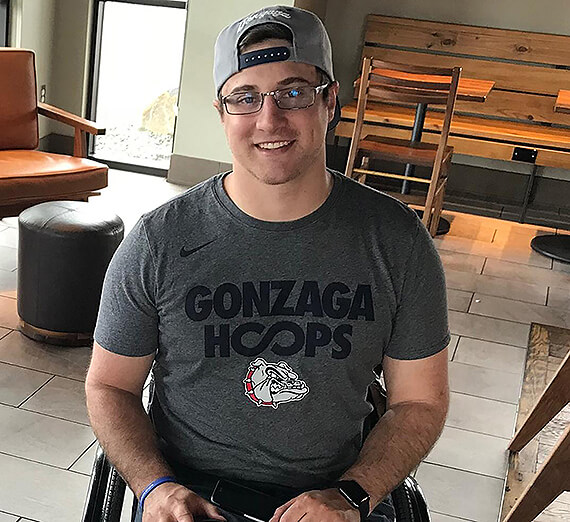 ---
SPOKANE, Wash. — MacDaniel Graff, a junior studying sports management at Gonzaga University, was paralyzed from the waist-down in an accident four years ago, but that has not kept him from his love of sports. The former three-sport athlete with a penchant for focusing on the sunny side of life stays close to the action as a manager for the Zags.
Graff, who competed in basketball, football and baseball in high school, had played in the first two football games of the season before the accident that forever changed his life — a weekend hunting trip near his home in Pasco, Washington.
"It was just a regular day going hunting and I ended up falling out of the tree that night. I was fifteen feet in the air (in a hunting blind) and I lost balance, fell out, broke my back and was paralyzed from the waist-down," Graff said.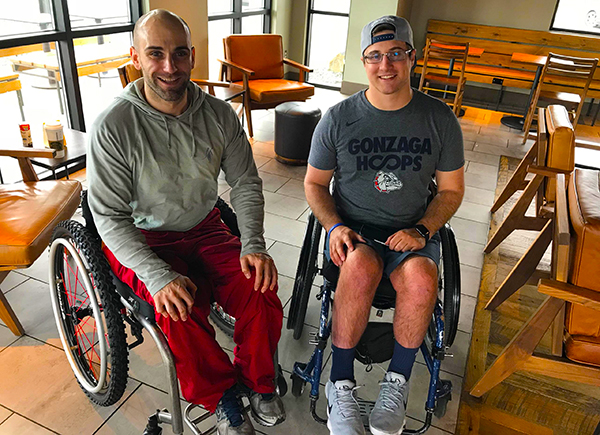 After spending a month at St. Luke's Rehabilitation Institute in Spokane, Graff returned home to help his teammates on the Chiawana High School football team with drills. Six months after the accident, he competed in track and field for his high school against other paralyzed athletes through the Washington Interscholastic Activities Association — throwing the javelin, discus and shotput from his wheelchair.
Graff, a recipient of Gonzaga's Joseph C. Metcalfe Memorial Scholarship, continues to participate in sports including wheelchair basketball, golf and hunting.
Graff became one of seven managers for the Zags last year after his uncle Dan Monson — Gonzaga's former head men's basketball coach who now is head coach of Long Beach State — encouraged him to do so. Graff says he has enjoyed his role, and says it's been a real blessing to get to know the players and coaches. In practices, he assists with passing, rebounding, and runs the clock. During home games, he tracks statistics.
Nate Higgins, a 2009 Gonzaga alumnus also from the Tri-Cities who was paralyzed from the chest-down in an accident, has stepped up to mentor Graff. An avid athlete who represented the United States in the 2011 Parapan American Games, Higgins helped connect Graff with further resources — including a $12,000 scholarship from the Swim with Mike Foundation, which helps physically challenged student-athletes nationwide.
Higgins said he was thrilled that Graff received the scholarship.
"We love athletes with disabilities because, in athletics, you have to show resilience and obviously Mac has that component. He's a competitive guy and he works hard," Higgins said.
Graff first learned about the scholarship as a junior in high school. Higgins' father, a substitute math teacher, suggested he apply. He met Nate Higgins last year.
Higgins said the foundation views a scholarship as a gift that continues to generate goodwill over a lifetime as recipients also help the next generation of student-athletes.
Through their injuries and thanks to that spirit of service to others — a pillar of Gonzaga's mission — Higgins and Graff have formed a special bond.
"Nate has been great to me in helping me get that scholarship and he's someone I can go to for guidance and someone I can talk to about anything," Graff said. "He's just an all-around great guy and someone I look up to."
Above all, Graff said he hopes his story will help inspire people to look on the bright side of life and remain positive — no matter our individual struggles.
"I want people to see me and be like 'Wow he's got a positive attitude, positive outlook on life,' and when they see me they can look at me and just have a better day," said Graff.