Gonzaga Welcomes New Dean of Leadership Studies: Jeff Borden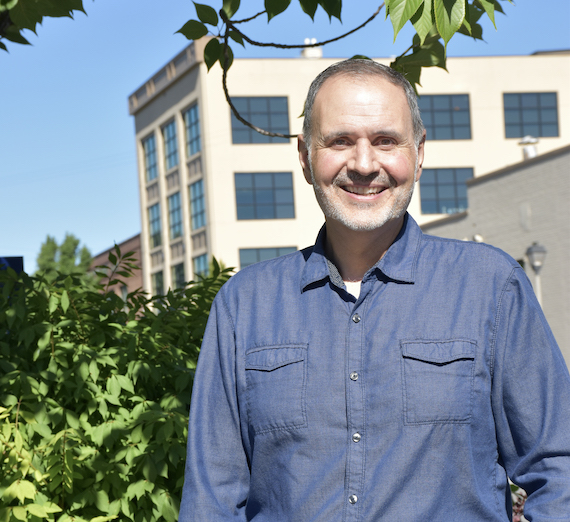 ---
Gonzaga welcomes a new dean to its administrative staff this fall: Jeff Borden, School of Leadership Studies.
Borden most recently served as vice provost of learning experience at southern California- based National University supporting deans and faculty in program development, instructional design, market analysis and pedagogy in online programs.
Spirit asked GU's new dean a little about himself to better acquaint you with him.
Q: Where did you grow up?
A: I was born in Dallas. My dad was going to Dallas Seminary at the time, and Roger Staubach, the Cowboys' legendary quarterback, was on the school's board. I'm told the first visitor to my mom's room was Roger Dodger with an autographed picture for me, which now hangs in my office. While I've spent time in Texas, Florida, California and now Washington, I've spent most of my life in Denver. Part of why I'm drawn to Spokane is that it feels like a smaller version of Denver (but without the traffic!).
Q: What do you like to do for fun?
A: I'm an avid disc golfer. In fact, I'm nationally ranked. In 2006, I took 18th at the World's competition. It's fun to have started playingasportlongbeforeitsstatusasthe fastest-growing sport in the world over the past decade. (http://pdga.com)
Q: If you could meet anyone for the first time, who would it be?
A: I'm reminded of the old punchline – "I think I'm supposed to say Jesus, but I'm going to go with Jon Stewart..." I partially paid my way through my M.A. in Communication as a stand-up comedian. I absolutely love stand- up and improv, and I go to shows as often as I can. I love how Stewart straddled the line of comedian with thought leader and how his no-holds-barred,equal-opportunity-offender persona has held some national leaders accountable over time.
Q: What do you like to read?
A: My non-fiction reading has largely involved learning, innovation, systems thinking, leadership and strategies for vision/mission for the past decade.But I also typically have a fiction book on Audible, too; I'm a fan of thrillers and suspense novels.
Q: What's your favorite thing about the greater Spokane area so far?
A: I first started learning about Spokane when visiting my sister who graduated from Whitworth 20 years ago. I have always liked the similarities between here and where I grew up. The mountains are super close, the summer mornings and evenings are cool enough for walks, there are both new and old neighborhoods for whatever your preference, and you can enjoy just about any outdoor hobby you'd like!
Q: Would you like to share anything about your family?
A: My wife and daughter mean the world to me. My wife has taught me more about life than any human I've ever known and I'm grateful for her patience and support over 20 years. Our daughter was truly a miracle baby – happy to share that story if anyone is interested – and she is growing into a young woman with a really funny personality, a care for others, and spunk like I wish I'd had at her age. She found Gonzaga's website for nursing about 18 months BEFORE this job was even posted. GU has been Addie's #1 choice for two years. So, guess who my biggest supporter was during the interview process?
Q: What is your biggest professional hope or goal for this coming year?
A: This year, I am working to 'sit in the tensions' with others. In many cross- institutional conversations, I am listening to Gonzaga people express thoughts, point to values, or explain actions taken at GU. Sometimes those thoughts, values or actions conflictwithothersattheinstitution.Ifirst want to try and get those stakeholders together and find out why there are discrepancies or incongruencies. Then, my past experiences suggest some of those discussions will provide fertile ground for opportunity to grow and transform.
Gonzaga's School of Leadership Studies creates, educates, and supports leaders across a diverse spectrum of professions and vocations.