Graduate Accounting Students of the Year 2023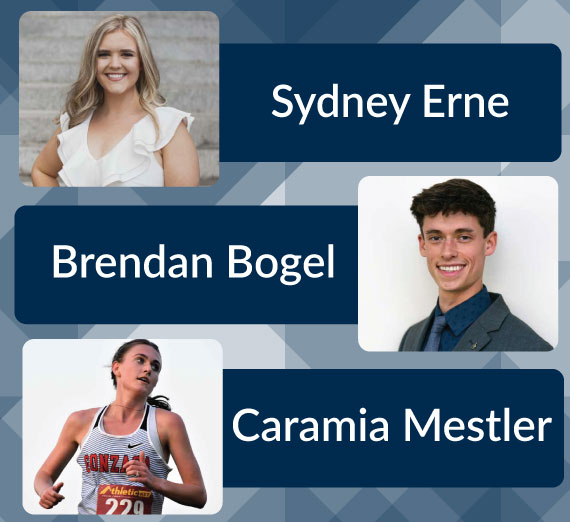 ---
The Graduate Accounting Department has conferred awards on three of this year's most high-achieving students pursuing their masters degrees. These students are recognized not only for their dedication to their education and expanding their career potential, but also to Gonzaga's mission.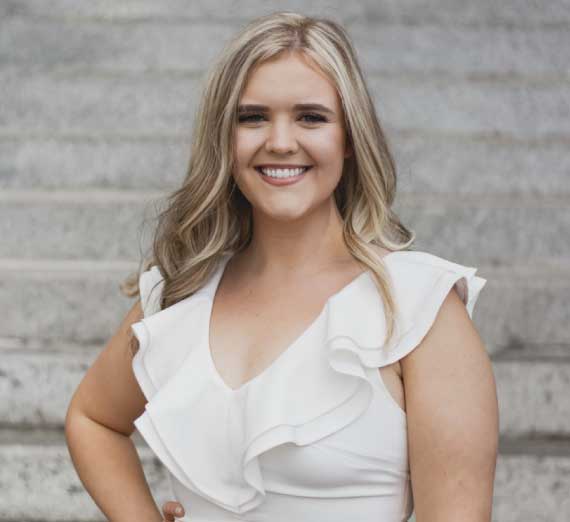 Sydney Erne
Master of Accountancy
Student of the Year
Sydney Erne, a Boise Idaho native and accomplished student in the Master of Accountancy program, is ready to begin a rewarding career in Environmental, Social, and Governance (ESG) Accounting. Joining Deloitte as an Audit Sustainability Assistant in the Seattle office, Sydney's journey at Gonzaga University has equipped her with the technical knowledge and interdisciplinary skills necessary to thrive in her field. Throughout her academic pursuits, she has expanded her network, collaborated with faculty members on impactful projects, and fostered a passion for global exploration.
As Sydney prepares to begin her career in ESG Accounting, she acknowledges the invaluable preparation provided by her bachelor's and master's degrees at Gonzaga. The University's comprehensive curriculum has equipped her with a strong foundation in accounting principles, while specialized coursework in sustainability and ethics has deepened her understanding of the importance of corporate social responsibility. Sydney's academic journey has positioned her as a future leader in integrating sustainability practices into financial reporting and decision-making processes. Sydney's time at Gonzaga has not only nurtured her academic growth but has also fostered meaningful connections. Collaborating with fellow Bulldogs and esteemed professors, she has engaged in various projects that have expanded her network and enriched her educational experience. Through these collaborations, Sydney has gained exposure to diverse perspectives and honed her teamwork and communication skills, further preparing her for a successful career.
One achievement that stands out as a source of pride during Sydney's master's degree program was the completion of a comprehensive 50-page thesis paper. Combining the fields of accounting, sustainability, and ethics, her interdisciplinary research demonstrated her ability to integrate these disciplines to address real-world challenges. Working closely with faculty members, Sydney explored the intersection of sustainability and accounting, further enhancing her expertise in ESG Accounting and opening doors to a wide range of career opportunities.
Beyond her academic pursuits, Sydney possesses a deep passion for exploration. Whether diving into captivating books, embarking on invigorating hikes, or immersing herself in different cultures through travel, she seeks personal growth and new experiences. Her diverse travels across three continents and over ten different countries have broadened her perspectives and enriched her understanding of global issues, providing a unique lens through which she approaches her future career.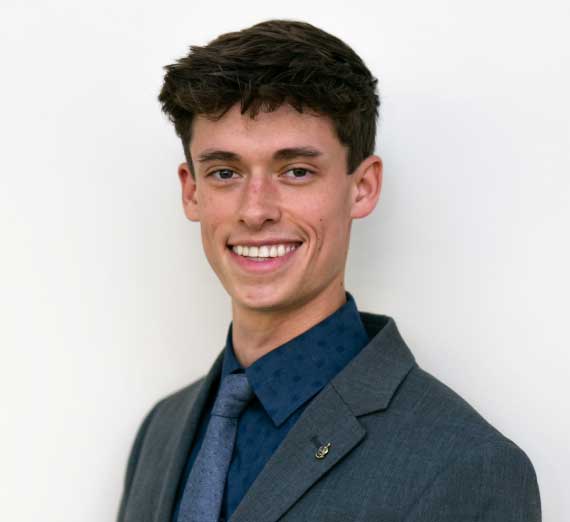 Brendan Bogel
Master of Science in Taxation Student of the Year
Brendan Bogel is a standout in the Master of Science in Taxation program. He will be embarking on a promising career close to his hometown of Bellevue, Washington. Set to join Deloitte's Seattle office in the Business Tax Services Group, Brendan's time at Gonzaga University has equipped him with a deep understanding of tax law and positioned him for success in public accounting. The program's comprehensive curriculum has equipped Brendan with the necessary skills and expertise to navigate complex tax regulations and provide valuable insights to clients. As he prepares to join Deloitte's Seattle office, Brendan feels confident that his time at Gonzaga has positioned him for success and paved the way for a rewarding professional journey.
When he's not reading the Internal Revenue Code, Brendan pursues his passion for fitness. Whether hitting the gym, going for a run, or engaging in the fast-paced sport of ultimate frisbee, he finds fulfillment in maintaining an active and healthy lifestyle. Brendan's commitment to physical well-being reflects his discipline, determination, and ability to balance multiple aspects of his life.
While the Master of Science in Taxation program has provided Brendan with a wealth of knowledge and professional opportunities, it is the friendships and connections he formed at Gonzaga that hold a special place in his heart. Throughout his time at the university, Brendan fostered lifelong friendships, building a strong support network that extends beyond the classroom. These connections not only enrich his personal life but also contribute to his overall growth as an individual and future professional.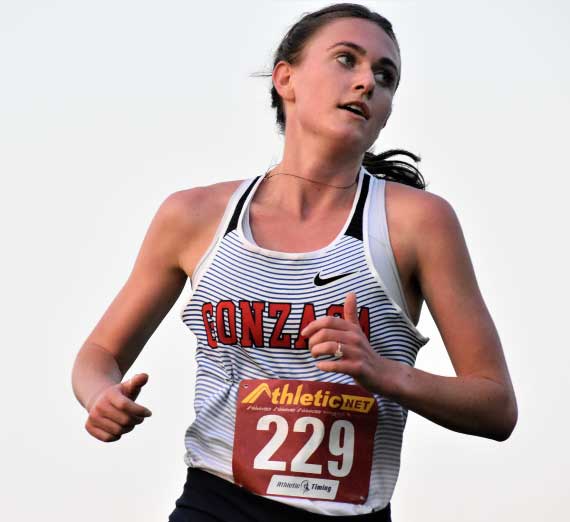 Caramia Mestler
Master of Science in Taxation Student of the Year
An exceptional student in the Master of Science in Taxation program, Caramia is set to embark on an exciting journey in the summer of 2023. As she prepares to relocate to Portland for a new job at KPMG and studies for the CPA exams. Amidst these exciting endeavors, Caramia will also be celebrating her wedding in July. Adding a touch of serendipity to her life, Caramia shares a unique bond with her fiancé—they have the same birthday—serving as a reminder of the joy and synchronicity that life can bring.
Caramia's time at Gonzaga University has been filled with remarkable achievements, from her impressive athletic endeavors to her role as a Graduate Assistant. Alongside developing her technical tax skills, she has actively engaged in professional networking, paving the way for a successful and fulfilling career.
Caramia's journey at Gonzaga University has been nothing short of extraordinary. While pursuing her Master of Science in Taxation degree, she managed to excel in various aspects of her life. Notably, she competed on Gonzaga's cross-country and track teams, even setting a school record in the indoor track 5K. Balancing her rigorous academic workload, training, and preparing for her wedding demonstrates her exceptional time management and determination.
In addition to the technical tax skills she acquired, Caramia recognized the significance of building a strong professional network. Gonzaga University provided her with ample opportunities to connect with industry professionals, allowing her to forge valuable relationships that will benefit her future career. Through networking events, guest lectures, and mentorship programs, Caramia expanded her professional connections, opening doors to potential internships, job opportunities, and ongoing mentorship.
Curious about Gonzaga's School of Business Graduate Programs?