Gonzaga Becomes Cristo Rey Network National University Partner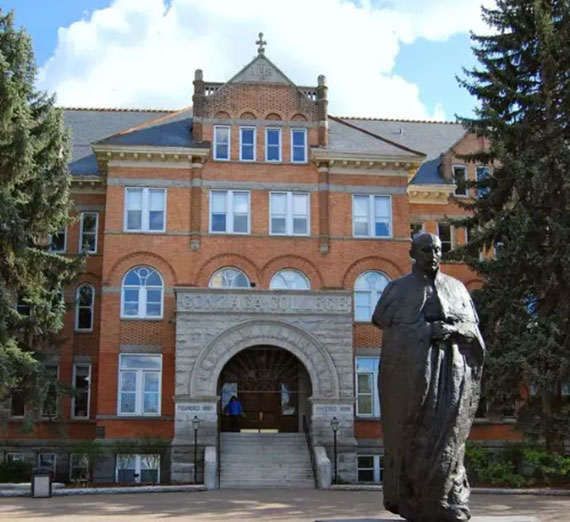 ---
The Cristo Rey Network announced that Gonzaga University has been named the movement's 73rd University Partner with a commitment to educating and supporting Cristo Rey students on their path to achieving a bachelor's degree.
Gonzaga University, a Jesuit, private liberal arts institution, prepares students to become leaders embracing curiosity, courage and conviction based on the centuries-old Ignatian model of educating the whole person. It has joined a community of 21 Jesuit universities within the Cristo Rey Network University Partner Program. The addition of Gonzaga's Catholic, Jesuit tradition strengthens the Network's efforts to partner with colleges and universities that offer Cristo Rey students faith-based postsecondary options as they pursue their education and career aspirations for a lifetime of success. With a continued faith-based education, Cristo Rey students, nationwide, will pursue their aspirations for a lifetime of success.

"We are honored to be included among other reputable institutions as a University Partner with the Cristo Rey Network and the students they serve," said Thayne McCulloh, president of Gonzaga University.
"Gonzaga's mission is to educate students for lives of leadership and service for the common good. We are proud to welcome graduates across the esteemed Cristo Rey Network to join our campus, scholarship, and community."
With 95% of recent graduates (Class of 2022) employed, attending graduate school, or volunteering, Gonzaga's proven student outcomes demonstrate strong alignment with Cristo Rey Network's mission to prepare students for meaningful careers post-college graduation. For the fourth consecutive year, Gonzaga ranks among the top 100 National Universities by U.S. News & World Report.

"As we expand Cristo Rey Network's footprint to Seattle in 2024, we see immense opportunities with Gonzaga for future generations of graduates," stated Stephanie Arias, vice president of College Initiatives at Cristo Rey Network. "With small class sizes and a rigorous curriculum, Gonzaga will be the catalyst to propel our graduates towards academic excellence and to serve their communities."

Gonzaga's mission to educate leaders for the common good through the creation of a diverse and inclusive community further strengthens opportunities for Cristo Rey students to find a cultural fit as they explore their college options. For Cristo Rey students, many of whom are first-generation college students, Gonzaga's addition as a University Partner option will help them make a seamless transition to college life.

To learn more about Gonzaga University and the Cristo Rey Network University Partner Program, visit cristoreynetwork.org.
Learn about the Cristo Rey Network