Mystery Zag - Dr. Kay Nakamaye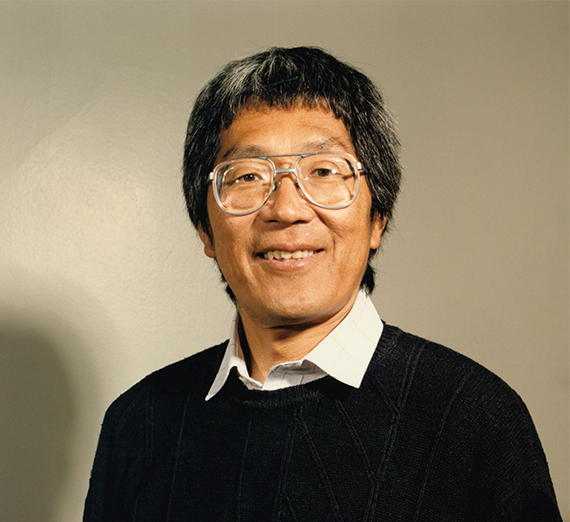 ---
Our Mystery Zag from Spring 2023
Doc Nak, as his students affectionately called him, inspired and taught two generations of medical professionals – doctors and researchers in nearly every aspect of medicine. He engaged with his students in and outside the classroom, as their teacher, trusted adviser and confidant, and fellow athlete on their intramural teams. He was cherished as a teacher who would help students create their own ways of solving problems through critical thought process, not merely by memorizing content. It was easy for students to see he loved what he did, and they loved him. He also was a highly regarded mentor to fellow faculty members, not giving them his answers but helping them to see their options. An avid rock climber and bicyclist, Kay continues to reside in Spokane with his wife, Barbara.
Readers Respond
Kathleen Regele ('74) | Philadelphia
I declared as a chemistry major before even coming to Gonzaga because my high school teacher had ignited for me a passion for chemistry. Dr. Nakamaye was a tremendous teacher who could open your eyes to difficult concepts, and he was approachable and fun! My class of chemistry majors was small and I was the only woman. Dr. Nakamaye encouraged me throughout my four years. I remember the day I asked him for some advice on a topic for my senior chemistry thesis. Without a moment's hesitation, he said, "Vitamin E and aging," just like that. He probably had 50 ideas like that for people to explore. My thesis results were a flop. Dr. Nakamaye smiled and told me, "It is important that you learned about the process," which I did. He gave me a foundation for my 35-year career in the pharmaceutical industry. I am grateful, and thank him.
Chris Downey ('00) | Review chief at the FDA | Silver Spring, Maryland
Dr. Nakamaye was one of the best teachers I ever had. His energy and ability to push us hard while still being fun helped me see the beauty in a difficult subject (organic chemistry!) and was one of the things that inspired me to switch to chemistry as a major. Such a great professor.
Michelle (Roy) Leff, MD ('99) | Pediatrician | San Diego
Dr. Nak, as we all called him, was an inspirational chemistry teacher. One of my favorite activities with him was the annual cheesecake contest at Hughes Hall.
John Robinson ('76) | Physician executive consultant | Lynnwood, Wash.
Between our junior and senior years at GU, I and four other chemistry students (Bobbi Sue Daniels, John Staeheli, Mark O'Hollaren and Dave Maier) were awarded a summer research grant from the National Science Foundation. We were fortunate enough to have Dr. Nak as our faculty sponsor. He gave us just the right amount of encouragement and supervision. Our project about Kirlian photography received widespread publicity. My contact with Dr. Nak didn't end there. Both of my sons also went to Gonzaga and took chemistry from him. I will always be grateful for the teaching and guidance he gave all of us.
Coleen Carignan, MD ('88) | Saint Bonnavista Medical Center | Gibsonia, Pa.
Hands down, my favorite professor at Gonzaga. He was never without a smile. He had such a calm, unflappable demeanor and was such a student advocate. I don't remember a lot about college anymore, but I do have fond memories of his famous chemistry department cheesecake competitions and the level of stress I felt finding that perfect recipe to take top honors. He had a terrific sense of humor. My senior year he taught inorganic chemistry. The first day, he stood up in front of the class and said with a big grin, "I hate teaching this class and the only reason why I'm teaching it, is nobody else will do it!" I still laugh at that memory. He was such a positive influence on me in college and I miss him very much.
Jeff Jacobs ('84) | Chief scientific officer, Goldfinch Bio | Cambridge, Mass.
A true Renaissance man, Prof. Nakamaye was an outstanding professor of chemistry, scientist, gym rat and an accomplished cyclist. Taking his sophomore organic chemistry class was game-changing for me and led to my decision to major in chemistry. When I asked him about specializing in a specific discipline, he told me: "You are first a scientist, then a chemist, and from there you can specialize." I went on to a Ph.D. in bio-organic chemistry at Berkeley and have been a generalist most of my career. I thank him for his mentorship and for setting an example I have tried to emulate.
Johnny Cox | Surprise, Ariz.
Professor Kay Nakamaye and I were colleagues during the 1970s. His decision to leave a lucrative position in industry to teach and mentor students inspired me. Kay was also a challenging competitor and sportsman in our countless tennis matches.
Carolyn Chey Manhart, MD ('96) | Internal medicine physician | Omaha, Neb.
Dr. Kay Nakamaye's encouragement was one of the reasons I had the confidence to apply to medical school. His gift was to take a complicated topic and make it simple. His patience in answering questions during office hours was endless. Dr. Nak and the other biology and chemistry professors formed a community that was ever supportive and generous. We had the ABC (Annual Biology and Chemistry) picnic at the park, chili contests in the Hughes library, and social events such as bowling with the professors on a Friday afternoon. One of my favorite memories was a summertime basketball game over the lunch hour with a few of us research assistants versus Dr. Peter Pauw, Dr. Nancy Staub, and Dr. Nak. Dr. Nak got the prize for scrappiness! With his Diet Coke in hand, signature climbing pants, self-deprecating humor, and relaxed yet ever-caring nature, Dr. Nakamaye was a mentor who invested in each of his students and gently pushed us toward our goals. Thank you, Dr. Nak!
Patricia Locke ('77) | St. John's College professor | Washington, D.C.
Kay Nakamaye took me under his wing, even though I wasn't a chem major, and introduced me to the life of an active scholar who cared about students, teaching, research and the great outdoors. I recall his appearance as "guest chef" at our group house my senior year and hitching a ride with him to California to see my uncle on spring break. Kay kept in touch over the years with beautiful Christmas cards, and when a conference brought him to Washington, D.C., we shared a meal. I was really touched, since I know he has many former students who love and admire him. I do too!
Mary Kamb, MD ('77) | Epidemiologist for the Centers for Disease Control and Prevention | Atlanta
As a slightly scared-to-death freshman, I was assigned Dr. Nak as my faculty adviser. What a stroke of luck – for me at least! He patiently listened to my many fears and woes, helped me see the humor in my flops and successes, and strategically helped me find a way to spend a year studying in Florence while still finishing a science degree in four years (chemistry, of course). Dr. Nak has remained a trusted source of advice and inspiration through med school and beyond. I wish every student could have a faculty member like Kay Nakamaye supporting and rooting for them. He's truly a Gonzaga treasure.
John A Benson ('90) | Veterinarian | Longmeadow, Mass.
Dr. Nakamaye was my adviser during my four years at GU. I always looked forward to our meetings. It was a pleasure to speak with him. We would talk about academics for sure but also many other topics. He would have glass flasks churning and bubbling in his office; side experiments that he was always running. I remember when I started taking organic chemistry, I remarked that my goal was to achieve a passing grade. His response was that my goal should be to get an "A" and he was right. Of course, what he said had larger implications than just that one chemistry grade. I'll never forget that remark.
Bob Ferek ('80) | Dentist | Gresham, Ore.
Dr Nakamaye, along with Dr Kelsh, were phenomenal instructors in our chemistry department. One of my favorite memories of Dr. Nak was his playing defensive back on our flag football intramural team. Our science based roster, led by QB Tim Niggemeyer, had the name "Hexylresorcinol," as a tip of the hat to Dr. Nak and our great science departments. A great human being in all respects, I know that he was instrumental in my life successes and I am forever grateful to him.
Kristin Omberg ('93) | Chemist | Richland, Wash.
Dr. Nakamaye was an incredible chemistry teacher! His knowledge of organic chemistry is unparalleled, and he worked hard to teach undergraduate lab TAs how to use the Socratic method to educate others. I didn't appreciate, at the time, what a useful skill that would be for me as a chemist and manager of scientists today. He stands out as a remarkable educator because he did't just teach us chemistry - he taught us how to think and to teach others.
See more from Gonzaga Magazine