Equity in Action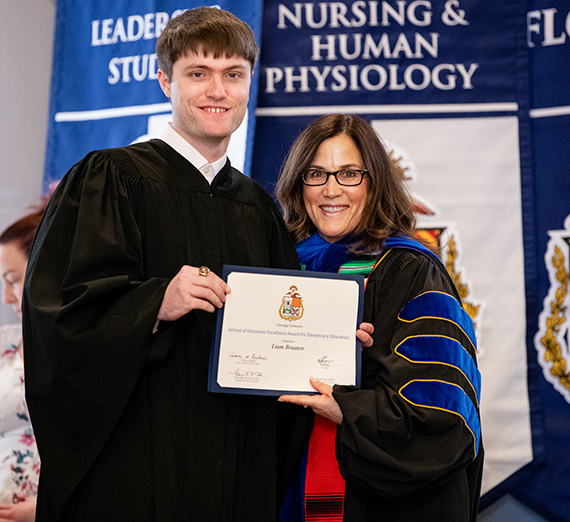 ---
Studies: Elementary Education

Hometown: Sequim, Washington

Liam Braaten's path to Gonzaga echoes that of many students.

He was a fan of the basketball team growing up. He has an older god-sister who attended GU and shared positive stories about her experience. He'd heard about the incredible community spirit on campus, loved the sizes of both the school and the classes, and attended a fun-filled GEL (Gonzaga Experience Live) weekend when he was a high school senior. And Gonzaga was just far enough from his Olympic Peninsula hometown of Sequim to get that feeling of being newly independent from his family while not too far away to visit.

What Braaten did once he arrived in Spokane in the fall of 2019, though, makes the 22-year-old stand out in a crowd. His dedication to his teacher training, involving more than 500 hours in Spokane classrooms working with students in addition to his own classes at GU, helped Braaten earn this year's School of Education Excellence Award for Elementary Education.

He spent his last weeks at GU juggling teaching at Holmes Elementary in the West Central community, finishing his coursework and applying for jobs in classrooms of students between first and third grades.

"I love working with the kids," Braaten says.
"My student-teaching placement was in a first-grade classroom, and I got to focus on mostly math and literacy. Literacy is kind of a passion of mine and I like the idea of being part of their foundation, being the first teacher that helps them learn literacy skills."
That focus connecting young children to the wonders of the written word goes back to a formative experience he had growing up, volunteering in a summer reading program at his local library. He figured his own love of books might be something he could tap into for a fun summer. More than that, the experience working with different groups of kids ultimately led to his pursuit of becoming a teacher.

At Gonzaga as a first-year student, Braaten says he found a "really positive, welcoming" environment from day one, while admitting it took a little while for him to feel comfortable in this new world. Splitting his classwork between core classes and foundational education courses, Braaten quickly knew he'd made the right decision in choosing elementary education as his major.

"I loved the classes," he says, noting that he's shared four years of courses with people he now considers "great friends for life."

There were challenges, of course. Like many of his 2023 classmates, the pandemic took him out of in-person teaching and onto the internet for his studies. Even online, though, Braaten found a way to expand his teaching skill set, working with immigrant refugee parents in Spokane from his home in Sequim to help them guide their suddenly homebound children through incredibly challenging circumstances.

Working with immigrant populations has been a prominent part of Braaten's education, something he started doing as a first-year student doing one-on-one tutoring with refugee children, aiding them with literacy skills in their new country. "I was like, 'Okay, I love this!'" Braaten says of those early memories on campus. He's also taught a large Marshallese population when he worked at Garry Middle School.

Braaten's focus on helping populations who are often the most challenged in navigating the educational system – due to economic status, language barriers or other cultural differences – is part of what made him the choice for the School of Education's Excellence Award.

"His approach to coursework and field experiences exemplifies an important aspect of his character—a commitment to serving students and families on the margins," says Joseph Engler, an associate professor in the School of Education. "He knows that teaching in ways that foster equity are vital to addressing educational disparities existing in K-12 schools. He engaged in classes and fieldwork with the intention of developing the knowledge and skills that will enable him to disrupt those disparities."


Find more great senior stories!