Students Engage Community on Spokane River Vision Plan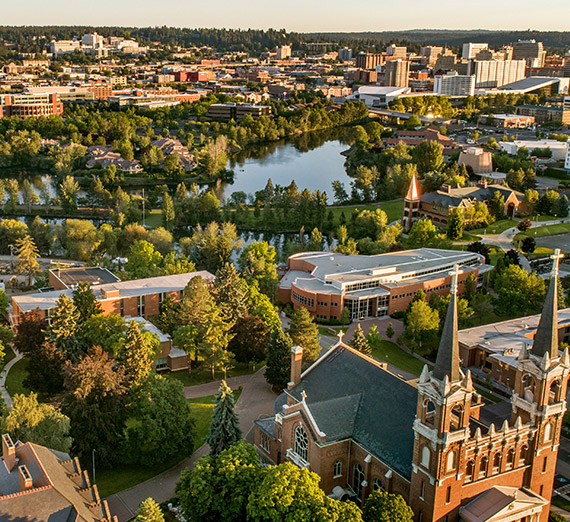 ---
When environmental studies majors Abby Dodd, Christiana Schmer and Grant Plotner took on the Spokane River Vision Plan as their senior capstone project, they found people had some common questions: What is a river vision? Why is it important? What's our role?
"We realized that for stakeholder meetings to be successful we needed a stronger foundation," Abby says, "so we changed the trajectory of our project towards a communication tool. Our goal was to provide information to the public and get them oriented on why we need a river vision plan."
One year later they've launched a website and video that does just that.
"A river vision is a guiding document that outlines the community's vision of the river into an actionable plan," the website explains. With a comprehensive plan in place, communities can better address topics like river pollution, recreation opportunities, park development and cultural heritage. Cities like Boise and Indianapolis have successfully applied river vision plans, but Spokane's never had a plan that encompasses the entirety of the river .
"The idea is to try to get as many stakeholders and involve the public as much as possible to assess what people really want," says Greg Gordon, the professor who led the senior capstone course.
Each year, Gordon lists the river vision plan as one of several capstone projects students can choose from. He's now worked with several groups of students who've worked to advance the plan. Eventually, with the help of local leadership and some funding, the aim is that Spokane will enact a river vision plan the reflects the community's desires and helps guide the next 50 years.
In April, Abby and Christiana shared their work at the Spokane River Forum Conference, a two-day event that brought together 280 people, representing local government, tribes, nonprofits, universities and the private sector, to discuss issues affecting the Spokane River.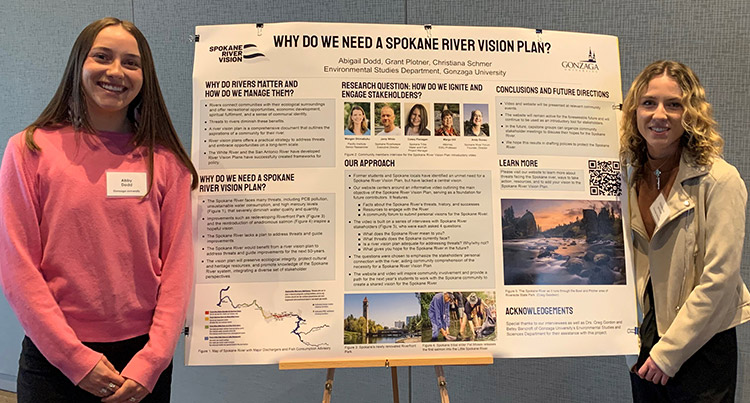 At the conference, they introduced the website, which includes an online forum where community members can add their river vision. Their goal is to gather as much feedback as possible. In addition, the website features a host of information and resources about the Spokane River and river vision plans.
They also played the video for conference attendees. Available on the website's homepage and on YouTube, the six-minute film captures the human side of the project through interviews with diverse river champions who share childhood memories, historical perspectives and dreams for the future.
For the students, a highlight of the video was interviewing attorney, professor and Spokane Tribal member Margo Hill.
"All our research was really helpful in understanding context and history," says Grant, who took the lead on the video portion of the project. "But nothing pulls at your heart strings like listening to Margo talk about how impactful the river is for her and the Spokane Tribe."
As the seniors move on to the next chapter of their lives, they're excited to pass the baton to a new group of students.
"We put together a list of 16 stakeholders, and we want the next group to start meeting with them beginning in August," Abby says. Their hope is that next year's students will integrate community feedback collected through the website and work with stakeholders to draft an initial outline of the river vision plan.
Each student plans to take lessons learned from the project into their futures endeavors.
Grant, who also works as a Gonzaga Climate Literacy Fellow, is interested in working in environmental education, ideally in the Spokane area. Abby, who plans to become an environmental attorney, is heading to law school at Lewis & Clark University. And Christiana is going to spend the summer at the Wenatchee River Institute, where she'll help with education and outreach. Her long-term goal is to attend graduate school for ecological research.
"I've learned that it's important to give people the chance to contribute," Christiana says. "To move a community-based project forward, it's all about building those relationships."
"It's been cool to apply the idea of finding common ground around the Spokane River," Grant continues. "I've loved the opportunity to create a platform that gives people a voice."
Abby, too, was struck by how people got behind the idea of a river vision plan when they were included in the process.
"I was astonished by how many people walked up to our poster and said, 'Hey, I have a vision.'"
Want to add your vision for the Spokane River?