A Friendship Forged in Service
Seniors Hannah Vial and Clare Kennedy honored for outstanding contributions to the Center for Community Engagement and the Spokane community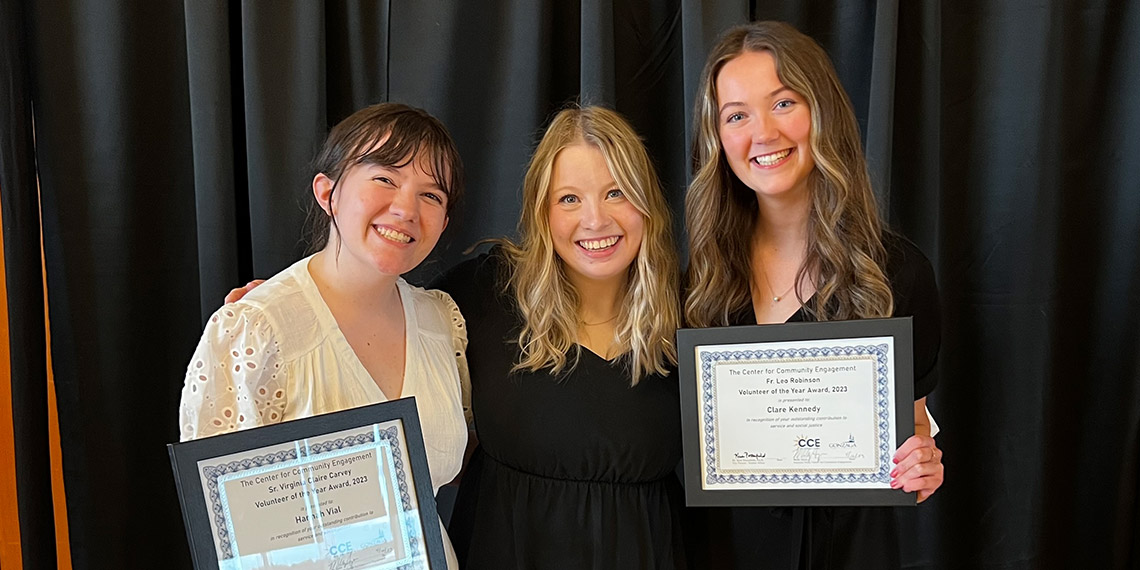 When Hannah Vial ('23) and Clare Kennedy ('23) think back to where their friendship and commitment to community service began, one memory in particular jumps out.
It involves the smell of compost.
As incoming first-year students, they signed up for Rise, a program led by Gonzaga's Center for Community Engagement (CCE) the week leading up to orientation. Designed to help new Zags form connections with one another and the broader Spokane community, participants slept on the floor of Marion Hall by night, and volunteered at a variety of organizations by day.
Placed in the same small group, Hannah and Clare began the week with a visit to an organic farm, where they learned about sustainable practices and empowering families to grow their own food. After a day of scooping compost, they also learned an important lesson about the pungent nature of crop fertilizer.
"We smelled so bad," says Hannah with a laugh. "That was our first day together."
Fast forward four years, and the pair are friends, roommates and winners of CCE's two annual awards. Hannah took home the Sister Virginia Claire Carvey Award, while Clare won Father Leo Robinson Award. Both honors recognize students for their outstanding contributions to CCE and the Spokane community.
"Rise was a great start to my time at Gonzaga. In addition to making a lot of friends and getting educated about the community, it got me into CCE right of the bat," says Clare.
Finding Their Path
Rooted in Gonzaga's Jesuit mission of service, the Center for Community Engagement offers many ways for students to make a difference in the lives of others and cultivate leadership skills.
In the 2021-22 academic year, over 1,000 students logged 43,466 hours of service through CCE. These Zags could be found mentoring youth in public schools, volunteering at family-housing communities, providing meals for those in need and attending social justice conferences – to name just a few of the opportunities available.
For Hannah, who volunteered helping people with disabilities in high school and jokingly refers to herself as a "special education girly," the CCE offering that resonated to her was clear: Gonzaga University Specialized Recreation (GUSR). The program connects Gonzaga students with adults who have disabilities in the Spokane area.
"Once I found the Instagram for GUSR, I knew it's what I wanted to do,'" says Hannah. "I started researching the positions and paths to leadership, and said to myself, 'I'm going to be a lead coordinator my senior year. That's the goal.'"
By her senior year she was not only a lead coordinator but going above and beyond – supporting her team, recruiting and training volunteers and managing communications with families and caregivers.
For Clare, finding her niche was more organic. On the last day of Rise, participants attended a service fair showcasing different volunteer opportunities on campus. She chose Connections, a one-on-one mentorship program that pairs Gonzaga students with local middle schoolers.
"My mentee and I got so close," says Clare. "She's incredible, and I'm still in touch with her. We had lunch together just the other day."
After volunteering at Shaw Middle School through Connections, she followed her mentee and the other program participants to Rogers High School, where Gonzaga offers a similar program called Sparks. Her junior and senior year she stepped up as a leader at Sparks.
"It's been a cool opportunity to follow some of the same students for the past four years now and be that familiar face, helping them navigate the transition from middle school to high school to post-graduation plans," says Clare.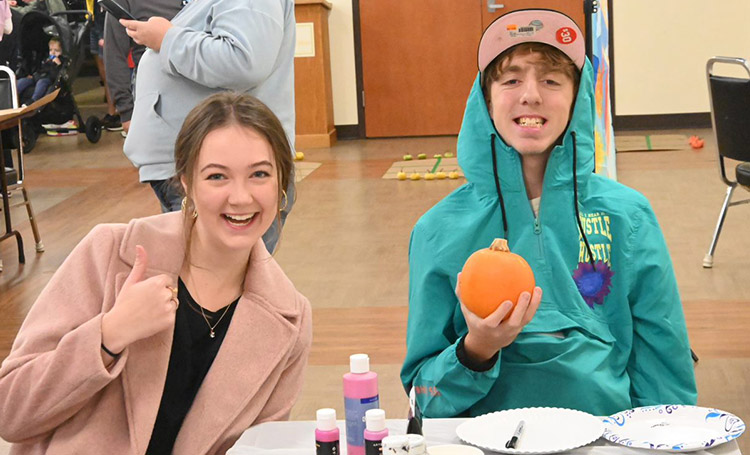 Her senior year she also became a Civic/Wolff Fellow. The fellowship program placed her at Lumen High School, a public charter school for teen parents, where she used her experience from Connections and Sparks to develop a mentorship program to help students transition to life after high school.
Persevering through the Pandemic
During her freshman year, Clare and her fellow mentors left for spring break, telling their mentees they were excited to see them again when they returned. Fate had other plans. The pandemic hit, and Gonzaga students were told to stay home as the university pivoted to remote classes.
"It was really hard because closure is such an important part of the mentoring process," says Clare.
Hannah was in a similar position, wondering how she could maintain the relationships she'd formed through GUSR.
Both students helped their programs move to online activities – no small task given the challenges facing participants.
With schools shut down, the mentees at Connections and Sparks had a host of new responsibilities like caring for younger siblings.
Given that GUSR works with adults with disabilities, participants often lacked computers skills, as did their caregivers.
"A lot of them didn't know how to unmute themselves or turn on their cameras," says Hannah. "It was a real struggle."
Her senior year, Hannah knew something had to change. She met with Andrea Davis, CCE's volunteer program manager, and the two set the wheels in motion to bring back in-person activities.
At the CCE award ceremony, Andrea remarked that, "Hannah worked tirelessly alongside her fellow leaders to bring back cherished events such as our Monster Bash and Harvest Ball as well as our Way of the Heart two-day retreat."
For Hannah, one of the most fulfilling in-person activities was the return of GUSR's plays. A staple of GUSR's programming, participants meet once a week for play rehearsals, which culminate with a performance at the end of each semester.
But these aren't your standard plays.
GUSR volunteers write scripts based on the lives and interests of the participants. In the fall, they performed GUSR's Got Talent, a spinoff of the TV show America's Got Talent. When they hit a brief hiccup in the production, the actor playing Ryan Seacrest took the stage and did "the worm" dance to entertain the crowd.
"He does the worm better than anyone I've ever seen," says Hannah. "And the crowd went absolutely crazy."
It's moments like this that simply can't be created over Zoom and that made Hannah so determined to bring back GUSR's in-person activities.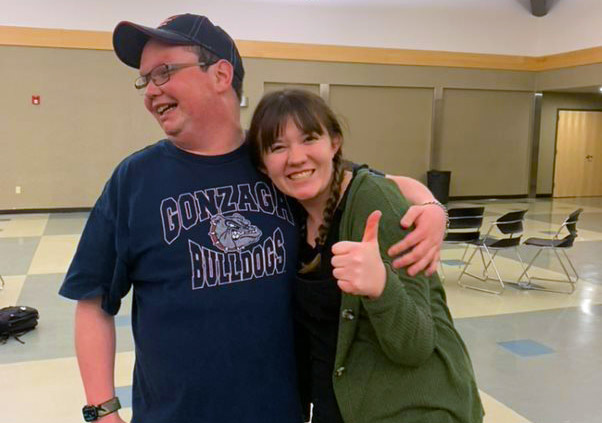 Clare's return to face-to-face programming was equally fulfilling.
"We'd built a strong enough foundation with mentees that they still wanted to attend our online programming during the pandemic, although attendance definitely wasn't as high," says Clare. "Still, I found myself questioning: Is this really that impactful? Is it meaningful to have online programming?
"Then, when we finally returned to in-person activities, they were so excited to see us. They said, 'Oh my gosh, having programming helped so much during the pandemic. You have no idea.' It was so impactful to hear that we did make a difference."
With in-person activities back in action, a highlight for Clare was taking students to tour Gonzaga, where they got to experience everything from class lectures to the Center for Cura Personalis to the COG dinging hall. The visits sparked the high schoolers' interest in college and stoked conversations about how scholarships and other tools could help turn those dreams into reality.
A Lasting Legacy
Next year Hannah, an education major, is heading to Mesa School District in Arizona, where she's accepted a teaching position working with children with autism. Clare, a psychology major, is applying and interviewing for jobs in youth development as well as college and career readiness.
Although the soon-to-be graduates are on to their next adventure, they've left an enduring impact on CCE programs and the people they served.
"Hannah's been working to develop strategies to ensure GUSR's longevity. She's constantly talking to me about ideas for next year and even wrote a template for future play scripts," said Andrea at the awards ceremony.
Andrea echoed those sentiments when reflecting on Clare. "She's touched the hearts of countless people and set an example for others to follow. Her work has made a real impact on the community."
Both students draw inspiration from one another.
"We live with each other and see each other all the time," says Clare. "Seeing her passion and how hard she works inspires me to do even better."
"And for me, it's been so cool to watch Clare's journey," says Hannah. "She started mentoring youth and through that found her calling."
Find more great senior stories!
Academics
Service & Community Impact
Student Life
Community Action and Service Learning
Special Education
Psychology