New Report Shows Extreme Heat Impacts Lower Income, More Racially Diverse Residents Most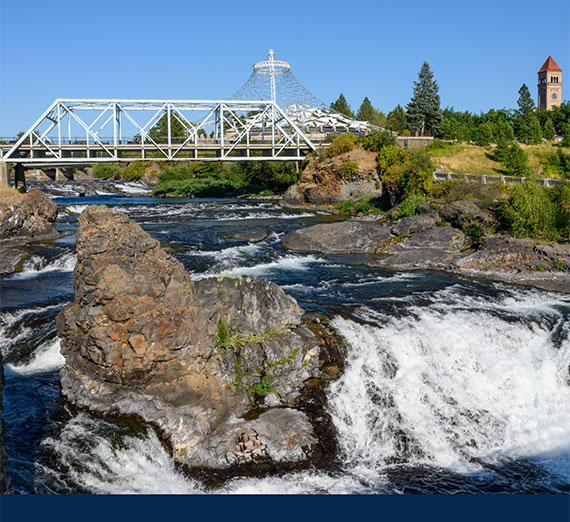 ---
A novel partnership involving Gonzaga Center for Climate, Society and the Environment and the Washington State Department of Health (DOH) confirms that, in Spokane, summer heat events disproportionately impact low-income, more racially diverse neighborhoods.

The new report – "Correlations of Urban Heat with Race and Income in Spokane, WA" – builds on the Climate Center's initial study of the 2021 heat dome, which took the lives of 19 community members in Spokane County and more than 157 in the state. That "Beat the Heat" study focused on the location of "urban heat islands," or areas that experience more heat due to less green space and trees.

Now, layering in demographic data from DOH confirms some neighborhoods are likely to experience greater impacts. In fact, not only are impacts related to the prevalence of paved surfaces, but also to the percentage of people in the area living under the poverty line, and the percentage of the population that racially identify as Black or Indigenous. The analysis did not find significant correlations between urban heat and age or English proficiency among residents.

"What we're seeing here is that health risk is higher among low-income, minority populations not only because their homes are in neighborhoods with more pavement and fewer trees, but because these neighbors do not have the resources to cool their homes sufficiently when a heat dome occurs," said Brian G. Henning, director of GU's Climate Center.

"After the 2021 heat dome, the Climate Center pledged to help the community understand and respond to the challenge of extreme heat," Henning added.
"We cannot hope to solve a problem if we do not first understand it."
The Gonzaga Climate Center has several additional research projects underway to further the community's understanding of and response to extreme heat. The center is a partner on a $50,000 grant from the University Washington's Interdisciplinary Center for Exposures, Diseases, Genomics, and Environment (EDGE), to host a regional symposium in June. This event will bring together medical professionals, policy leaders, community leaders, and affected community members.   

As summer approaches, the Climate Center is partnering with colleagues at Spokane Regional Health District to develop useful heat awareness materials that will help the residents prepare themselves, their families and the community for extreme heat events. There is growing optimism that through research and collaboration, the Gonzaga Center for Climate, Society, and the Environment can work with city of Spokane and other partners to help improve extreme-heat planning.   

"Thanks to the research we are conducting and the partnerships we are forming," said the center's Climate Resilience Project program coordinator, Kaitlan Ducken, "with focused effort and collaboration, next time there is a heat wave, fewer people might become ill or die. What could be more important than that?"

Find interactive maps, the full report, and more on the Climate Center's Resilience Project by visiting gonzaga.edu/BeatTheHeat. 
Learn about the Center for Climate, Society and the Environment