No Debate: Championship Contenders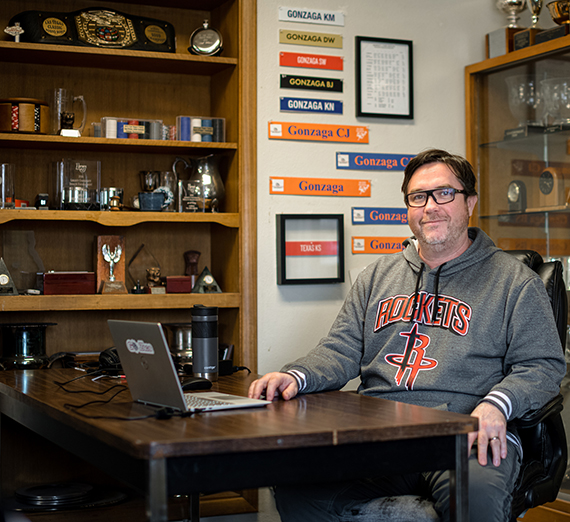 ---
March isn't just madness for the Gonzaga basketball teams and the fans who love them.

The Gonzaga debate team is vying for a national championship at the National Debate Tournament (NDT) kicking off in Washington, D.C., March 31.

The parallels go beyond striving for a title just after spring break. Like their basketball-playing fellow students, members of the debate team are dedicated to their craft in a way that a casual observer simply could never understand. They put in hours upon hours of practice outside of competition, their season stretches for the better part of a school year, and the debates themselves are fierce endurance contests, matching wits and wordplay with top-tier talents from across the country for hours on end.

"Competitive debate is incredibly rewarding, but can also be demanding," notes Glen Frappier, a senior lecturer in communication studies now in his 24th year as GU's director of debate. "During tournaments students routinely compete for 10-12 hours each day, going up against some of the most brilliant and talented undergraduates in the nation. The level of thinking and speaking required can be exhausting."
Exhaustion is just part of the price of competing for a nationally competitive program with more than 100 years of history at Gonzaga.
The rewards, though, are worth every minute spent researching and preparing arguments for tournaments.

Besides forging camaraderie with teammates through practice, competition and travel, debaters hone skills that serve them well after graduation. Among them is a well-trained ability to listen to an argument and quickly think about it, form counter arguments and then articulate them in front of an audience in a persuasive way. It's no wonder so many debaters go on to law school and government service. And for those who love friendly competition, bringing home trophies to the debate house on Sharp Avenue for winning events like the 2022 Lafayette Debates or 1989's Cross Examination Debate Assocation tournament isn't too shabby, either, adding to a legacy of long-ago Gonzaga debaters like former U.S. Speaker of the House Tom Foley and former GU President Robert Spitzer, S.J.

This year, four GU students — two teams of two — advanced to the National Debate Tournament as part of a field of 78 total teams competing, including duos from Harvard University, the University of Michigan, Northwestern University, Wake Forest University and more. Junior Avalyn Renee ('24) and first-year student Kaelyn Wellman ('26) make up one team, and sophomores Andrea Moreno ('25) and freshman Nick Dawson ('26) make up the other. A third GU team, sophomore Abby Morioka ('25) and sophomore Tyler Zabolio ('25), just missed out after being eliminated in a tiebreaker. The two GU teams will travel to the nation's capital where, Frappier says, "we'll have some great debates and see what happens."
The Pursuit of Excellence
The skills of the team members from the beginning of the "season" at special events like the October Jesuit debates (which Gonzaga co-hosts with Harvard, the tournament bouncing between Spokane and Boston alternating years) improve greatly by the time they're debating at spring-semester tournaments at Georgetown University or the University of Texas.

For the unfamiliar, debate teams around the country spend the entire school year debating one topic or "resolution" decided on by a panel of coaches in the "off-season." This year's resolution is the question of personhood, and whether the United States should grant personhood to nature, non-human animals and/or artificial intelligence. Debaters must be ready to argue either in support of or oppose each season's resolution at a moment's notice, so they learn an issue inside-out. This year's choice was even more lively than normal with the AI-driven ChatGPT arriving in the public consciousness in the middle of the season.

To be successful at these policy-style debates, which consist of two two-person teams delivering short arguments and counter arguments, students must do a ton of research into the resolution and keep doing it throughout the season. They must learn how to navigate reams of information to find gems of knowledge that will make their arguments land, speak quickly to deliver as much solid information as coherently as possible, and think quickly to explore and find weaknesses in the opposing teams' arguments.

"A lot of time is spent on research and argument development, what I call the 'inquiry phase' of debate," Frappier says. "You brainstorm your arguments, you find your arguments, you build your arguments, you prepare your arguments.
"It can be intimidating. These students are super smart, they've got so much knowledge on the topic that at this point of the year, it's like having a discussion with someone who's been writing a Ph.D. on the subject."
Juggling work for the debate team with all the other aspects of being a GU student is a skill in and of itself.

"Debate pretty much takes up any extra time you have," says Zabolio, in his second year on the debate team. "In class, I'm putting together files we need for our upcoming tournaments, as is everyone else on the team. The work is quite literally never-ending, which can be daunting at times. I would guess NDT debaters put no less than 15 hours a week in on research outside of our regular team practice and meeting times."

Trying to win elimination rounds and tournaments plays to business major Zabolio's love of competition, but it's learning new information and skills through research and practice with his teammates that helps Zabolio deem a season a "success."

"I did a different style of debate in high school, so learning all the technical parts of policy debate has been something I'm always trying to work on," Zabolio says. "Because of the proliferation of wild arguments people use in debate — that a nuclear war would be good, or in favor of an AI takeover — it encourages you as a researcher to get into the depths of scholarly writing. I have read the most interesting things while doing debate work because quite literally nothing is off limits."
Looking Ahead
A consistently competitive team like GU Debate is constantly working. That certainly means during the season, when the teammates push each other through rigorous practices and when coaches work with the duos on their particular approach to the next debate.
"It's a coaching-intensive activity, and not every team is the same," Frappier says. "They all have different arguments they're interested in, they all have different styles."
There are also a number of debates the team can take part in outside the traditional competitive season, debates that use a different format than the NDT policy style, or debates on issues beyond the season-long resolution students focus on for NDT. A couple of years ago, Gonzaga took part in NASA-sponsored microbiology debates at the University of Washington, for example.
The work extends outside competition, too, when the team hosts the Gonzaga Debate Institute every summer, attracting high school debaters from around the country of all levels. Many future Zags make their first visit to Spokane at the GDI, and current Zags help teach the next generation of college debaters.
Passing on their love for debate that many found themselves as high school students is simply another way these Zags put their skills to use serving others.
"These are really smart students, who are driven by a love for this activity" Frappier says. "They are passionate about this debate thing, and they want to win."
Learn about one of GU Debate's biggest victories.