Cotopaxi Founder Davis Smith to Visit Gonzaga April 13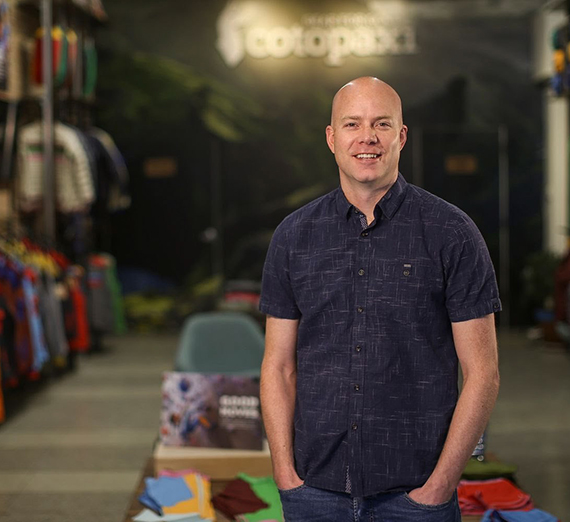 ---
When Davis Smith was a college student, the creator of an alarm systems company came to class one day. It seemed like a boring subject to Smith, until one student asked the guest if alarms were something the speaker was passionate about.

"He said, 'Honestly, it's not. It's not what I do that I'm so passionate about,'" Smith recalled. "It's the fact that I get to create something, that I get to build something on my own, that was my own idea."

That idea stuck with Smith, an international studies major just starting to have an interest in entrepreneurship. He would go on to build several businesses after graduating, but it wasn't until he founded outdoor gear and lifestyle brand Cotopaxi that he truly found his passion — using the profits from a business to fight poverty.

On April 13, Smith will visit Gonzaga to share his vision for Cotopaxi, the brand recognizable across campus and across the country for its brightly colored patterns on backpacks, jackets and more, all predominantly made using recycled, repurposed or responsibly sourced materials. He'll answer questions about how life and business "is not about us, it's really about what we can do for others." The event, co-sponsored by the GSBA president's office and Gonzaga University president's office, is free and open to the public.

"Cotopaxi is a company founded on encouraging people to both experience the wider world and make it better," President Thayne McCulloh said. "This event is an opportunity for our campus to see how Davis Smith's focus on sustainability and working to alleviate global poverty so closely aligns with our mission as a university and serves as a practical example of successful industry serving the needs of others."
Smith often speaks with student groups and is looking forward to the Q-&-A "fishbowl" format for the GU event that allows students to steer the conversation. He does try to impart the message, no matter what group he's speaking to, that college students can "find a profession or a path that allows us to go lift others," Smith said. "That's where we're going to find true joy and happiness and fulfillment, not just where we can go make the most money."

Smith's own path was circuitous before he had what he describes as an almost spiritual experience coming up with the idea for Cotopaxi. After nearly a decade of creating companies that sold pool tables online, or brought internet sales of baby products to Brazil, he was in his early 30s and feeling frustrated.

"I just didn't know how to marry the idea of creating a business and having a social impact," Davis said.
"That's when I had the idea that I could build a brand where at the very core of the brand was this idea of helping people, where we used our profits to sustainably fight poverty."
Cotopaxi has been remarkably successful, and reports that in 2021, the company helped more than one million people through grants to organizations fighting extreme poverty. Cotopaxi focuses much of its charitable work on Latin America, where Smith spent much of his childhood thanks to his father's job, and where the volcano that gives Cotopaxi its name resides in Ecuador.

GSBA President Miguel Acosta Loza, an Ecuador native, was inspired to invite Smith to talk with Gonzaga students after Loza learned about Cotopaxi's work with nonprofits around the world.

"I really appreciate Davis's passion for social entrepreneurship," Acosta Loza said. "Most people at Gonzaga are familiar with Cotopaxi products and their creative designs, whether they are aware of the social impact of the brand or not.

"Davis embodies the idea of being a 'person for others.' The typical GU student is passionate about serving people on the margins of society, rather than comfortably staying in the middle, and Cotopaxi is a company that builds authentic relationships with its nonprofit partners."

Chris Stevens, a GU associate professor of entrepreneurship, says that Smith and Cotopaxi embody the mission many of the students he's taught believe in, to serve others and create change where it can be felt the most.

"Over the last 15 years, more than 500 students have passed through my Social Entrepreneurship course, and despite changes in who the students are, their experiences and where they come from, their energy for balancing economic impact and success with the betterment of society remains unchanged," Stevens said.

"Cotopaxi is an outstanding example of a concept more than a few of us talk about in the business school every day — namely, business as an agent of positive social change and transformation."

While the sustainable, social-justice identity of Cotopaxi remains the same as when Smith formed the company in 2014, the business has adapted as it's needed to, and the lessons Smith's learned along the way will serve students in any field. Part of Smith's personal mission is to help influence others who share the same desire to do good in the world. And a big part of that is speaking with the generations of people who might find themselves starting the next Cotopaxi.

GSBA President Acosta Loza is hopeful those who join Smith's visit to GU will walk away having learned that social impact can be built into any type of venture, and that they'll leave inspired and hopeful about their own abilities to make positive change in the world as Davis is.

"Our Gonzaga community is the perfect place to start making an impact that can change the world," Acosta Loza said.

"A Conversation with Cotopaxi Founder Davis Smith" will happen Thursday, April 13, at 4 p.m. in the Hemmingson Ballroom. The event is free and open to the public. RSVP is required, visit Gonzaga.edu/DavisSmith