In Age of Virtual Reality, Scholar Urges Making Time for the Authentic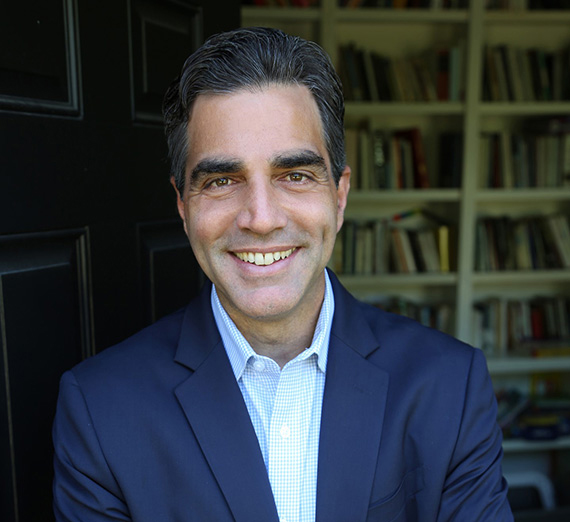 ---
Joseph Luzzi pleaded with Vatican officials to allow him just a glimpse of Sandro Botticelli's famous drawing "The Map of Hell" depicting a dramatic illustration of the first canticle, Inferno, of Dante's epic poem the "Divine Comedy." 

Luzzi, a Dante scholar and author, received no response to his written appeals to visit the Vatican Library. He was already in Italy on a fellowship at Villa I Tatti, the Harvard University Center for Italian Renaissance Studies, so Luzzi decided he'd go to Rome and knock on the door of the Vatican Library, where the original Botticelli drawing is kept in a private room. The library director answered the door and Luzzi asked to see the drawing in person. The initial answer was a gruff: "No."  

"Just fifteen minutes," Luzzi implored in his best formal Italian.  

"Va bene," the director replied, startling Luzzi with his change of mind. "Okay, 15 minutes, just you and me. No pencil, no paper and no photos," he added. 

A few minutes later Luzzi and the director stood in rapt silence before a fully colored visual interpretation of the nine concentric circles Dante envisioned in his terza rima verse.  Botticelli depicted the funnel-like Dantean topography, directing the viewer's eye downward into hell's gory punishments. 
"What I saw, for the first time, was Botticelli's vision of Dante's hell: Somehow all the mind-boggling intricacies and textures coalesced into a seamless whole," Luzzi said.
Luzzi, the Asher B. Edelman Professor of Literature and Faculty Member in Italian Studies at Bard College, visited Gonzaga on Feb. 28 to discuss his latest book, "Botticelli's Secret: The Lost Drawings and the Rediscovery of the Renaissance." His lecture was sponsored by the Office of the President.

In a world increasingly dominated by "virtual" experiences, Luzzi urged his audience to take time to experience the original and to savor the authentic expression of an artist or writer or creator.  

"Virtual reality is an easy default," he warned. "It preys on compulsion, it preys on convenience, it preys on our worst tendencies." 

In contrast, original artworks and literature can be "fragile things," he said. "We don't know how long we'll have them … not to look at them is a way to let them die. When we don't look at art, when we don't read books, that's how they disappear." 

Both Dante and Botticelli survive today because scholars, students and others seek to understand what their work illuminates about history, humanity and our futures. 

The poet, Dante Alighieri, wrote his "Comedy" during the Middle Ages, the adjective "divine" was later added to the title because of the poem's content and lofty style. Though Dante had been exiled from Florence in 1302, Luzzi notes that he had become "the great cultural hero" of Florence by the time he died in 1321. Luzzi also points out that the Florentines didn't revoke Dante's exile until 2008, which, he says, is a long time to hold a grudge. 

Botticelli was commissioned about 150 years later by the powerful Medici family of Florence to illustrate Dante's words. 

It was the medieval poet who brought Luzzi to Italy, but he became captivated by the work and the life of the Renaissance artist Botticelli. 

In Botticelli's drawings, Luzzi said he saw a tension between the spiritual and the secular and a merging of ancient and modern. 

"I saw that Botticelli was reticent about Dante's medieval vision and he wasn't into this whole system of eternal punishment," Luzzi observed. "I thought this is the most interesting interpretation of Dante I've ever seen. It is not written; it is in the form of images and I started to think of this as a visual poem." 

Botticelli is perhaps most famous today for his painting "The Birth of Venus," which is replicated throughout our culture, including on olive oil containers and even on a dress worn by Lady Gaga. However, Botticelli could have just as easily disappeared. He fell out of favor with his contemporaries and many later scholars considered Botticelli to be second-class in status compared to Michelangelo and Leonardo da Vinci. Botticelli's artwork disappeared for 400 years, at one time falling into the Nazis' hands. Luzzi's book chronicles the mysteries and the miracles behind their rediscovery.  

Luzzi said he realized the drawings depict "an amazing story about the resilience of art." Just as Botticelli's work was rediscovered, so was the Renaissance itself. 

"That's what we do when we look at this great work of art of the past," Luzzi told his Gonzaga audience.
"We're continuing the tradition, if we don't look at it, if we don't debate it, discuss it, it won't exist."
Luzzi had seen many reproductions of Botticelli's "Map of Hell" but the day he stood in the Vatican Library he was "struck how incredibly different it appeared from the many reproductions I had seen of it. What they failed to capture was Botticelli's hand." 

During the question period following Luzzi's lecture, he was asked how young adults in a world "drowning in virtual experience" can find the time to view original art? 

"When I wrote my book I was in Florence, it was easy because it (the city) was just filled with Renaissance art," he conceded.  

However, Luzzi noted that the Gonzaga community has "so many opportunities in front of you." 

"Today I went to your beautiful museum, the Jundt, and I saw this incredible chandelier by Chihuly. I saw a Rembrandt," he said. "You have an incredible collection on campus. You just have to make it a habit." 

"Botticelli's Secret: The Lost Drawings and Rediscovery of the Renaissance was published in 2022 by W.W. Norton & Company. 
What else is coming to the Myrtle Woldson Performing Arts Center?