One of Gonzaga's Grateful Givers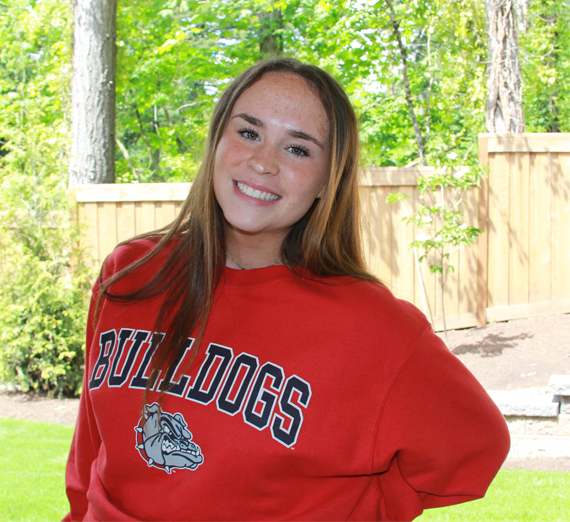 ---
From the moment she set foot on campus, Courtney Pedersen ('24) has involved herself in every possible way—in the role of student, president, volunteer, coworker, ambassador or friend, she is always giving back to the Gonzaga community. She exemplifies the University's mission, "To educate students for lives of leadership and service for the common good."
"I truly believe that I can make the world a better place with my time and resources," said the third-year student from Lake Oswego, Oregon. "Gonzaga gave me a second home, a huge support system and made me feel like I belong."
Courtney is a public relations major with minors in journalism, promotions, and solidarity and social justice. On top of that, she is the president of the University's chapter of the Public Relations Student Society of America (PRSSA), a Gonzaga Ambassador and a volunteer at multiple organizations in the Spokane area.
As an ambassador, she gives tours, runs preview days and mentors new ambassadors. She represents the face of the school and is the University's first impression for most prospective students. Those future students hear her stories and get a taste of what it means to be a Zag.
"In giving back I have found that the Gonzaga community is beautiful and prides itself on giving back as well," said Courtney. "It's something that I take very seriously and always make sure to make time for."
Scholarships have ensured that Courtney's time at Gonzaga could be about building memory after memory. Her favorite so far was during fall family weekend in 2021—the first time her whole family could see her on campus.
"During my time at Gonzaga, I have grown into the person that I have always wanted to be," said Courtney. "For my family to see all the hard work and dedication that I have put into being this person felt full circle."
Courtney has one year left before she graduates, and thanks to those who support Gonzaga students with scholarships, her last year could be extra special. Her younger brother has applied to be a first-year student next year. Looking beyond, Courtney hopes to earn her master's degree and one day start her own business. She also hopes to name her first dog "Spike" in what she calls an "ode to the best mascot ever."
Wherever her future lies, success will undoubtedly follow, and she will have the Gonzaga community behind her.
"I hope to be successful, to be kind, to be a good friend, sister, daughter, colleague and most importantly, to always be a Zag at heart."
Support students like Courtney with a scholarship donation today.