Community, GU Leaders Share Vision to Support Students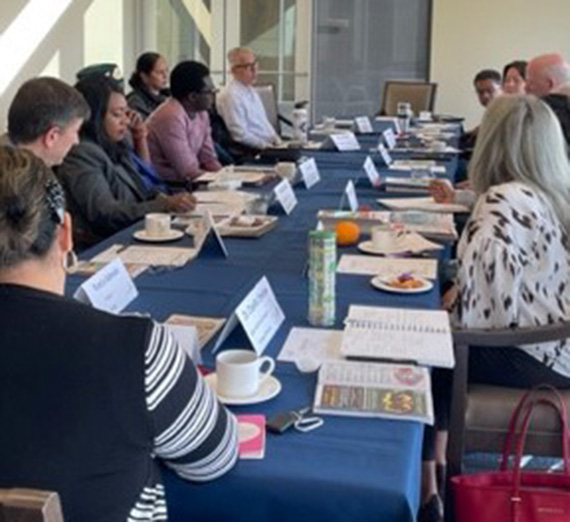 ---
Sanya Ala ('79 M.B.A.) is a Zag, has raised three children in this community and has been in business for 50 years here in Spokane. He would really like to see a supportive connection between the BiPOC community and our campus students of Color here at GU.
Provost Sacha Kopp heard the call and spoke with Sanya about gathering the members of AHANA which is a group of muliti-cultural business and community leaders, along with University leaders for a discussion about how this community can best support Gonzaga's students of Color. Creating this type of partnership would be a wonderful initiative.
It is not for lack of interest, remarked Amos Atkinson of the Carl Maxey Center. So often leaders gather but the talk stops at the table. Not everyone has the time or energy to walk the talk.
Chief of Staff Charlita Shelton said Ala has long been active in supporting students in business throughout Spokane. Now he would like to get more businesses involved in student support, mentoring young people and helping them get their footing.
"When we have gatherings like Hispanic, Hawaiian Pacific Islanders, Black Student Union, African American citywide graduation, an event our own Raymond Reyes had a hand in organizing, it should be a time we invite our BiPOC community and business leaders to join with us in celebration of these students' accomplishments. It would provide excellent networking for business and students alike," Shelton said.
Following the meeting, Provost Kopp asked this group to determine what type of partnership could be developed between GU and the multicultural business community, and the types of goals and objectives that the group could form, be they broadband, social work support, health disparities, business development support or improving cultural belonging in Spokane.
Business Dean Ken Anderson, Inclusive Excellence Director Robin Kelley and Reyes joined Shelton, Kopp and McCulloh at the initial meeting, along with representatives from the Spokane Tribe, Carl Maxey Center, Spokane HBPA, Asian/Indian, Filipino/Indian, Spokane County Broadlinc and the Jewish Temple.
Delve into Gonzaga's essence through 'Spirit'. Discover the heart, soul, and stories of our community.