Paul Tough Shares Insights on Addressing College's 'Inequality Machine'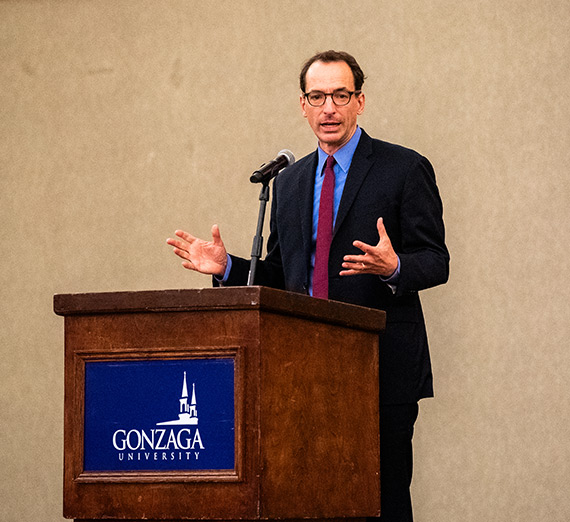 ---
In an hour-long talk, author Paul Tough delved into a question critical to Gonzaga's future and the future of universities across the nation: Why have many Americans begun to lose faith in the value of a college degree?
Tough, whose writing has appeared in The New Yorker, The Atlantic and The New York Times op-ed section, visited Gonzaga as a part of the Provost Lecture Series.
Tough spent six years researching the higher education landscape, traveling across the country to talk to hundreds of students, professors, administrators and experts of all kinds. His work culminated in the book, "The Inequality Machine: How College Divides Us." Tough's deep dive into higher education has unearthed some striking – and at times perplexing – trends.
"When you look at the polling data," Tough explains. "Americans' public opinion about higher education has gone markedly downward. Ten years ago, 74% of young adults said a college education was very important. Today, only 41% of young adults say that."
The shift is even more pronounced among parents. Ten years ago, 98% of parents said they expected their kids to go to college. Today, almost half say they'd prefer their children not enroll in a four-year school.
Yet, college graduates currently earn about two-thirds more than high school graduates, and there's an increasing demand for advanced degrees in our tech-driven economy.
Tough cites three main reasons confidence in college has waned, despite the opportunities it provides: money, politics and fairness.
On the money front, mounting tuition costs have saddled students with more debt, raising the stakes on college education. Some graduates come out making a lot of money, while others are just getting by. Others may enroll, but never graduate.
"A college education, which used to be for a high school graduate like a very stable, responsible investment, like buying a treasury bill, now feels more like going to a casino," Tough explained.
In addition, large swaths of the country feel like campuses have shifted too far to the political left.
Finally, there's a feeling among Americans that the system is unfair. Gone are the days when students could work a minimum wage job in the summer to pay for a year's tuition. Public funding for higher education has dropped considerably, leaving a disproportionate burden on working-class families to make up the difference when sending their children to college.
Tough believes all three issues must be dealt with.
"A good fair system of higher education benefits all of us. The reality is we do not have enough B.A.s coming out of higher education right now."
Tough explained that estimates show by the end of the decade the lack of B.A.s will create a shortfall of 8 million educated workers in the United States. This would cost the economy a projected $1.2 trillion in lost economic output.
Tough went on to share insights on how we can address these complex challenges. While increased public funding is key, he also emphasized the importance of colleges being open, honest and creative as they work with students from diverse backgrounds to carve paths for them to succeed.
At the University of Texas, for example, the school adopted a holistic strategy to improve the graduation rate. The school launched programs to help freshman, first-generation students and created internships which allowed students to earn money while becoming a part of the fabric of the university. Over the course of five years, the four-year graduation rate improved from 50% to 70%.
Provost Sacha Kopp noted in his introductory remarks that Tough's call to expand college opportunity is ever-present in our work at Gonzaga.
"Our strategic plan with its focus on both enrollment and inclusive excellence speaks to Gonzaga's ongoing commitment to ensure affordable access to education and to provide pathways for students with diverse backgrounds and experiences to thrive here. These are obligations rooted in our Jesuit mission."
Tough tipped his hat to these efforts.
"It's exciting to be with you at Gonzaga when you're in the middle of this strategic planning process that Sacha talked about. I think that what you are doing on this campus is asking the same kind of big, deep questions about college that I have been trying to address in my writing."
Interested in upcoming events at Gonzaga?