New Faculty Publication Explores Queer History and the Early Internet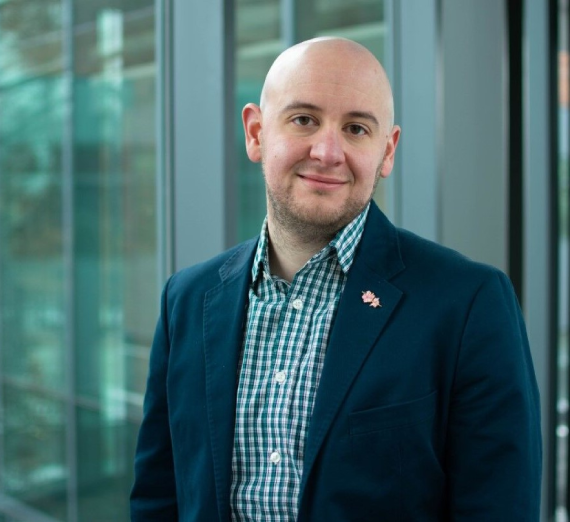 ---
Growing up, Avery Dame-Griff always had access to the internet.
His dad, who worked in system administration, needed a computer for work, meaning Dame-Griff would receive his hand-me-downs. While his dad worked on server issues in his office, Dame-Griff was on chatrooms, building a community from outside his home of Tuscaloosa, Alabama.
Dame-Griff came out as transgender during his first year at the University of Alabama, and jokes that as an academic, sometimes you end up studying from your experience. When reading through transgender histories in graduate school, he noticed a sizable gap in known history of the 1980s and early 1990s.
"I knew from my experience that that's not exactly how it worked. The internet was a place where all this conversation was happening, but I had a sense that there's more here … that became the focus of the project, of how this stuff has changed over time," Dame-Griff says.
We don't get the modern transgender identity and movement without the internet. It's impossible.
Dame-Griff's book, "The Two Revolutions: A History of the Transgender Internet," tells the story of how the internet has shaped transgender identity and politics since its earliest days. It aims to fill the gap of what history books aren't teaching, about how the internet shaped what the transgender community looks like today. "We don't get the modern transgender identity and movement without the internet. It's impossible," Dame-Griff says.
The book explores the important role the internet has played in building transgender identities and communities, archiving an important and often overlooked part of computing history. It tells the story from the Bulletin Board System days through the beginnings of social media, and how individuals used the internet to network, find support and access vital information.
"The Two Revolutions" was published in August 2023 and is Dame-Griff's first book.
Though it covers academic topics, it was important to Dame-Griff that his book was approachable to transgender audiences so they could get a sense of their history. He stresses the importance of transgender communities reclaiming ownership of their digital platforms to be able to remain in control of both their history and future.
Research required months of rabbit-holing through BBSs, shareware CDs, community newspapers and website archives. Since BBSs were typically run from a computer in someone's home, the systems were prone to wipe-outs when hard drives crashed or the user needed to free up space, making it difficult to research early parts of online history. Until very recently, internet archiving wasn't a consistent practice, so Dame-Griff uses what digital materials are available to help preserve online transgender history.
"The Two Revolutions" was published in August 2023 and is Dame-Griff's first book.
Dame-Griff's Other Work
Dame-Griff also maintains the Queer Digital History Project, an independent digital archive project documenting pre-2010 LGBTQ online spaces.
Current projects within QDHP include a catalog of early LGBTQ online communities, an archive of transgender-related Usenet newsgroups, interactive maps of one of the first international transgender-specific BBS networks and primary documents from early communities covering the mid 1980s to late 2000s.
His biggest ongoing project at the moment is collecting oral histories with queer and trans folks who were active throughout the 1980s and 1990s. This will be an ongoing collection, and copies will be displayed at the Computer History Museum in Mountain View, California.
Outside of his research, Dame-Griff is serving on the Humanities Washington Speakers Bureau for the next few years, where he will be presenting a talk about the impact of queer BBSs in Washington State. He also served as a Public Humanities Fellow with Humanities Washington in 2022, where he developed educational materials and resources for teaching about the queer internet.
Learn More About the Department of Women, Gender, & Sexuality Studies