Expanding Expertise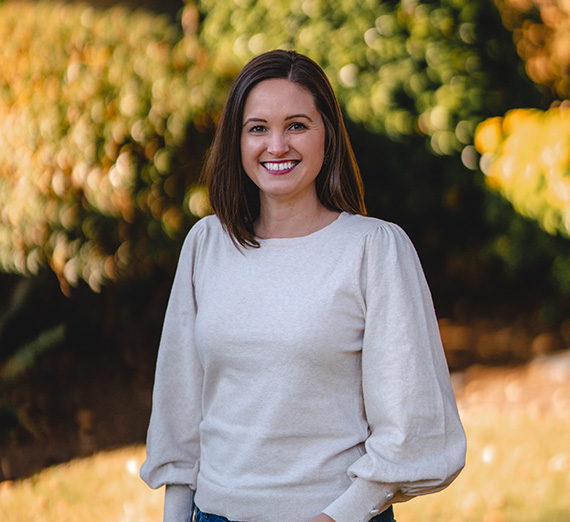 ---
Carrie DeDonker was looking to elevate her role at her leadership firm. She worked primarily behind the scenes, focusing on training design and program management, and harbored a strong desire to step into a more impactful role, such as coach or facilitator. DeDonker set her sights on pursuing a master's degree that would equip her with the skills to move forward and applied to Gonzaga's Online
Master's in Organizational Leadership
(ORGL) program. After a few classes, she felt a change.
"The program instilled in me a newfound confidence and sense of credibility knowing that I've put some significant time and effort into learning about what leadership is, what it means and how I apply that for myself."
DeDonker continued, "Learning how I show up within a group and how I can influence others was really powerful. The program allowed me to walk away with clarity of what's important to me and how I influence- whether it's my client work or work with colleagues or peers." 
DeDonker used what she was learning right away.
"This program had a lot of overlap between what I was learning in my full-time job in the leadership and team development world and what I was learning at Gonzaga. I could apply what I was learning at work to school and then vice versa," said DeDonker.
Her favorite and most impactful course was the Community and Engagement class which includes an immersion at a Benedictine Monastery where students learn about community alongside monks. DeDonker had the unique experience of taking the course virtually during the pandemic and has continued her involvement with the monastery after graduation, gathering valuable insights into how individuals create space for each other as they work together.
"The value of spaciousness is something that I really appreciate and is something I learned that the monks were very intentional about. Being a facilitator of leadership and team development trainings, it's all about making space for others so that they feel heard and seen and that they can bring their contribution to the team," said DeDonker.
DeDonker has built connections with other ORGL alumni as well, including
Jason Meucci
who she works with as a Co-Facilitator on some projects. She says that the connections she's made in ORGL have been impactful and she leverages them often.
DeDonker now runs her own consulting business.
"If it weren't for my time in Gonzaga's ORGL program, I don't think I would have had the confidence to step out on my own at this point in my career. If you're looking for a program that's going to invite you to stretch and grow personally, as well as professionally and as a leader, this is a really good program to be a part of."