The 2023 Eva Lassman "Take Action Against Hate" Awards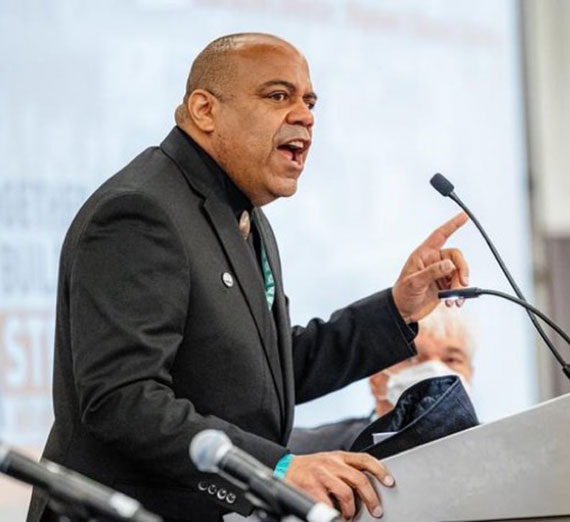 ---
The Bonner County Human Rights Task Force (BCHRTF) and civil rights strategist Eric K. Ward are the recipients of this year's Gonzaga University Center for the Study of Hate's Eva Lassman "Take Action Against Hate" awards.

The Take Action Against Hate awards are presented to individuals and organizations who actively challenge hate and make positive strides of change in their communities, following in the footsteps of Eva Lassman, a Holocaust survivor and widely respected anti-hate advocate.

"The awards committee considers many factors when selecting recipients for the Eva Lassman 'Take Action Against Hate' awards, particularly the degree to which the nominees have engaged in action and awareness-building within their community, whether local, national or global," says Gonzaga's Rachelle Strawther, who chaired the awards committee.
"While the committee is interested in any nomination that highlights efforts to counter hatred, we are attentive to efforts that demonstrate impact. The impact that Eric Ward and BCHRT have had on their respective communities is indisputable."
Ward, a nationally recognized expert on the relationship between authoritarian movements, hate-fueled violence and preserving democracy, has a career that spans 30 years. He has undertaken substantial risks by working undercover in extremist groups to study white nationalism and anti-Semitism as a Black man. Ward has exercised philanthropy through his leadership roles as Western States Center executive director and senior fellow with both the Southern Poverty Law Center and Race Forward organizations.

The Bonner County Human Rights Task Force was selected due to its commitment to educating, supporting, informing and responding to all human rights issues in its county. This volunteer-only organization originated in 1992 as a response to an Aryan Nation group that intended to make North Idaho a haven for white supremacy. Since then, BCHRT has spent the past 30 years speaking out whenever intolerance or bigotry poses threats to the rights, safety or dignity of any individual within their community. BCHRT works tirelessly with public officials and citizens to elevate civil human rights in Bonner County, Idaho.
In his nomination letter, Tony Stewart, secretary of the Kootenai County Task for Human Relations, shared, "As one who personally knew and deeply admired Eva for her work and contributions to human rights for years in the Inland Northwest, I can think of no organization more deserving of this award."
Recipients of the "Take Action Against Hate" Awards will be honored at a
Gala Human Rights Awards Banquet
in Spokane, sponsored by the Spokane County Human Rights Taskforce, November 2.
In fall 2022, Travis McAdam, a Montana-based activist whose efforts to combat white supremacy and other forms of hate was honored with the Eva Lassman "Take Action Against Hate" award, alongside Spokane-based organization, Muslims for Community Action and Support (MCAS).
See who has won an Eva Lassman "Take Action Against Hate" award in the past