Jundt Hosts Traveling Exhibit "Facing Fire"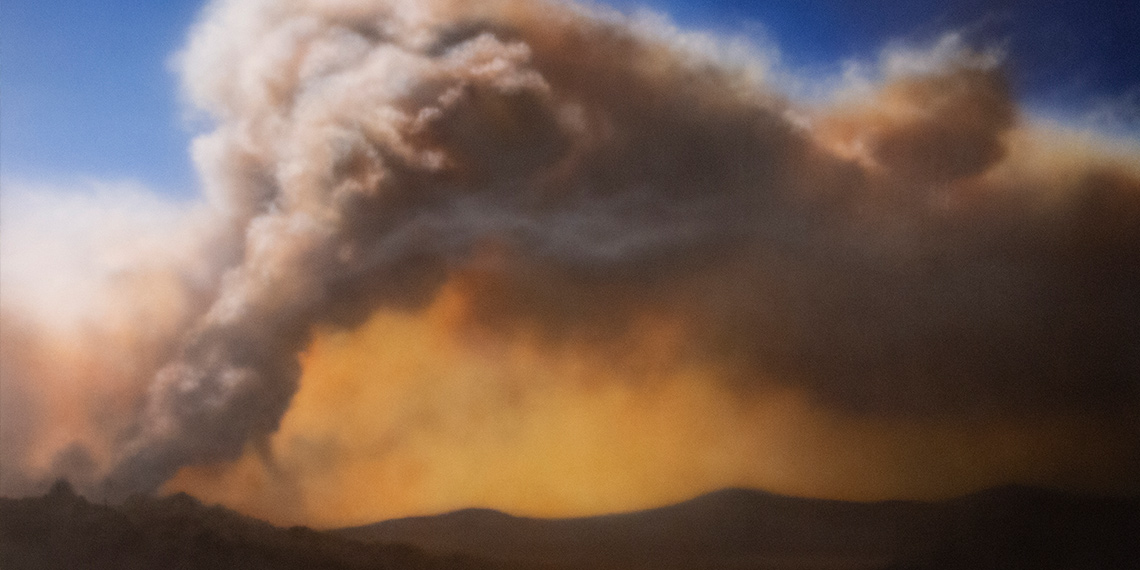 The Jundt Art Museum at Gonzaga University hosts "Facing Fire: Art, Wildfire, and the End of Nature in the New West" — its first traveling show since prior to the pandemic — in the Jundt Galleries beginning Jan. 23 and closing on May 13. "Facing Fire" is curated by UCR ARTS: California Museum of Photography.

Fire as omen and elemental force, as metaphor and searing personal experience — these are the subjects explored in "Facing Fire." In the past two decades, West Coast wildfires, including here in eastern Washington state, have exploded in scale and severity. There is a powerful consensus that we have entered a new era — nature unbalanced, the end of the stable world. The artists in "Facing Fire" bring us incendiary work from active fire lines and psychic burn zones. Together, they face fire, sift its aftermath, and struggle with the implications.

There are 14 contemporary artists included in "Facing Fire": Noah Berger, Kevin Cooley, Josh Edelson, Samantha Fields, Jeff Frost, Luther Gerlach, Christian Houge, Richard Hutter, Christoph Kapeller, Anna Mayer, Cody Norris, Stuart Palley, Norma I. Quintana and Justin Sullivan.
These artists are like poets who enter a burning building and bring back reports of majesty, fear and flame.
For example, in 2008, Anna Mayer placed a dozen unfired ceramic sculptures into valleys and hillsides along the Malibu coastline. She intended them to be fired by wildfire. A decade later, the Woolsey Fire burned 96,000 acres, destroyed 1,643 structures, killed three people — and fired six of Mayer's sculptural pieces.

Norma I. Quintana, meanwhile, builds a photographic memorial to her house and studio consumed by Napa's 2017 Atlas Peak firestorm. She registers her loss by documenting 70 charred objects sifted from the powdery ash — charcoal husks of cameras bodies, slumped remnants of rings, a bisque doll hand. In the end, though, what Quintana chronicles is spirit, resilience, and the abiding persistence of memory.

In addition to artists obsessed with the elemental, the exhibition features work by California's top acknowledged fire photography specialists. Throughout is the uneasy sense that wildfire is a stand-in, a site of displacement for more immaterial fears, for the amorphous anxieties of the age.

Founded in 1973, the California Museum of Photography in Riverside, Calif., stages exhibitions concerned with the intersection of photography, new imaging, and society. With more than 500,000 objects, it holds one of the major photography collections in the United States. The California Museum of Photography serves a diverse California, U.S., and international audience with research, exhibitions, education, performance, programming and publications.

At Gonzaga University, the Jundt Art Museum's exhibitions and events are always free and open to the public from 10 a.m.-4 p.m., Monday through Saturday, except for University holidays. For more information call 509-313-6843 or visit www.gonzaga.edu/jundt. To arrange a docent guided tour, call Karen Kaiser, curator of education, at 509-313-6613.
Learn about the Jundt's galleries
Arts & Culture
College of Arts & Sciences
News Center