A Partnership Committed to Serve Washington Communities for Decades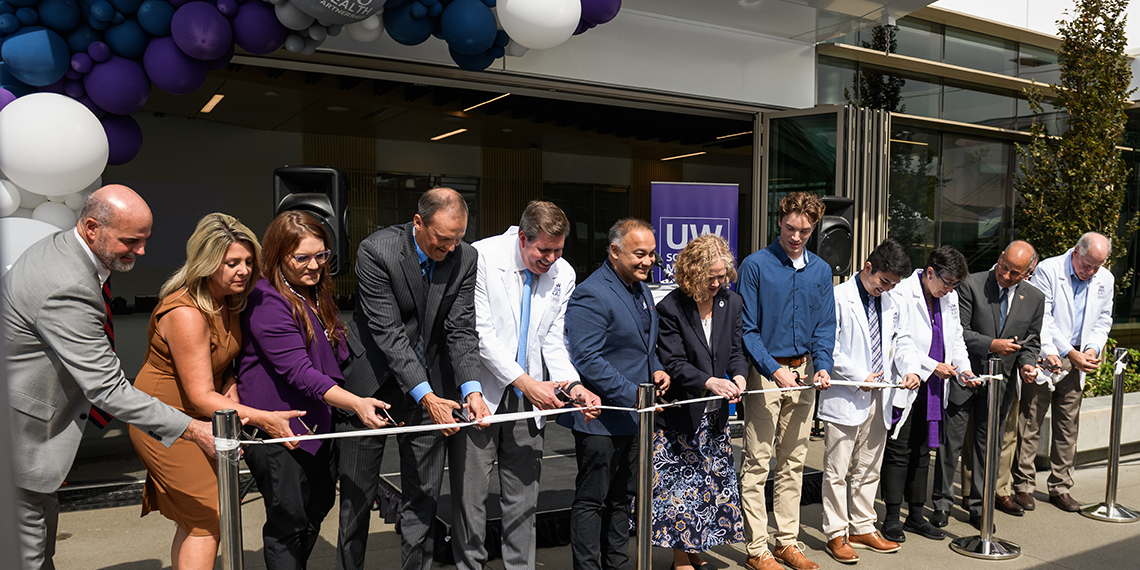 Wednesday afternoon the navy blue of Gonzaga University and the purple of the University of Washington paired perfectly at the long-awaited grand opening of the new UW-GU Health Partnership building.
As hundreds of school representatives, dignitaries, supporters and community members gathered outside the impressive four-story new home to the UW School of Medicine Spokane and GU's Department of Human Physiology, a faculty and student jazz trio from GU greeted visitors and curious media members toured the space.
GU President Thayne McCulloh reminded those on hand that the initial conversations about the two universities joining in a new physical space serving both students and the rural communities of Washington state in dire need of medical expertise date back nearly a decade, to 2014. With Wednesday's event, he added, that vision "for a unique partnership between two great universities, one public and one independent, ushers in a new chapter in medical education in Spokane."
"This project would never have been successful without the foundational work by colleagues at both institutions, a deep well of community support, and an engaged and committed faculty and staff from Gonzaga University, the University of Washington School of Medicine and the regional healthcare community," McCulloh said. "With this partnership, we've expanded the family of Bulldogs to include Huskies, and we found that both of our breeds were quite compatible."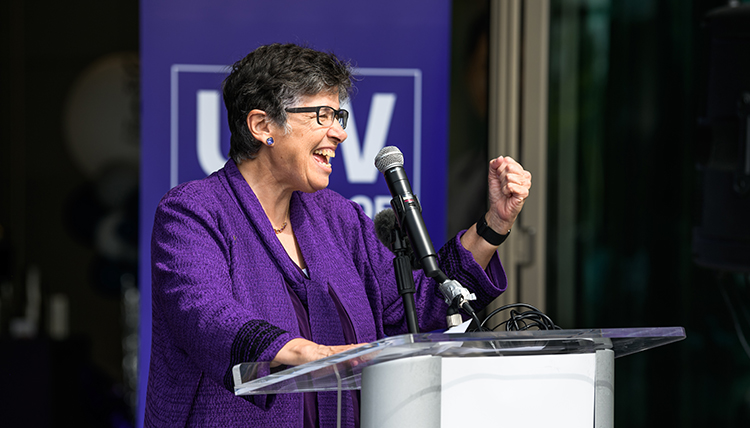 University of Washington President Ana Mari Cauce (pictured here) joked after she was presented with a ceremonial white lab coat that her parents always wanted her to be a "real doctor." She shared the excitement of the collaboration between the schools coming to life with the new building, calling it a "symbol of shared commitment, extending far beyond its walls."
"The power of partnership is in the network of students, faculty clinicians, and partners working to expand access to world-class healthcare for everyone in our region," Cauce said. "Today, we open the doors to a new generation of health professionals who will advance discovery and care for patients throughout Eastern Washington, and we will be a model of what's possible to do when we work together for the public good."
Ribbon-cutting ceremonies are common when a new building opens. Less common? A gauze-cutting ceremony in which a lineup of nearly a dozen folks cut a 22-foot stretch of medical-grade material with surgical scissors. It was fitting for a building that is home to state-of-the-art medical education, research and innovation.
Among those helping snip away were Spokane Mayor Nadine Woodward, Washington state Rep. Marcus Riccelli, GU physiology major Evan Nessen and UW School of Medicine second-year student Smartha Shrestha. John Sklut, GU's Executive Director of the UW School of Medicine-GU Health Partnership, was also there, as was Darryl Potyk, associate dean for the UW School of Medicine and Tim Dellit, interim dean of the UW School of Medicine and interim CEO of UW Medicine.
Dellit offered a brief history lesson, one that showed that medical education in the state of Washington is inextricably linked to Spokane, and that the opening of the UW-GU Health Partnership building is a full-circle moment.
While the idea of a UW medical school first came up in the 1930s, Dellit said, it wasn't until after World War II that UW Regent and Spokane physician Don Corbett helped secure the initial funding for the UW School of Medicine to open in 1946. Later, Spokane native and UW School of Medicine graduate Jack Lein co-founded the WWAMI program in which UW educated medical students from Washington, Wyoming, Alaska, Montana and Idaho (hence, WWAMI) in order to provide medical care in rural and underserved areas.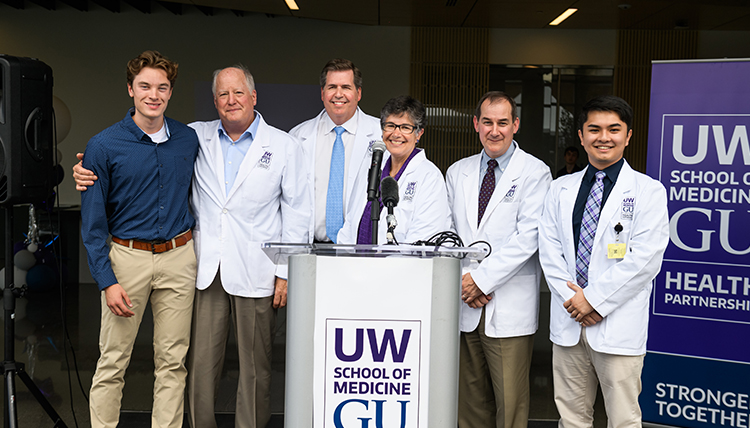 The UW School of Medicine, Dellit said, "ranks number one in the country for Primary Care Education and Family Medicine training, and we've held this rank for nearly all of the past 30 years largely due to our commitment to rural and underserved medical education and WWAMI … And it all started with a vision and the actions of a UW Regent from Spokane, and a visionary doctor from Spokane."
Dean Allen is managing partner of Emerald Initiative and CEO of McKinstry, the company behind the design and construction of the innovative new facility. He sang the praises of building's unique aspects, from the heating and cooling system that takes advantage of the natural aquifer below the building to the complete absence of carbon-based fuels in the building's functionality. Noting the challenges of creating a building that's beautiful, affordable and sustainable, Allen said his company shares the community-minded goals of its partners at GU and UW.
"Important buildings come via great partnerships," Allen said. "And great partnerships benefit from shared values and aspirations. And an appreciation of the power of bold collective action."
The results of just that kind of bold collective action were right there to see for those gathered to celebrate, shining in the early September sunshine and sure to be a highlight of the Spokane skyline for decades to come.
Explore More
Academics
Academic Vice President
News Center