Cotton Industry CEO Sings Praises of Leadership Certificate Program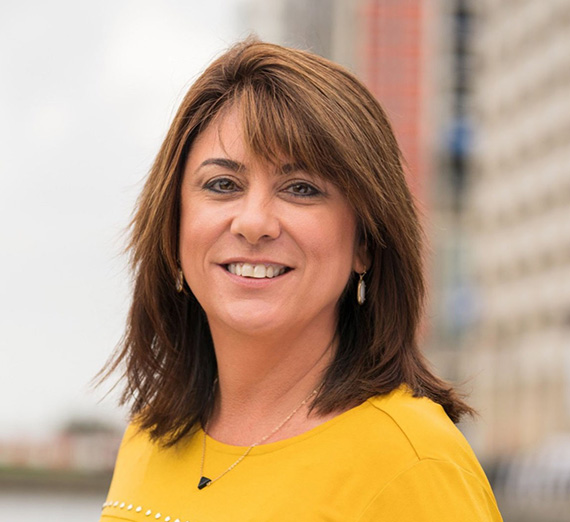 ---
SPOKANE, Wash. – Kim Hanna will become the first woman to serve as president of the International Cotton Association next year, and while the Texan is CEO of her own Dallas-based business and has never set foot on Gonzaga University's campus, Hanna credits Gonzaga for help with the big step.

Taking the Certificate in Women's Leadership program in 2021 "was an experience that helped change my leadership paradigm," said Hanna, of TransGlobal Inspections, whose team provides cotton inspection services in collaboration with a worldwide network of affiliates.
"It wasn't long after the program began – I had just finished reading 'How Women Rise' – when I was nominated for second vice president of the International Cotton Association. What I learned throughout the program helped give me tools and the confidence needed to navigate the journey."
The organization will be 182 years old when Hanna becomes president in November 2023.

"I'm so grateful the program's resources are still available to me as I still find myself going back to refer to them," she said.
More Education Pathways
GU's Center for Lifelong Learning is expanding the university's continuing education offerings by partnering with campus units to offer certificates, workshops, webinars and more to the public.

"The mission of the Center for Lifelong Learning is to create pathways for people from all backgrounds and educational levels to learn and pursue their interests at Gonzaga University," said the center's director, Rachelle Strawther, who holds a doctorate in educational leadership.
Hanna credits Mike Symonanis, an ocean shipping industry expert with the Louis Dreyfus Co. and 2013 graduate of Gonzaga's Master's in Organizational Leadership, for connecting her with Gonzaga. Sherri Lynch, the author of the certificate program, and lead instructor for the first two cohorts, explains, "Our goal is to educate and empower women and allies who support gender equality in the workplace. We strive to make this education available to all folks, regardless of what degree they may or may not have, or what position they hold within an organization."
Since the certificate program, Hanna has leaned on Gonzaga – Strawther and Lynch in particular – for collaborating with and supporting the new Women in Cotton initiative of the international association and its mission to increase engagement and the impact of women within the industry.

Women in Cotton co-founder Eimear McDonagh, Hanna's longtime Australian colleague and an expert in that country's cotton industry, took the certificate program with Hanna. Both women sit on the International Cotton Association's board of directors, which asked the pair to take the lead on Women in Cotton.
The Certificate Experience
As for the Women in Leadership experience itself, Hanna enjoyed the interaction with the other members of the program, listening to their experiences, their different takes on course modules and how each would fit into their lives. Hanna reflected on how her leadership style changed.
"For me it was about confidence – lacking in it, always being the only woman in the room," she said. "I might not have thrown my hat into the ring for second VP without the confidence boost."
"Once I was elected, I went through this whole impostor syndrome – 'Why me?' The course gave me the opportunity to reflect on all of that plus how I got to where I am, realizing that being myself is the best thing I can do. It gave me permission to be that.

"I know I can do anything I set my mind to. And now the question is: How do I bring people along with me?"
Hanna thinks others should consider taking the plunge into something unknown.

"This was the first higher education program of my life," said Hanna, who has no college degree herself. "Whether you hold any type of degree or not, no one should stop learning. I didn't always have conventional ways of doing things, but always found a way."
Explore professional development programs.