Leadership Certificate Program Opened Eyes, Doors for Graduate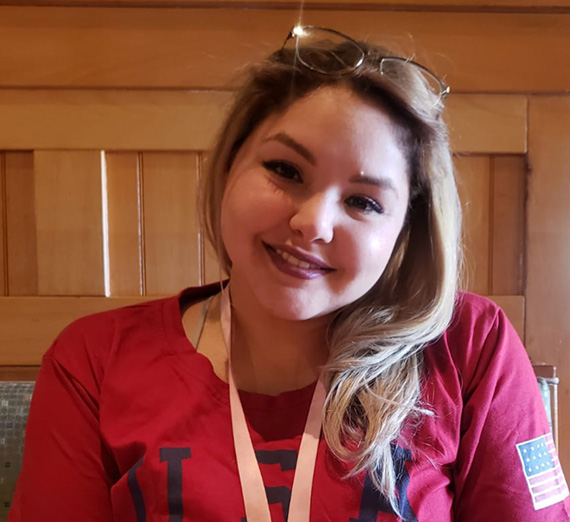 ---
SPOKANE, Wash. – Anngie Zepeda was a program manager for a nonprofit organization serving the Latino community when a friend suggested she consider taking Gonzaga University's Certificate in Design Thinking.

She remembers thinking that pursuing the program would help her decide whether she was capable of going back to school for a degree.
"It changed my life's vision," Zepeda said of her Gonzaga experience. "I realized that everything can be solved if you go right to the main problem.
"As a program manager, my days were full of problems and stress. Learning about Design Thinking definitely made my job easier in all ways, and changed my mindset."
More Offerings in the Offing
GU's Center for Lifelong Learning is expanding the university's continuing education offerings, partnering with campus units such as the School of Leadership Studies on certificate programs like the one Zepeda took.

"The mission of the Center for Lifelong Learning is to create pathways for people from all backgrounds and educational levels to learn and pursue their interests at Gonzaga University," said the center's director, Rachelle Strawther, who holds a doctorate in educational leadership from GU.

Zepeda worked hard to learn English as a second language prior to her GU experience. Today, six years after coming to the U.S., Zepeda is a student at Spokane Community College taking prerequisites for the nursing program. She also works full time as a certified nursing assistant and is the mother of a toddler.
Program Made a Difference
She credits the GU Certificate in Design Thinking for the strides she's making and for teaching her skills to better serve the local Latinx community.
"My project for the certificate was based in the organization that I used to work for," she said. "It was basically trying to find solutions to building trust when you are working with such a vulnerable group as the immigrant community."
Zepeda knew many she served wanted to improve themselves but faced obstacles. Her project focused on addressing legal status and language issues so immigrants could get access to resources or classes.

"I apply Design Thinking every day in my daily life, but especially at work and in my studies," she said.

GU's website calls Design Thinking "a human-centered, problem-solving process that leads to better solutions." Unlike most problem-solving processes that start with assumptions and move quickly toward a solution, Design Thinking is based on empathy – seeking to deeply understand how a challenge affects people, and what they most need from a potential solution.
What's Next for Her
Looking ahead, Zepeda sees herself completing a bachelor's degree in nursing, working as a nurse, and perhaps pursuing the steps necessary to become an advanced practice registered nurse, enabling her to become a surgical nurse practitioner.

For someone considering the Certificate in Design Thinking, she offered advice.

"You will notice the change in your thinking, how you will evaluate problems more deeply and faster," she said.

"Life can be hard because we may have a bunch of problems, then we feel overwhelmed and don't resolve anything. But what if you look at your problems from a different perspective?"

That's what her studies at GU offered her: a new perspective.
Explore professional development programs.