Medical Students are Prepared to Serve Hispanic Populations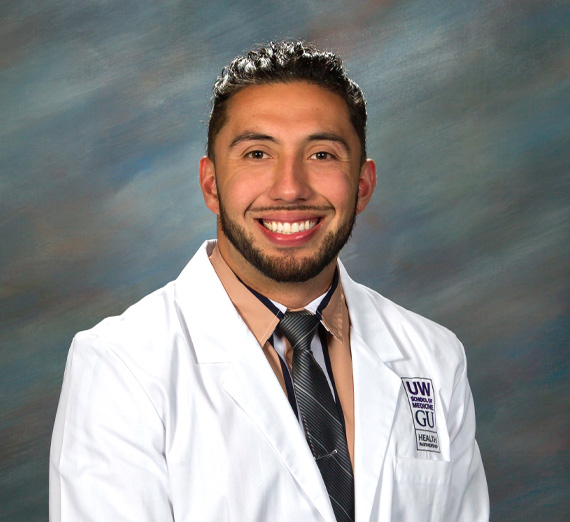 ---
A new Hispanic health interest group on Gonzaga's campus invites students to learn more about Hispanic health, working in an underserved community, and learning Spanish as a second language.
René Caro didn't speak English until he was 6.
Growing up in a Hispanic family in Mount Vernon, Washington, he and his family spoke Spanish at home.
The first-year student at the UW School of Medicine (UWSOM) attending medical school in Spokane through the UW-GU Health Partnership, was inspired by his mother to pursue a career in medicine.
"My mom is a medical lab tech," Caro said. "She's the youngest of 18 children and the only one to graduate high school."
He saw how hard she worked to prepare for her career.
"Watching her study prompted a love of medicine in me," he said.
His mom is also the only one of her siblings who doesn't have diabetes and hypertension, further fueling his desire to address the health woes common in his culture.
When he arrived at Gonzaga's campus, he looked for a student interest group to join.
He was inspired to focus on Hispanic health and launched MUSE (Medical Students United to Serve Everyone).
"The goal is to provide cultural awareness and foster discussion about Hispanic health-related topics," he explained.
In April, MUSE hosted its first panel discussion, featuring Dr. Ben Winkes, a UWSOM alumnus and family medicine physician at Sea Mar Community Health Center in Caro's hometown of Mount Vernon.
"It was great!" Caro said. "A lot of people came to show support."
He also serves as co-lead of the Medical Spanish student group at UWSOM-Spokane
"We host a café gathering and speak Spanish," he said. "All skill levels are welcome.
The MUSE and Medical Spanish interest groups are examples of how UWSOM is supporting and equipping students to serve Hispanic communities.
Arturo García Osorio, a Gonzaga University professor, also teaches Spanish for the Health Professional and Medical Spanish for students attending the UW School of Medicine as part of the Health Partnership formed in 2016 by the two universities.
"In Spanish for the Health Professional, we learn how to interview patients and use real medical discourse and case scenarios," Osorio explained. "We discuss cultural differences among Spanish speakers and I explain that many Hispanics still don't have access to health care."
When it comes to medical terminology, cultural understanding is vital.
Osorio offered this example.
"In an office visit, if you tell a patient they have Type 1 or Type 2 diabetes, they don't know what you mean," he said. "But if you say, you have sugar in the blood - then they understand that it's a serious thing."
Dr. Geoff Jones, UW School of Medicine assistant clinical dean for Eastern and Central Washington, said the medical school is committed to preparing physicians to work with this underserved population.
"Twenty-three percent of Eastern Washington residents identify as Hispanic," he said. "We want to prepare physicians to care for everyone and that means being able to communicate effectively."
Jones noted the UW School of Medicine requires students to be able to speak Spanish at two Eastern Washington rural training sites.
"Wenatchee is a designated WRITE (WWAMI Rural Integrated Training Experience) location and Othello is also a WRITE location, as well as a Targeted Rural and Underserved Track (TRUST) site," explained Jones. "Spanish language competency is a prerequisite for both sites."
Like Osorio, Jones stresses the importance of language in a clinical setting.
"Language allows you to understand culture in a way that nothing else does," he said.
That's why Caro is enjoying his role as a TRUST student in Othello. He spent time there before starting medical school and returns periodically to work at the Columbia Basin Health Association clinic.
He's seen firsthand how using his native language and cultural knowledge is helpful in a clinical setting.
"In our culture, home remedies often have a spiritual connection," Caro explained. "It's important that physicians understand that when diagnosing and treating patients."
Caro is optimistic that the new MUSE student interest group will foster an understanding of how to incorporate Hispanic culture and beliefs in health care settings.
"I hope that this is the start of something bigger and better," he said. "I'm laying a foundation for others to build on."
Read more about Gonzaga's Health Partnership