Medical Students Host Event to Assist Afghan Refugees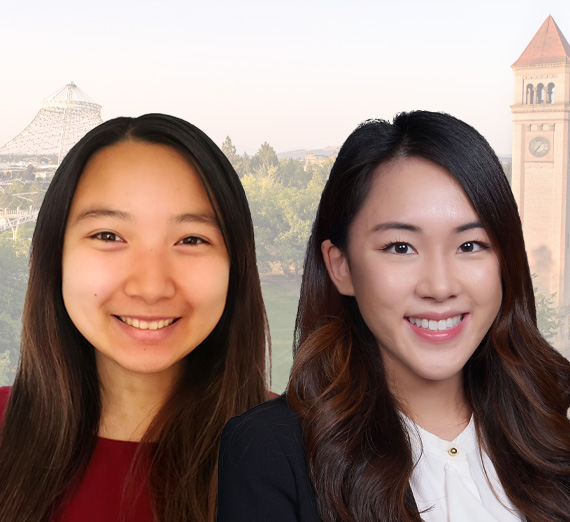 ---
First-year students, Mary Kim and Jessica Giang serve as Refugee Clinical Navigators in Spokane.
Imagine you are ill and need to see a physician, but you don't understand the questions you're being asked and you have no way to communicate your health history.

That's a hurdle many immigrants face when trying to navigate the U.S. healthcare system.

Students at the University of Washington School of Medicine-Spokane have created a service-learning opportunity to help ease the way for refugees to obtain medical care.

Mary Kim and Jessica Giang currently lead the Refugee Clinical Navigators group in Spokane--a student-led group that launched in 2010. In March, they hosted an event at Gonzaga University to help Afghan refugees complete basic health histories for use in healthcare visits. Gonzaga and UWSOM are working together to advance the health of communities throughout eastern Washington through a Health Partnership focused on medical education and research.

"My parents are Korean immigrants so helping with a program like this has always been on my radar," said Kim.

Giang has also witnessed the difficulties immigrants face.
"I'm the daughter of Vietnamese immigrants," she explained. "I saw my parents' difficulty in accessing healthcare."
Both were excited to pursue this project. The previous Refugee Clinical Navigators group had worked closely with Refugee Connections in Spokane to create healthcare handbooks for Afghan refugees.

Kim and Giang are continuing that work in partnership with Refugee Connections, a non-profit organization that works to identify and address barriers to the successful resettlement of refugees and immigrants in the Spokane area. Refugee Connections works with immigrants from all countries, and the UWSOM group assists wherever help is needed.

"Our responsibility was to create an event to distribute the handbooks and assist refugees in filling out their health histories," said Kim.

After several delays due to COVID, the event finally took place in March.

Refugee Connections provided transport and interpreters for the 18 Afghan families who attended.

Kim and Giang recruited more than a dozen fellow medical students to help.

"There were lots of children, so our volunteers colored with them and made paper airplanes, and we showed a movie," Kim said.

Other medical students worked with interpreters to help the adults fill out their medical history handbooks. These pamphlets provide refugees with the materials necessary to carry an accurate copy of their medical information to appointments and for provider reference in the case of emergency and/or urgent medical care services.

"It's so important because if they arrive at the ER with no interpreter and no medical information in the database, it can be difficult to establish care," Giang explained.

The students were thrilled by the event's success and are already planning to host a larger event this fall.

"We'd like to invite healthcare clinics like Community Health Association Spokane (CHAS) to participate, so immigrants can connect directly with providers," said Kim. "It was very exciting to work with other students and with Refugee Connections."

Kathryn Garras, executive director of Refugee Connections appreciates the involvement of the UW medical students.
"It's a beautiful partnership," she said. "The event was a great opportunity for the medical students to build community connection with the Afghan families and build a sense of trust."
She's looking forward to working with the students again this fall.

"Mary and Jessica have been super involved in the planning process," she said. "I'm excited to continue to work with them."

While Kim and Giang had hoped the event would be helpful, what pleased them most was seeing how happy the families were to connect with each other.

"We were able to create that space for them," said Kim. "It's a challenge to not have a network of people. Finding support is an important part of healthcare."

Watching the Afghan families interact while their children played nearby proved meaningful for Giang.

"I didn't realize we could have such an impact as medical students," she said.

Kim agreed.

"It was a nice time to step away from studying and be reminded of why we're in medical school."
Learn more about Refugee Connections
Learn more about Refugee Connections