GU Welcomes Underrepresented Youngsters to Campus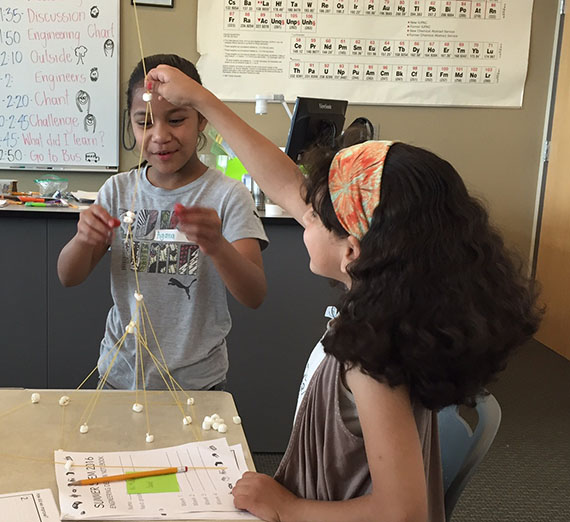 ---
The School of Education's Summer Language Camp has been a staple for Spokane's population of new refugees since 1998. Before the pandemic, its number of campers reached almost 400 youngsters from Spokane Public Schools.

Conversely, the School of Engineering and Applied Science is providing the SEAS Summer Immersion Program for the first time, bringing 15 high school junior and senior females to campus for a four-day residential camp. They hail mostly from small towns and communities and may never have been exposed to engineering or computer science.

Don't ever think campus academic activities cease to exist in the summer.

And these two programs have some distinct similarities. For example, the array of camper activities is broad. Both programs are structured using an engineering design process that includes inquiry, research, solution development, creating a prototype and crafting a product.
SUMMER LANGUAGE CAMP
Associate Professor James Hunter directs the Summer Language Camp, and relies on Gonzaga students, faculty and Spokane-area teachers to teach English to K-12 children who have recently been displaced from their native countries.

The camp has two parts: morning sessions for both undergraduate and graduate "Teaching English as a Second Language (TESL)" students, and afternoon sessions for refugee students. Many of the morning-class students teach in the afternoon.

Students are grouped by grade level. High school-age children learn about resume making, job interviews and attend a job fair staged by the summer camp that also includes booths from Gonzaga, Eastern Washington, Whitworth, Community Colleges of Spokane, along with Spokane police and fire departments.

Students in the middle grades are exposed to a variety of STEM activities, in partnership with SPS after-school programs. For example, third- grade students are exposed to The Science of Superpowers while sixth-graders explore Flight and Aerodynamics.

"Every class is taught in English," Hunter says. "Some students have just arrived and don't say a word. But by the end of the first week of camp, they are speaking up, using English they have learned and feel much more comfortable."

The camp runs July 11-29.
SEAS IMMERSION PROGRAM
Freshman Engineering Course Coordinator/ Instructor Kirk Reinkens directs this new program, which was conceived by SEAS Dean Karlene Hoo and focused on women in STEM, to expose high school juniors and seniors to engineering and computer science as career options.

This program, July 11-14, will include talks by, and interaction with, successful women engineers and computer scientists in the Spokane area, as well as three field trips to Spokane-area engineering and computer science firms, and hands-on experiments in Gonzaga's new John and Joan Bollier Family Center under the direction of GU faculty and student engineers and computer scientists.

"Ultimately, we want to ask our student campers, 'Did this program help you
to consider going to college? If you are considering college, would you consider studying in a STEM field? If yes, would you consider Gonzaga's School of Engineering & Applied Science?'" Hoo says.

This program is fully funded by private benefactors with the hope of inspiring more women to enter these fields of study, heavily occupied by men.

"Imagine the first activity of the day is touring a local engineering business. Then one of
our engineering faculty takes them through a hands-on project," Hoo describes. "We break campers into teams because the world needs teams of different thinkers to solve its complex problems. Then our students hear from successful female engineers and computer scientists and learn about their career journeys."

Student teams will be given design activities every day, starting small, experimenting with design, building a prototype with GU SEAS students as team mentors.

"We will encourage students to trust each other, make mistakes and recover quickly," Hoo says.

In both summer immersion experiences, the final day is to show off the students' work and celebrate achievement with their families. There are no tests or textbooks.

Perhaps the most important takeaway is hope.
---
Learn about other summer events by following us on Facebook, Instagram or TikTok.