Skulls & Crosses: A Poem about St. Aloysius Gonzaga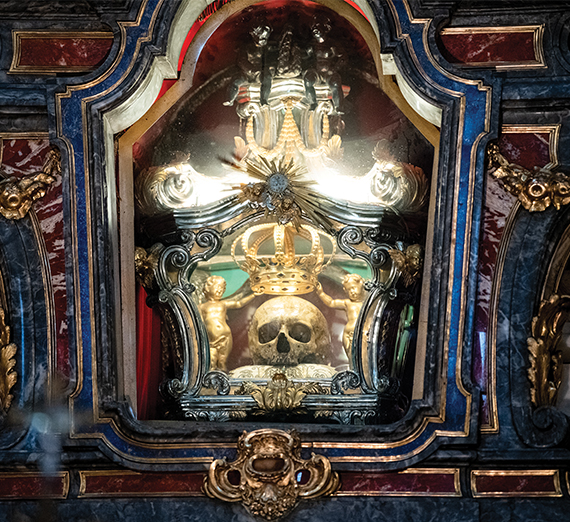 ---
Editor's note: This spring, we received a lovely gift from Philip Kolin, a professor emeritus of English at the University of Southern Mississippi. He wrote: "Fond greetings. I had the honor of being trained by the Jesuits years ago and have never lost my affection for and debt to the order. I am sending along a new, unpublished poem of mine on your university's namesake ... I give it to your university to spread devotion to this saintly soldier of Christ." Kolin has published 12 collections of poems and had more than 300 poems published in a number of Catholic periodicals. We gratefully and gladly share his gift for the enjoyment of the Gonzaga community. As for the image: The skull is believed to be that of St. Aloysius himself, photographed by Gonzaga photographer Zack Berlat in Florence.

Skulls & Crosses
By Philip Kolin
You called yourself a scrap of twisted iron,
You with your epicene face and doe-soft hands,
a lovely reflection of God in an unlovely world.
Like Father Ignatius, you learned the steel of discipline,
you, soldier and courtier and future prince. Each day
you scourged yourself and renounced the world's comforts.
True to your name, you were a warrior. But in God's army.
In one image, you hold a crucifix with transfixed,
heart-melting eyes. In another a skull. Both reminders
of what awaited you. And there you are, in a Jesuit
hospital in plague-stricken Rome, tending
the sick God sent you. Everywhere skulls. Still,
you washed their broken bodies riddled with coughs,
congestion, convulsions, and died ministering to them.
In one image you carry an old man, bandage-
strapped to your back, as if you were Christ
carrying his cross to the Hill of Skulls. Who does
nothing knows nothing, you said. In those plague-
ridden times you advanced on the timeless. Look
again. Skulls and crosses still call out to us today.
Learn more about St. Aloysius Gonzaga and St. Ignatius of Loyola, founder of the Jesuits.