2022 Faculty Award Honorees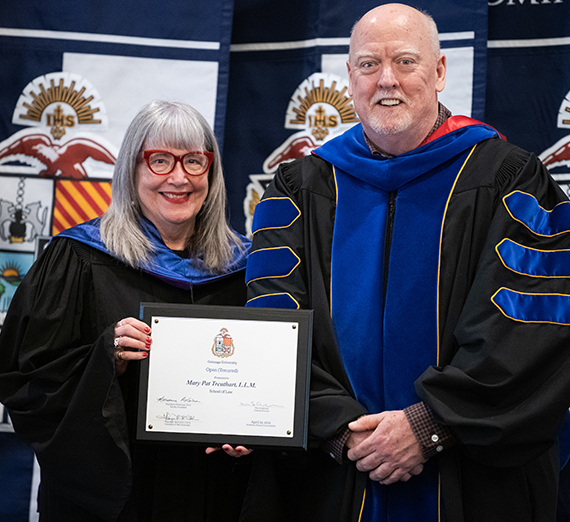 ---
Fourteen Gonzaga University faculty members were recognized for their academic, scholarly and innovative contributions at the annual Academic Convocation April 19.
Community-Engaged Learning
Jeff Dodd, assistant professor, English
• Incorporated community-engaged learning into his multimodal communications class
• Nominating students inspired by Dodd's passion, kindness, wisdom and wit
Karen Petruska, associate professor, Communications Studies
• Dove right in to her first community-engaged learning class
• Worked alongside GU students at Logan Elementary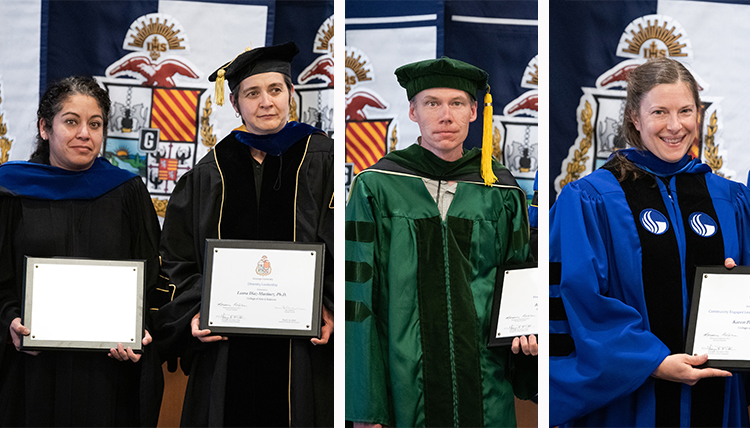 Pictured: Carla Bonilla, Laura Diaz-Martinez, John Orcutt, Karen Petruska
Open Faculty Award, non-tenure track
Kris Morehouse, senior lecturer, Communications Studies
• CTA Faculty Fellow for faculty advising, she mentored faculty to develop their own, successful advising philosophy
• Provided a mountain of resources to assist faculty advisers

Open Faculty Award, tenure track
Ray Rast, associate professor, History
• Work focused on including values of marginalized voices in traditional narrative on public landmarks

Open Faculty Award, tenured
Mary Pat Treuthart, professor, Law
• Spent entire career advocating for others
• National subject expert in constitutional, criminal, women's rights and disability law

Professional Contributions
John Orcutt, assistant professor, Biology
• Discovered evidence of a saber-toothed cat living in the Inland Northwest millions of years ago
• Named the cat Machaairodus in consultation with Confederated Tribes of the Umatilla Indian Reservation

Jennifer Shepherd, professor, Chemistry and Biochemistry
• In last four years developed a research program garnering over $1.3 million in external grant funding to promote undergraduate research skills

Teaching Excellence, non-tenure track
Melinda Howard, lecturer, Biology
• Her pedagogical strategies, care for students and wholehearted support by her department have showcased themselves in her classroom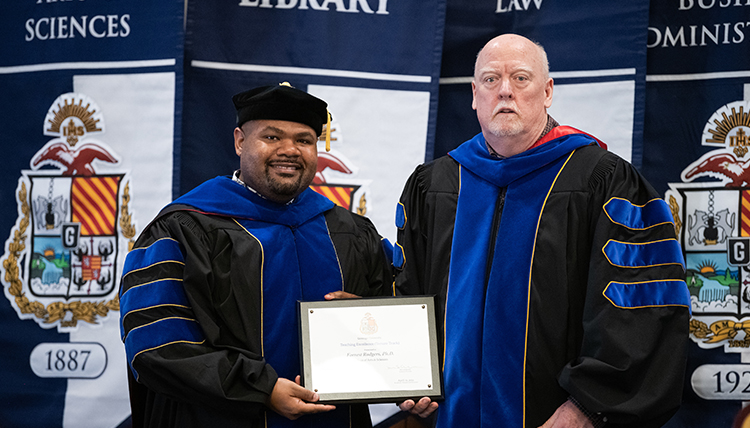 Teaching Excellence, tenure track
Forrest Rodgers, associate professor, Sociology and Criminology (shown above)
• His teaching in criminology is centered on the experiences of Black, Indigenous and People of Color (BIPOC), highlighting racism as an endemic and persistent problem of the criminal legal system

Teaching Excellence, tenured
Sarah Arpin, associate professor, Psychology
• During the pandemic, she updated two courses to reflect and respond to students' needs
• Involved with students in researching the interpersonal impacts of the pandemic

Collaborative Work Award
Mirjeta Beqiri, professor, Business Operations
• She shares classroom content, ideas, instruction and her time with students and colleagues, inside and outside the School of Business Administration
• Supported course development in the Doctor of Nursing Practice program

Diversity Leadership
Carla Bonilla, associate professor, and Laura Diaz-Martinez, assistant professor, Biology
• Produced extensive work helping students to establish GU's chapter of the Society for Advancement of Chicanos/Hispanics and Native Americans in Science

Academic Citizenship and Compass Awards
Kevin Measor, lecturer, Biology
• With Katherine Blackmann in Career and Professional Development, he reshaped and fortified pre-health student advising
• Orchestrated 18 presentations for hundreds of prospective students, and conducted more than 200 advising appointments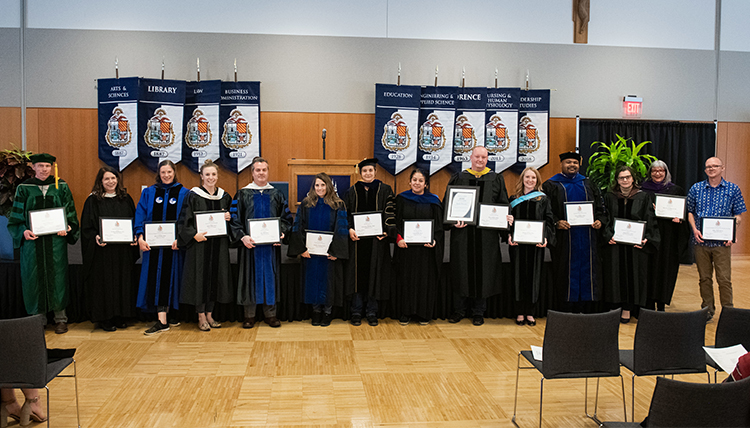 Faculty recognized for their outstanding achievement this year are (l to r): John Orcutt, Kris Morehouse, Karen Petruska, Sarah Arpin, Ray Rast, Jennifer Shepherd, Laura Diaz-Martinez, Carla Bonilla, Kevin Measor, Melinda Howard, Forrest Rodgers, Mirjeta Beqiri, Mary Pat Treuthart and Jeff Dodd.
See other 2022 commencement-season stories.