Class of '22 Grads Grateful for Mentors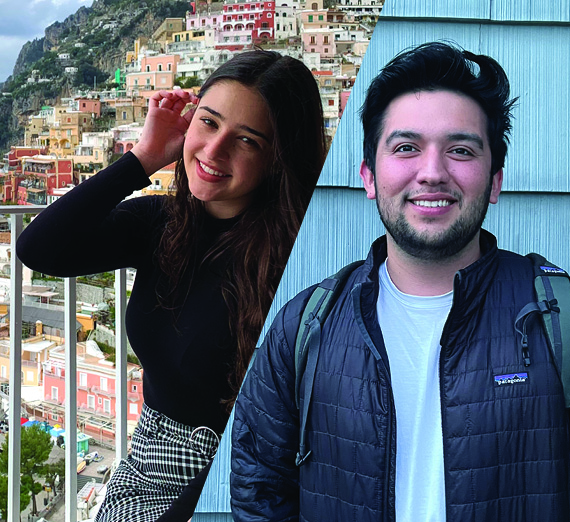 ---
Among the 1,235 undergraduates receiving their degrees from Gonzaga this year, here are just two of many deserving a spotlight. Both hail from San Diego, are planning some post-graduation travel prior to beginning their chosen careers, and express deep gratitude for the faculty and staff members who have influenced their college journeys.
Sydney Tawfik ('22) – School of Business Administration
Seattle will be Sydney Tawfik's new home as she begins her business career as an associate consultant with Slalom Consulting. Tawfik completed a bachelor's degree in business administration (with honors), plus a concentration in finance and a minor in leadership.

She complemented her academics with experiential learning as president of the Gonzaga Women in Business club, where she found a passion for advocating for women in the workplace.

"I hope to utilize future roles in the business world to uplift and empower women," Tawfik said. "Most importantly, I want to seek experiences where I can travel, immerse myself in other cultures, and meet new people while working in a career field that I love."

Tawfik also served as the marketing intern for the School of Business Administration, was a member of the Honors Program and Comprehensive Leadership Program (CLP), and represented Gonzaga-in-Florence in the student body association.

"Gonzaga has been pivotal in shaping me into the woman I am today. I am so grateful to be a part of a community of such driven, compassionate and interesting individuals," Tawfik said. "My Honors family has taught me how to approach the world with an open mind and to consistently challenge the status quo. My time in CLP has taught me how to be a more empathetic and effective leader. My role as the marketing intern for the school has made me a more proactive, creative and innovative young professional."

"I also want to thank my friends and my peers for pushing me to be a better version of myself every day," Tawfik said. "Most importantly, I want to thank my parents and my sister for being my biggest supporters and encouraging me to make the most of my college experience."

Tawfik said she especially appreciates her Honors director, Linda Tredennick; her thesis adviser, Karen Petruska; CLP Director Josh Armstrong; and School of Business Administration Marketing Manager AJ Hawk for mentorship over the last four years.

"Sydney is such a great example of what we aspire for our students in the Honors Program," says program director Linda Tredennick. "Her honors senior thesis looks at feminist digital spaces, specifically using the MeToo movement as a case study, and came with her commitment to find supportive professional and intellectual spaces for women. It combines her professional goals, her sense of values and moral compass, and her fierce intelligence. We are so excited to see what she does next with her gifts as she moves to Seattle!"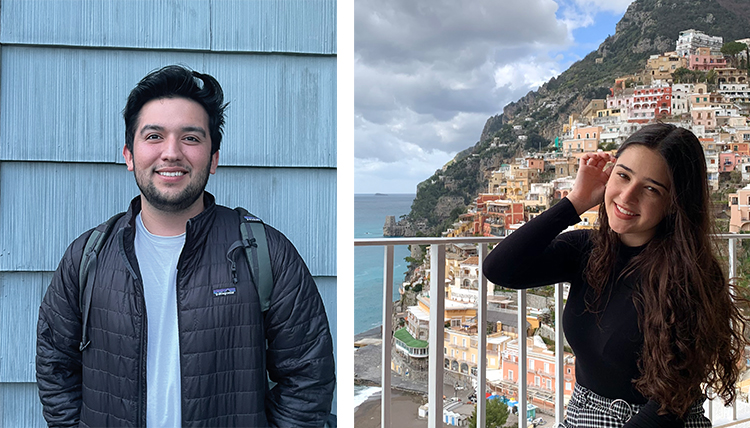 Left: Andrew Jimenez; right: Sydney Tawfik
Andrew Jimenez ('22) – College of Arts & Sciences
Andrew Jimenez, a first-generation college student, has always dreamed of being a doctor. With a fresh biology degree and a concentration in biological research, he will return to San Diego to pursue clinical laboratory experience while prepping for medical school applications.
Among the many options in the field of medicine, anesthesiology and infectious disease are especially appealing to Jimenez. While he has "always been interested in diseases and how they affect human health," COVID definitely deepened his curiosity in the matter, and learning about a wide range of bacterial and viral pathogens in microbiology added to the intrigue, he said.
"The pandemic was interesting because it seemed like the science community's focus shifted to finding a cure or vaccine for the novel coronavirus. I thought it was cool to see physicians, researchers, health care workers, and scientists all around the world come together to work on ending the pandemic," Jimenez said.
A critical part of the biology program at Gonzaga is research, often executed by faculty members and students working side by side. Researching with Carla Bonilla, associate professor of biology, has been a highlight for Jimenez as he explored bacteria and its resistance and sensitivity to toxic compounds and antibiotics.
"Dr. Bonilla has not only been a great research mentor, but also a great friend. Working in her lab has peaked my interest in science research and has challenged me to think critically and apply the knowledge from class into real-life scenarios," Jimenez said.
Bonilla was also integral to starting the Gonzaga chapter of the Society for the Advancement of Chicanos/Hispanics and Native Americans in Science (SACNAS), an organization committed to making science and success in STEM more equitable and accessible to minorities. Jimenez became the chapter president.
He availed himself of plenty of other science activities, including the Health Sciences Club, Gonzaga Science Scholars and Science in Action! Add to those activities his role as a teaching assistant for biology labs, lab prep assistant and a volunteer with the Walking School Bus in Northeast Spokane, and no doubt Jimenez's application to med school will capture attention.
He also has full support from Bonilla, who says she noticed his potential immediately. "Andrew is a born leader," she said. He has an "easy way of connecting with people, enthusiasm for the course content and initiative to step up when needed."
She adds, "As the SACNAS chapter president he is selfless, kind and generous. I know Andrew will thrive at whatever he sets his mind to."