Peers Honor Former Engineering Dean at Gonzaga University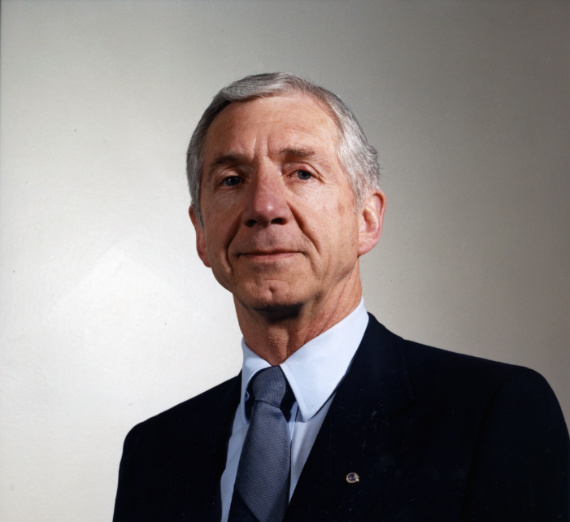 ---
SPOKANE, Wash. – The Inland Empire Section of the American Society of Civil Engineers has honored William Ilgen with the Distinguished Career award for his work at Gonzaga University's School of Engineering and service to the field.
Ilgen retired in 1993 as professor emeritus after 25 years at Gonzaga, serving as dean from 1975 to 1988. He later served as interim dean for several months in 1996-97. He was instrumental in securing accreditation of the civil, mechanical and electrical engineering programs.
Ilgen, now 93, also led the effort to construct improvements to the engineering building, when it expanded to become the Herak Center. His colleagues called him the "second founder" of the School of Engineering, which became the School of Engineering and Applied Science in 2007 when it added computer science, formerly housed in the College of Arts and Sciences.
Three of Gonzaga's current mechanical engineering faculty members – two of them former students of Ilgen – recalled his influence and character.
"He always exuded a positive and upbeat outlook," said Jim Weston, a 1977 mechanical engineering graduate who is now a full-time lecturer. "He conducted review sessions to assist us in preparing for our comprehensive final. He seemed to really enjoy his teaching role and his students."
Gerry Snow, an adjunct professor who also graduated in 1977 with a mechanical engineering degree, credits Ilgen with nudging him toward his career choice.
"I remember Dr. Ilgen as being very professional, leading by excellent example, and very supportive of us young engineers," Snow said. "I would say that he and other key faculty I studied under as a GU ME student were inspirational in my decision to continue advanced studies as a graduate student and to do my best in my career."
Mechanical Engineering Professor Khy Ansari relished his time as a colleague of Ilgen.
"I am happy that I had the privilege of working with Bill over the years that we were together at GU," Ansari said. "He had a very pleasant and sincere demeanor and judgment you could trust.
"I always found him to be a good resource for undergraduate engineering education. He embraced change, empowered and trusted his faculty and staff, and made them feel important by giving them his time and helping them relentlessly in any way possible. He showed interest in the academic progress of students, mentored and supported faculty, and participated in long-term planning through fundraising and developing relationships with local donors."
Ilgen opened his home to faculty, Ansari recalled.
"I have personally shared interesting conversations with him at faculty gatherings and the several dinner get-togethers that he and his wife, Mary, hosted at their home in Spokane Valley," he said.
In 1981, Ilgen served as president of the Structural Engineers Association of Washington – Spokane and next year was president of the statewide group. He received the Inland Empire Section Engineer of Merit award in 1984.
Ilgen earned bachelor's, master's and doctoral degrees in civil engineering from the University of Nebraska. He also served as a fighter pilot in the U.S. Navy.
At the same ASCE awards ceremony that bestowed the career honor on Ilgen, Gonzaga civil engineering majors Kyle Nolan of Ellensburg, Washington, and Antonio Campos of Aurora, Colorado, received scholarships from the local section of the American Society of Civil Engineers.
Explore degrees and programs within the School of Engineering and Applied Science.