Medical Student Understands What It's Like To Be on the Receiving End of Medical Care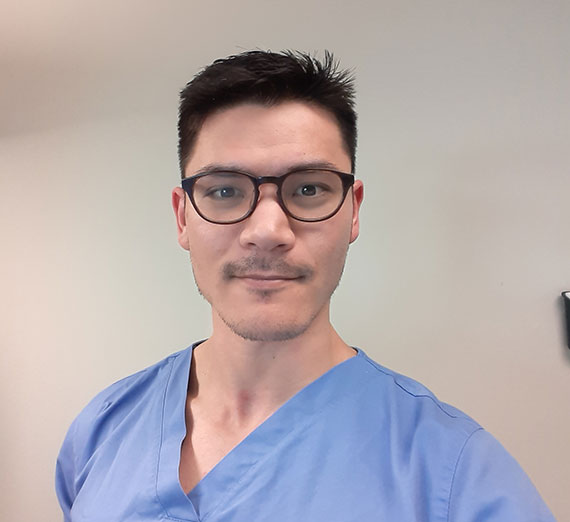 ---
University of Washington-Spokane second-year student Basil Wendel underwent liver transplant surgery as a teenager in Japan.
SPOKANE. April 29, 2022 – For the first 13 years of his life, Basil Wendel spent a lot of time in hospitals—so much time that for many years he eschewed the thought of pursuing medicine as a career.

"I was hospitalized at least once a year on average," he recalled.

Shortly after birth, Wendel was diagnosed with biliary atresia. This congenital condition occurs when the bile ducts inside or outside the liver don't develop normally.
"It generally leads to liver failure by age 13 to 15," Wendel explained
In an amazing stroke of luck, a few months after his birth, Thomas Starzl, the surgeon who pioneered liver transplants, happened to be presenting at a conference in Japan.

"My father was able to meet with him after the conference," Wendel said.

Starzl gave Wendel's father much-needed expert information about the liver transplant surgery his newborn son would one day certainly need.

That day came 13 years later.

"It became apparent that my liver was failing," said Wendel. "I was constantly fatigued. By 5 p.m. I'd be exhausted. Every hospitalization meant a no-food diet to give my liver a rest."

His family had prepared for this day.

"My dad was my donor. He donated half of his liver."

The liver is unique among organs in that it can grow back, even if up to 90% of it is removed.

Wendel said his recovery was rough.

"But since I was a kid, it was easier than if I'd had the surgery now, at 30."

Once he was fully recovered, he never looked back.

"I'm very healthy and have had no complications related to my liver," he said.

He found his creative outlet in writing and performing music, and has been part of several bands since middle school.

But all those hospital stays caused him to avoid anything related to medicine.

"I decided I didn't want anything to do with it."

That changed when he moved to the U.S. at 18.

"I have dual citizenship," he explained. "When I got to the U.S., I wanted to meet Dr. Starzl."

He wasn't able to meet the surgeon, but he did meet Dr. Jorge Reyes at the University of Washington School of Medicine in Seattle.

"When I walked into his office I saw an oil painting of Starzl—it felt like I'd come full circle."

Reyes had been trained by Starzl and continued the surgeon's work at UWSOM. Wendel was able to shadow Reyes and the transplant team.

"It was a deeply personal, emotional experience," he recalled.

And it opened his eyes to the possibilities of a career in medicine.

He enrolled at Evergreen State College and worked as a certified medical assistant while attending college and nursing school. After working as an RN for three years, Wendel decided to apply to medical school.
"As soon as I decided medicine was what I wanted to do, I had a personal connection to it," he explained.
Wendel enjoyed spending his first two years of medical school in Spokane, also home to UW Medicine Liver Clinic that provides care for patients with acute and chronic liver disorders.

"I'd never been here," he said. "It's so beautiful. When I got to Spokane I started a new band and I'm performing again."
He writes most of the music and lyrics for FLWR, an indie-folk band, and said finding time to practice was tricky, but they made it work.

His history as a patient and his medical background as an RN have proved invaluable to him during medical school.

"I get really excited when I meet a transplant patient or transplant surgeon," he said.
But surgery isn't what draws him—as he starts clinical rotations, he said he finds emergency medicine most appealing.

"I like being a diagnostician," he said. "I enjoy figuring things out."

His dream job is to someday work with Doctors Without Borders. For Wendel, the best part of a medical career is clear.

"I will never worry that I'm not doing something meaningful," he said.
Check out more information about the UW School Of Medicine – Gonzaga University Health Partnership .