Student research honoring Holocaust survivor recognized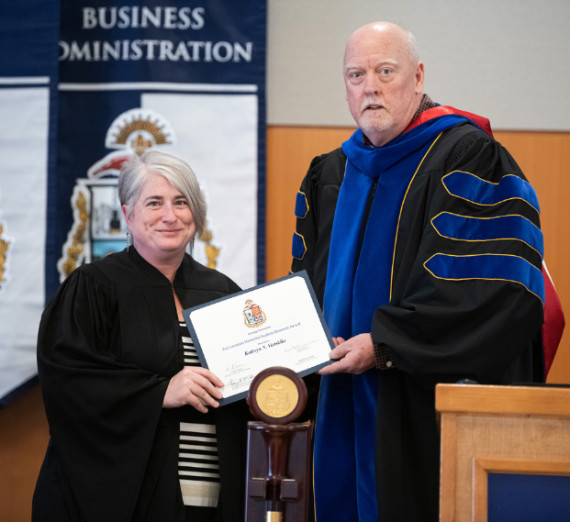 ---
SPOKANE, Wash. – Three Gonzaga University students have been recognized for research projects focused on the human capacity to dehumanize, marginalize and abuse others, reflecting bias and bigotry in society.
The Gonzaga Center for the Study of Hate presents the Eva Lassman Memorial Student Research Award and the Take Action Against Hate Awards annually in honor of the life and memory of the Holocaust survivor and educator who lived in Spokane. Her focus on the importance of human dignity, security and rights were hallmarks of her lifelong commitment to peace and justice.
The honored students for the student research awards are:
Kathryn Vanskike, $1,000, for "Jesuit Missions Among Interior Salish Tribes as the Origin Story of Gonzaga University." Vanskike is completing a Master of Arts degree in Communications and Leadership and is GU's senior director of content strategy and publications.
Ahn (Hailey) Nguyen, honorable mention, for "How hate crimes directed towards Asians affected the presence of international students in American academic institutions." Nguyen is an honors student in the School of Business Administration.
J. R. Lau, honorable mention, for "Protestant and Catholic comparison on attitudes towards Covid mitigation." Lau is a Bachelor of Arts student with a double major in biology (research concentration) and psychology.
This was the sixth year for the Lassman student research awards. Previous topics that earned recognition addressed various forms of hatred in domestic and international contexts, including anti-Asian hate, anti-nativism, anti-Semitism, homophobia, socioeconomic "othering" and white supremacy.
Award recipients have come from a broad range of disciplines, including biology, business administration, communication and leadership studies, religious studies, sociology and criminology, and women's and gender studies.
Lassman was an unyielding advocate for educating people about the genocide of 6 million Jews and 5 million people of other nationalities, religions and viewpoints under Nazi Germany during World War II. In Spokane she was a wife, mother and Holocaust educator.
Eva Lassman Memorial Student Research [ELMSRA] Award Application
Any student currently enrolled and in good standing in an undergraduate, graduate or professional studies program (e.g. law, business, leadership) at Gonzaga may apply. The deadline for next year's student research awards is March 15, 2023.
Eva Lassman Take Action Against Hate Award [TAAH] Nomination
The Center for the Study of Hate also presents the Eva Lassman Take Action Against Hate Awards each fall. Anyone may nominate an individual or organization working to counter hatred on the local, national or global levels. Self-nominations are accepted. The deadline for nominations is July 31, 2022.
Recipients will be recognized at an awards ceremony on Nov. 5, 2022. Presence at the on-campus event is encouraged, but not required.
Last fall's TAAH honorees were the immediate past co-chairs of the Asian Pacific Island Coalition of Spokane and the Limerick (Ireland) University European Centre for the Study of Hate.
Want to Learn More?