Healing Our Broken Land
---
Award-Winning Author Robin Wall Kimmerer Speaks on Indigenous Perspectives and the Climate Crisis

In a Feb. 17 web event hosted by Gonzaga, more than 1,800 people from 47 states and 24 countries tuned in to listen to Robin Kimmerer, award-winning Indigenous author and scientist, speak about her celebrated book, "Braiding Sweetgrass: Indigenous Wisdom, Scientific Knowledge, and the Teachings of Plants," and what it means for understanding the climate crisis.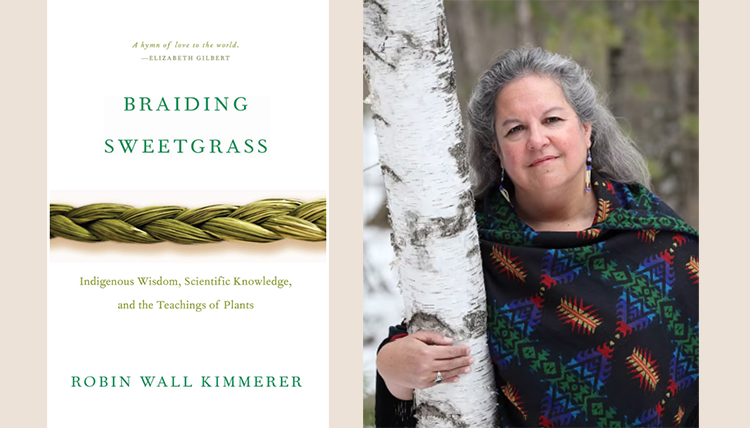 Kimmerer urged the audience to understand the environment not just in a western, scientific sense, but from an Indigenous perspective of beauty and reciprocity. As a member of the Citizen Potawatomi Nation, Kimmerer explained having to submit her natural way of seeing the world as she pursued scientific knowledge.

A self-ascribed botanist from birth, Kimmerer said that when she went to a college of forestry, she was one of only a few women and the only native student in the program. When she was asked why she wanted to be a botanist, she said she wanted to know why golden rod and astrix look so beautiful together. Her professor scoffed.

"I was in an intellectual monoculture that left no room for someone who thought like I did," Kimmerer said.
The urgency of the climate crisis no longer requires more scientific research, data or technology; it needs wisdom, Kimmerer proposed. Questions cannot always be true or false, they also include philosophy and values.
One example is our perception of land as a resource, according to Kimmerer.

"The climate crisis we're facing today, is at root, growing from these disparate meanings of what is land," she said. Kimmerer suggests that we see the land as identity, a part of us rather than something we use and take from.

How can we learn this perspective? Kimmerer recommends going out into the land.

"Fieldtrips are priceless," she smiles.

As for climate change, Kimmerer returns to sweetgrass.

"Sweetgrass is a sacred grass for us. Sweetgrass appears in our creation story. … This is often the first plant to grow on broken land. It is a healer of land, just as it is a healer of people," she said.

The event was co-sponsored by Gonzaga Center for Climate, Society, and the Environment, the Gonzaga School of Leadership Studies, and Gonzaga Native American Studies department.
Learn more about care of the earth through Gonzaga programs: Office of Sustainability and the Center for Climate, Society, and the Environment.