Traditions return to Gonzaga University commencement ceremonies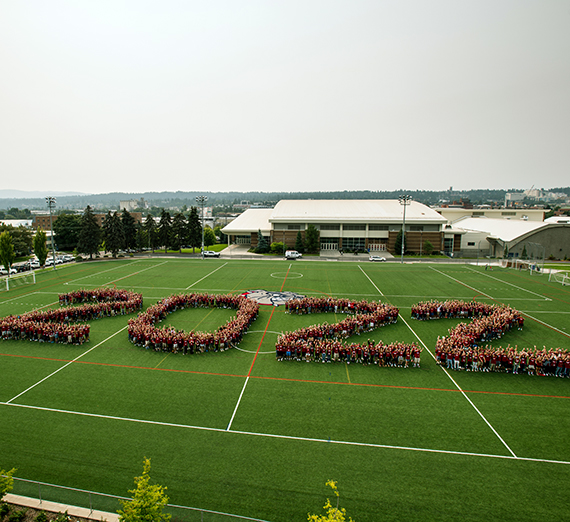 ---
SPOKANE, Wash. – The traditional jubilation of graduation will be on full display for the Class of 2022 and their families and guests during Gonzaga University's 129th Commencement this Mother's Day weekend. In addition, the Class of 2020 that had previously been celebrated via a virtual ceremony will be welcomed back to campus for a weekend full of activities.
It is anticipated that 1,235 undergraduates and 786 graduate or doctoral students will receive degrees.
Details for the Class of 2022 Commencement events:
Saturday, May 7
Law School, 9 a.m., McCarthey Athletic Center. This ceremony kicks off three Saturday events. Gloria Nevarez, attorney and West Coast Conference commissioner, will serve as commencement speaker. Professor Inga Laurent will speak on behalf of faculty and Chloe Sykes will share remarks on behalf of graduates. Former Washington Attorney General and Gov. Christine Gregoire ('77 J.D.) will receive the Law Medal. A light reception will follow at the Law School.
Graduate School, 12 p.m., McCarthey Athletic Center. Businessman and philanthropist Terry Payne is the featured speaker, and Chelsea Michielsen, receiving a Doctor of Nurse Practitioner degree, will speak on behalf of students. Spokane entrepreneurs, hoteliers and visionaries Walt Worthy Jr. and Karen Worthy, who restored the Davenport Hotel and later built the Davenport Grand, will be honored. A reception will follow on the Herak Center Quad.
Commencement Mass, 3:30 p.m., McCarthey Athletic Center. Rev. Tom Lamanna, S.J., rector, Della Strada Jesuit Community, and pastor of St. Aloysius Parish, will preside with the Rev. John Murphy, S.J., of Della Strada serving as homilist.
Sunday, May 8
Undergraduates, 9 a.m., Spokane Veterans Memorial Arena. Educator and Law alumna Angela Jones ('16 J.D.) is the featured speaker. Charlotte Low, achieving a Bachelor of Arts with a double-major in psychology and sociology and a minor in women's and gender studies, will speak on behalf of students. Holocaust resistance fighter Carla Peperzak will be honored. Tickets are required for entry, and each attending student is limited to seven guests. A light reception will follow on the Herak Center Quad.
Class of 2020 Celebration
To honor the Class of 2020, President Thayne McCulloh has invited all graduates and guests to return to campus for a celebration of their accomplishments.
A Welcome Social for 2020 graduates and guests is set for late afternoon Saturday, May 7. A full array of events is planned for May 8, including a graduation Mass, breakfast and Celebration Ceremony at Spokane Veterans Memorial Arena.
"One of the many painful consequences of the COVID-19 pandemic, which so suddenly disrupted our work and lives in March of 2020, was our inability to celebrate your class at an in-person Commencement," McCulloh wrote. "While it was important to find a way to celebrate your achievements in a 'virtual' ceremony, we know it was not the kind of event any of us truly wanted for you and your family.
It has always been important to us at Gonzaga to invite you, your classmates, and guests to one day return and have the opportunity to see one another again and celebrate the granting of your degree in person.
---
Currently, there are no COVID-19 restrictions in place for these events, but the university's Zag On resources notes: While we are confident that our ongoing mitigation efforts will continue to be successful, we also remain cognizant that COVID behaves unpredictably, and we may see upticks in case counts. With that in mind, please be aware that these updated protocols are subject to change.
Find event schedules, student stories, any protocol changes and more.