Zags help sixth-graders learn about pH, common drinks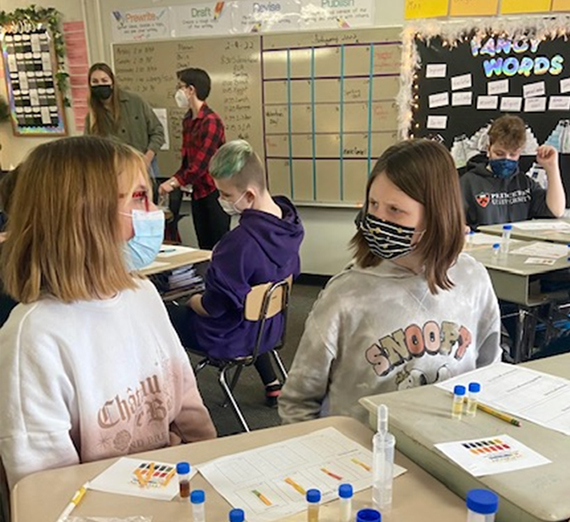 ---
SPOKANE, Wash. – Some sixth-graders in Spokane may change the beverages they consume thanks to a science experiment they conducted with the help of Gonzaga University students.
Four Science in Action! volunteers took a "pH of drinks" lesson to Monika Hawkinson's class at Roosevelt Elementary recently, introducing the concept of pH and focusing on the acidity of many common drinks and how they can erode teeth.
The GU students helped the students test Coke, apple juice, Gatorade, Red Bull, Propel Water – a Gatorade product advertised for having antioxidants and vitamins – and Mountain Dew, among others. They discovered that many of them have a pH close to that of a lemon (pH 2.3): Coke, 2.3; Gatorade, 2.7-2.9; and Propel, pH 3.0.
The results surprised the students, whose animated reaction indicated their engagement in the exercise.
"They predicted all these drinks would be as neutral as water," said Jiana Stover, GU's outreach coordinator for Science in Action! "To say they were shocked with the results would be an understatement. They couldn't stop asking questions.
"One of the students commented he drinks Gatorade all day, every single day and thought it was 'just flavored water.' He's rethinking that after what he discovered today."
Ellie James, a junior biology major from Seattle and one of the volunteers, echoed Stover's take on the sixth-graders' reaction.
"Many of the students were shocked to find out that Gatorade was not just flavored water," James said, "and many said they drink it every day, which to me was shocking to hear a bunch of elementary school kids say they have those kinds of drinks on a daily basis."
Olivia Ashby, a sophomore biology and secondary education major from Auburn, Washington, also volunteered. She, too, heard the students' "Wow!"
"They were excited to be doing a science experiment," Ashby said, "but shocked to find out the truth about everyday drinks."
Bottom line: "They had a lot of fun."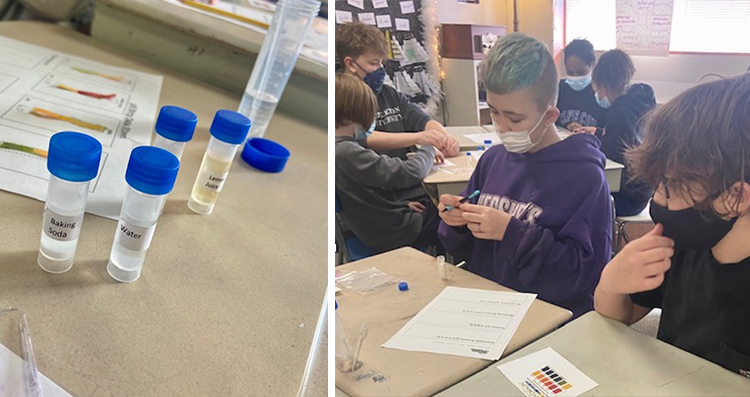 And it wasn't the first time.
"The kids love seeing us come in each week," said James Coleman, a sophomore psychology major. "As we get to know them more we create a bond and they look forward to what we have in store for them.
"I've done Science in Action! at this school and at the Salish School with younger children and it definitely brings a smile to my face to see the children so excited about learning."
Coleman, who moved from Bristol in the United Kingdom to Cincinnati when he was 11, noted that any GU student can volunteer for the science program.
Kira Schwander, an applied mathematics major with a biology concentration, is from Spokane Valley and finds the same smiling welcome as Coleman.
"It's great how enthusiastic the students have been when we come, because they seem eager to do the projects and learn more science with us," Schwander said.
Gonzaga's Science in Action! partners with elementary schools in Spokane to send volunteers to classrooms to lead hands-on, inquiry-based science lessons, according to Stover. It began in 2008 when biology professor Dr. Nancy Staub returned from a sabbatical during which she volunteered in her daughter's classroom at Roosevelt Elementary and realized the potential for an outreach program with GU students.
The program now boasts 50-plus volunteers and serves 12 classrooms each semester. They worked with students at more than 12schoolslast year, Stover said.
"Science in Action! is always expanding its offerings of interesting science inquiry activities we can offer budding young scientists in our community by working with Gonzaga researchers to bring 'Research Into the Classroom,' one of our program initiatives, or simply develop innovative activities that bring science equipment and experiences to young students," Stover said.
Learn more about Science in Action.