Tripling in Strength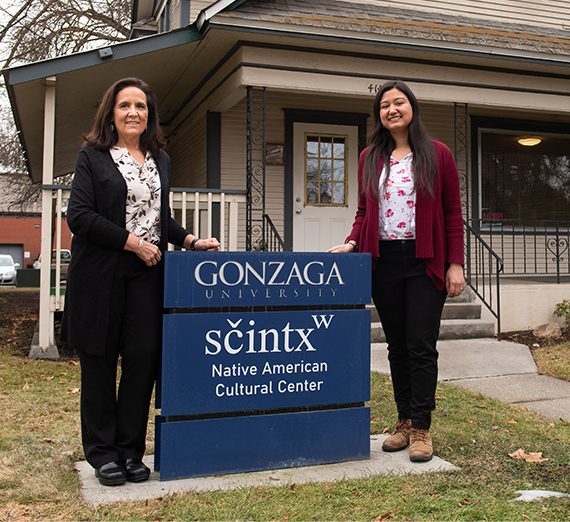 ---
[Originally published in "Spirit," the newsletter for Gonzaga faculty and staff, March 2022.]
After nearly two decades, Gonzaga's Office of Tribal Relations tripled in size in one season. Last fall, longtime director Wendy Thompson added Leah Simeon and Jeremy Rouse to her staff, and the trio agrees it's as though they've been a team much longer.

I find it hard to believe we've been working together less than four months," says Thompson (Confederated Salish and Kootenai Tribes).
Each brings their own insights as Indigenous people, unique skillsets and a shared commitment to provide a caring and transformative environment for Native students at Gonzaga. "We have some accountability to the tribal nations our students identify with, and that includes helping to co-create a more welcoming environment for our native students," Thompson says. Simeon (Spokane Tribe) and Rouse (Ihanktonwan Nakota Tribe) share the title "coordinator of Native student accompaniment." Rouse says Simeon is the "meaning maker" and organizer, and she says he brings a deep intellectual perspective and creativity. They both offer first-hand experience working in educational settings: Simeon as a student worker with Thompson here at GU as an undergrad and grad student ('15 English and '18 Master in Teaching), as well as a teacher at Muckleshoot Tribal School in Auburn, and Rouse as a member of the Title VI Indian Education department at Spokane Public Schools for eight years.

Simeon views her real focus as "getting to know each student and understanding how to support them," she says.
We're rooted in kinship, which is a longstanding part of our survival through history.
At Gonzaga, that doesn't just include students who are physically on campus, but also a growing number of Native students enrolled in online graduate programs who study remotely but still yearn for a sense of community.
'They were manifested by the work'
After several years in tribal relations, Thompson says there is such an increased interest in Native issues and Gonzaga's tribal relationships that Rouse and Simeon were "manifested by the work at hand." Nationwide, there is a growing interest in and awareness of harms done to Indigenous peoples, particularly after recent discoveries of the remains of Indian children at residential schools in Canada. Within Jesuit provinces and Catholic parishes, there is a concerted effort to study more of their own histories with missions serving the Native tribes.

The latter, in particular, played a role in moving Tribal Relations to the division of Mission Integration at Gonzaga, led by Michelle Wheatley. In this structure – and with the added team members available – Thompson is able to participate in explorative projects with Jesuits West and dive deeper in Jesuit origins and relationships with the region's many tribes.

Outside the direct work of the Native American Cultural Center, also known as 'The House' – a gathering place for Native students on campus – Thompson works with academic partners, like the School of Education, which offered a series on Rethinking Native American Education. She notes, "Every time we had a student panel, the students changed but what they were saying didn't. I reminded them that the western educational system was not originally intended for them to succeed as Natives." "My hope in this work is to help shift that," Thompson says.
Many departments across campus seek input from the trio, and while it's normal for them to receive some questions that indicate a lack of awareness about Native American experiences and stereotypes, Rouse says, "For me, it's been great to see that people are interested and willing to engage in conversation. I've been impressed by hearing from faculty and staff who really want to engage in the work of navigating that issue of visibility and avoiding tokenizing of our Native students."
Together as a team, Thompson, Simeon and Rouse feel strengthened to process some of those tough topics together. They view the microagressions they may experience as lessons in where they need to focus their work or communications, and opportunities to model a productive response for students. The team says they invite campus partners to come to them with questions. A piece of advice: "Ask us anything but be ready for the answer. And when we're asked to do things, it's likely that we'll do it differently than you might have expected."
Learn more about the Native American House at Gonzaga on Instagram: @GU_NativeHouse