Leadership Students Simulate G-20 at European Forum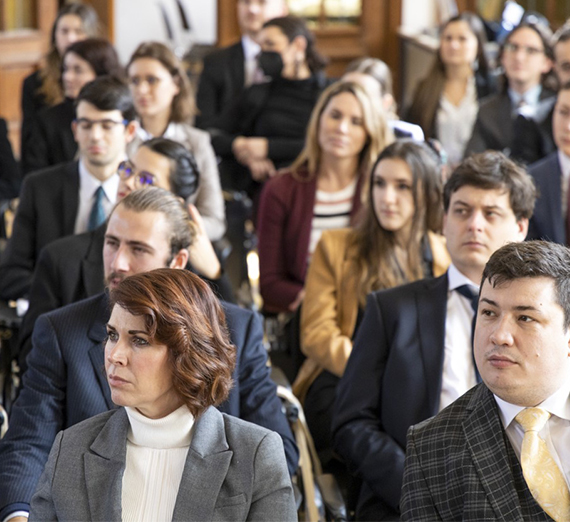 ---
Ten doctoral, graduate and undergraduate students from Gonzaga's School of Leadership Studies are currently at the Brussels European Forum for a weeklong intensive global leadership experience. Along with 40 other international students, they are participating in simulations of the North Atlantic Council (NAC), Foreign Affairs Council (FAC) and G-20.
Over the course of the week, these global leadership students will discuss key topics of transnational import, including climate change and energy reliance, migration policies and border control, global trade, human trafficking, women's empowerment, economic recovery post COVID-19, cyber resilience, counterterrorism and stabilizing conflict zones, and NATO-Russia relations.
The teaching team from Gonzaga includes Sherri Lynch, director of community, corporate and external relations for the School of Leadership Studies, and program graduates Steven Kyle Denton and Bruce Hough.
Gonzaga students are serving on the Global Media and International Advocacy committees, which have a complex and critical role in influencing the direction of the NAC, FAC and G20 committees.
The Global Media Committee aims to complement the simulation by creating a medial frame and connection around and between the negotiating committees just like real-life journalists. Free Press and Journalism have always been one of the core elements of thriving democratic societies. Journalists at BEF interview representative of the NAC, FAC, and G20, as well as crate daily news shows to inform participants about the events happening within the committees via our own social media channel. The mission of the International Advocacy Committee is to participate in the debate of the topics found on the agendas of the NAC, FAC, and G20 and to raise awareness among participants on the social, humanitarian, and environmental effects of their decisions. Their role is not only to influence the decision makers in the simulated committees, but to engage the participants (e.g. Heads of State) and to empower them to speak up against injustice and human rights violations.
"As an Eastern European immigrant from one of the countries neighboring Ukraine, I cannot begin nor end my expression of gratitude for the work they are doing in Brussels to be at the frontlines of diplomatic leadership during these historical times," shared faculty sponsor and professor Adrian Popa. "Our team is leading our Zags during historical moments that have grave consequences."
In addition to the students' intensive 14-hour days of deliberations, they will complete a briefing at NATO on Friday, just days before President Joe Biden arrives to meet with NATO leaders about the Russia-Ukraine conflict.
"Opportunities to be with and for others in times of crisis, and to learn and practice global leadership reflects our missional Jesuit values of serving on the frontlines of where the world needs us most" said Popa.
Read daily updates from the forum.
Learn more about the School of Leadership Studies.