Zags' Favorite Parts of Spokane, Part 1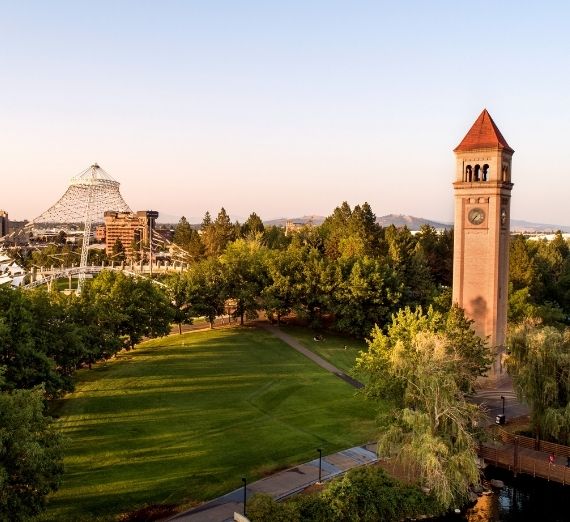 ---
The Spokane region is a collection of various different communities. One part of Spokane can be vastly different than the Spokane right down the street; for example, Spokane Valley vs. North Spokane, Liberty Lake vs Hillyard, etc. The communities range drastically and that's been an eye-opening experience for me when I travel throughout the region of Spokane. I do have my own personal favorite spots in Spokane, which I have found throughout the last two years from traveling around. I will often find myself eating at King of Ramen on Mission, on days that I need comfort food, or I'll find myself driving to Cliff Drive to sit at the lookout when I need a college breather, or I'll go out with friends to the farmers markets in Spokane – particularly, the Kendall Yards Night Market. I feel that there are hidden gems in Spokane, and, although I still compare it to home, Spokane has its own uniqueness to it. Experiencing Spokane outside the Gonzaga bubble makes all the difference in living in Spokane.
The city of Spokane is a wonderful place for Gonzaga University to be located. The nature of the surroundings and metropolitan area blend to make a very unique atmosphere that I think is very conducive to the college experience. Spokane is great because it is not a massive city with fast-paced hustle bustle but at the same time it has all the amenities a major city has. The mix is perfect for small town rural students to expand and see what "city life" is like and the same for students from big cities to leave fast paced city life and see what a smaller city experience is like.
My personal favorite areas of Spokane are the many city parks, especially Manito Park. This park has some really amazing flower gardens with a greenhouse full of exotic plants. I have spent hours walking around the good-sized city park with hills and open areas perfect for after school picnics or awesome winter photoshoots. I have found it is really helpful for your mental health as well as physical health to get away from campus and just walk and spend time enjoying nature and Manito Park has everything you could want to get away while being only a 10-minute drive away and completely free! Along with the parks in the city, Spokane has many amazing parks surrounding the city holding exquisite scenery and extensive hiking, snowshoeing, and even cross-country skiing trails all within an hour's drive from campus. Overall, the outdoors is what makes Spokane so special. Getting off campus and enjoying the outdoors makes the college experience at Gonzaga unique.
I am only a sophomore at Gonzaga University, but there are already so many parts of Spokane that I feel have become a part of my life. One of my favorite spots in Spokane is the Wild Walls climbing gym. I go here every Friday night for $5 student climbing night. It has become a part of my weekly routine, and I can always look forward to walking into downtown Spokane with my friends to get some exercise and have a good time. When I am downtown, my friends and I are always sure to walk through Riverfront Park. There are always so many people there enjoying all that the park has to offer such as the playground and the Looff Carrousel, and even ice skating in the winter. We love to walk through the park during sunset where we can see the clock tower and the downtown light fixture, the well-known monuments of Spokane, reflected upon the Spokane river.
Spokane is filled with numerous attractions including the Centennial Trail, Bowl and Pitcher of the Riverside State Park, and the famous Riverfront Park Pavilion with the illuminating light show. However, Spokane also has several hidden gems that I have been lucky enough to experience over the past two years at Gonzaga. One of these, and my personal favorite, is the Peaceful Valley Park basketball court just five minutes away from campus. Spokane is known for the largest annual 3-on-3 pickup basketball tournament in the world: Hoopfest. Scattered throughout Spokane are hundreds of basketball courts for this event. However, this one court in particular, Peaceful Valley, is a basketball court on top of one large mural. The mural design is full of colors and patterns inspired by both the Spokane River and the game of basketball. The colors of the court while running up and down provide an almost euphoric experience and one that I have never experienced anywhere else. Last year, my friends and I would frequently go to this spot after a day of classes to unwind, relax and stay moving. It will forever be one of my favorite spots in Spokane and I hope that everyone is able to visit at least once because it is truly breathtaking.
Want to see Spokane for yourself? Register for an in-person admission visit here.