Zags' Favorite Parts of Spokane, Part 2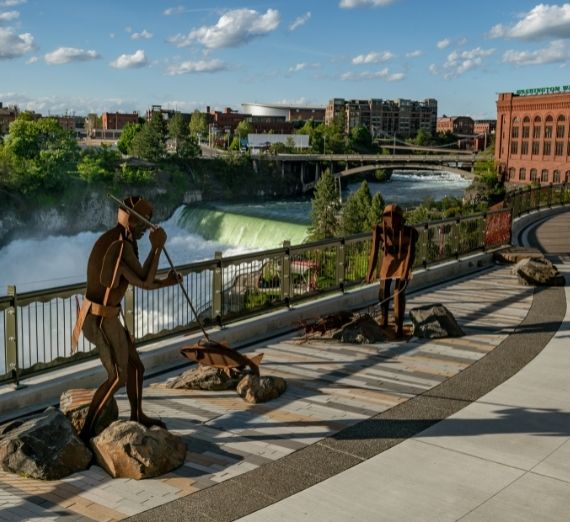 ---
One of my favorite spots in Spokane is the Pavilion in Riverfront Park. It is a light fixture that changes colors and is displayed with various brightness and patters; it is also continuously on every night! Recently, to celebrate the Lunar New Year, it displayed colors of red, white, and gold. They also had fireworks to celebrate the Lunar New Year. Last year, my friends and I would always walk to the Pavilion every Friday and take a moment to appreciate the beauty of the lights. You can stand under the structure and look up towards the sky as lights dance all around you. It is definitely a spot that everyone needs to see if they are in Spokane!
Spokane is filled with many amazing things to see and do, but for me, there are a few that truly stand out. My all-time favorite place to go in Spokane is the Rocks of Sharon. The hike is filled with many massive boulders with a beautiful view at the top that is unique to the area. With it only being a 30-minute drive from Gonzaga's campus, it's accessible to most students. Another part of Spokane that I enjoy is the Peaceful Valley Park basketball court underneath the Monroe Street Bridge. The court has many intricate designs and is dry most of the year. If you're into going and shooting some hoops or possibly playing 5v5 with some strangers, Peaceful Valley is the place to be. Finally, Riverfront Park is probably the most accessible place for students and one of my favorite places to run to after class. Even if you're not into running, you can simply take a quick 15 min walk down the Centennial Trail to see the Pavilion, ice skating, the pop-up markets, and much more. Overall, Spokane has so many exciting things to explore. Just one more reason to come to GU!
When I'm in need of a break from the hustle and bustle of my studies, one of my favorite things to do is talk a walk down the Centennial Trail and stroll down to Riverfront Park. Riverfront Park is arguably the heart of downtown Spokane, with beautiful green spaces and playgrounds and the Spokane River running straight through. It's an amazing place to catch a sunset, read a book, or have a picnic with some friends. There's always something to do in the park, such as watching "Shakespeare in the Park" in the summer, going roller skating at the skating ribbon in the fall, or ice skating the same ribbon in the winter. They even host fun seasonal events such as Spokane's Lunar New Year celebration that our very own Filipino-American Student Union performed at! You're also guaranteed to see some wildlife with ducks populating the water and squirrels dominating the trees. It's a great place no matter the time of day or year, making it a very popular spot for most Gonzaga students!
Since Gonzaga's campus is on the river it can sometimes seem like Spokane is small. But, once you get even just 5 minutes off-campus, you are amazed by all the fun things you can do! I am a very big coffee drinker, so I love to wander off-campus and find cute coffee shops to get homework done. My favorite place is Indaba Coffee. Some of my roommates are really into hiking, so many of our Sunday mornings are filled with finding a new place to hike. Bowl and Pitcher is just 10 minutes off-campus and a beautiful stroll to take with friends. When the weather is nice, our friend group will walk off-campus to downtown Spokane filled with shops, restaurants, and even ice skating. I am always Google searching for new things to do in the area and I have been surprised by all the activities I have found to do on the weekend.