Ring in the Holidays with Bing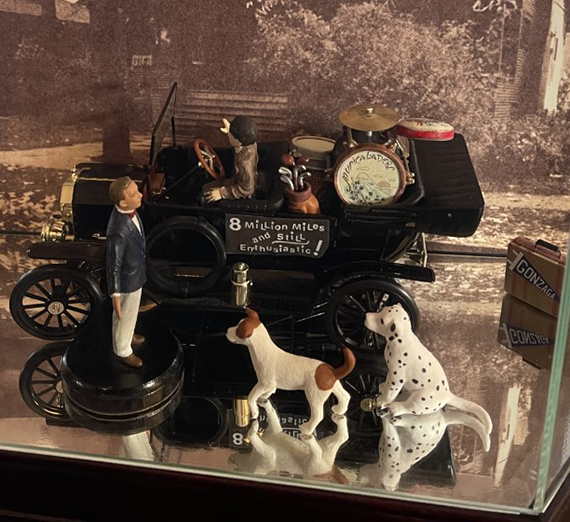 ---
Bing Crosby might never have become Spokane's most famous son if he hadn't left Spokane in 1925 to chase his dreams in California.

That momentous road trip is memorialized in a recently donated diorama that will be displayed at Gonzaga University's Bing Crosby House Museum this Saturday, Dec. 3, when the Advocates for Bing Crosby host their annual White Christmas open house at the humble abode packed with memorable memorabilia.

The diorama was created by Mark Scrimger, a Michigan super fan and one-time president of the American Bing Crosby Fan Club. It depicts Bing standing next to the 1916 Ford, his golf clubs and drums in the backseat, and his musical partner Al Rinker in the driver's seat.

Scrimger was inspired to make the diorama when he found a miniature Bing figurine unusual in its accuracy of Crosby's facial features. One problem: The figurine was painted silver.
Scrimger found a miniaturist who specializes in painting game pieces for Dungeons and Dragons and was able to get mini-Bing back to looking like himself.
The other pieces of the diorama — the car, the drums, the tiny golf clubs — were found at various flea markets and online sales, and Scrimger's son painted them all to match the descriptions in Crosby's autobiography. Scrimger did have to take some creative license to explain why Bing was in his familiar arms-wide-open singing stance right before hopping in the car, so he added some dogs for the singer to serenade before he skipped town.

The diorama is now part of the permanent collection of the museum. The diorama, the Norman Rockwell painting of Crosby and more will be available for guests to view, as well as Christmas decorations and an array of museum items. Visitors will enjoy free cookies and hot cider and the sounds of Crosby's Christmas favorites as well.

The Advocates for Bing Crosby Bing Crosby House Museum White Christmas open house is Saturday, Dec. 3, from 1-4 p.m. The museum is located at 508 E. Sharp Ave. in Spokane, and entry is free.