Spotlight on '22 Law Grads - David Salgado, Margarita Torres and Sead Muradbegović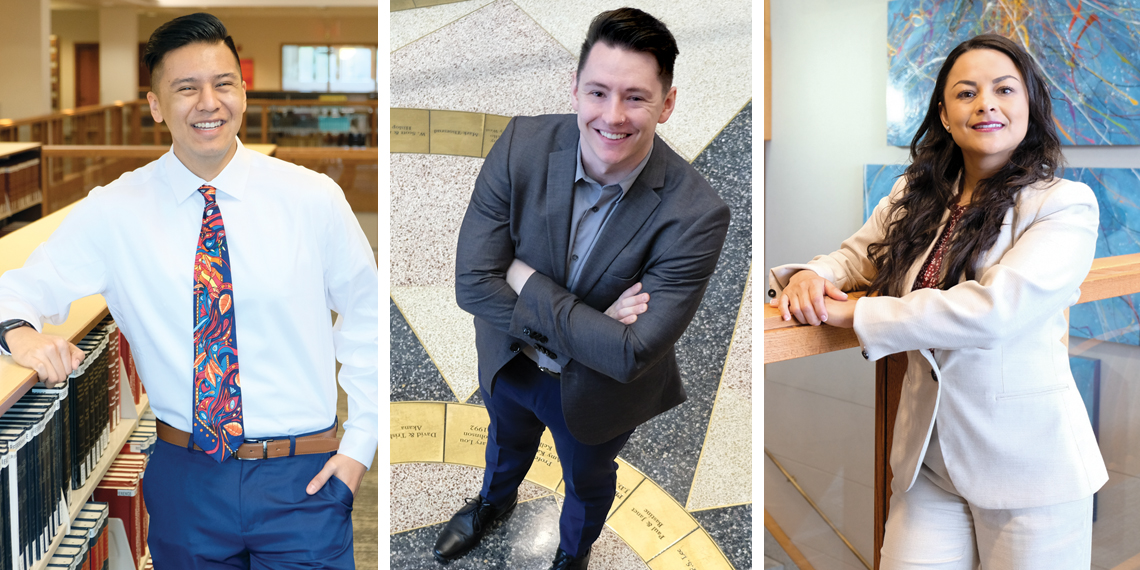 All for One and One for All
During his first year of law school, David Salgado found himself part of a Know Your Rights presentation for recently arrived immigrants as part of a community effort to welcome the newcomers to Spokane. Being bilingual, he took it upon himself to make sure Spanish-speaking immigrants understood the messages.
Gonzaga Law Professor Megan Ballard saw David's interactions and asked him if he would participate in the Gonzaga In Action: Nogales, Mexico, trip with several classmates, to help refugees seeking asylum learn the process and complete the necessary forms.
"To hear the testimony of those from all over the world seeking relief from persecution and asylum in the United States, was heart-wrenching," David says. "It taught me more than I could have learned in a classroom."
During his second year, David continued to perform immigration work through Gonzaga's Immigration Clinic and returned to the Nogales border the following spring semester. With a year of experience on his side, he was able to help other law students expand their impact on those in need.
Meanwhile, Gonzaga helped David connect with the Northwest Justice Project in Yakima, Washington, where he helped educate and empower immigrant farm laborers through numerous legal issues.
He was reminded of his own grandfather, Romualdo, who has also worked in the fields in extreme temperatures; it made David proud to be able to help others like his granddad.
Graduating in May and moving back to Phoenix, taking the bar exam in July and getting married in August to his sweetheart, Victoria – a nurse whose unconditional love helped him navigate personal, mental, and emotional difficulties often associated with law school – he was ready to begin his career as an immigration attorney in Phoenix for the Florence Project.
In the Beginning
David grew up in Phoenix with mom, Jovi, and dad, Rudy. After the children were well-established in grade school, Jovi opened a house-cleaning business and Rudy drove trucks for a freight company. Both parents worked hard to ensure David and his two sisters, Diana and Elizabeth, could attend college if they so wished.
David is the first in his family to earn a college degree, graduating from Grand Canyon University in Phoenix debt-free, as did Diana last December. Elizabeth is a GCU freshman this fall.
David has always been interested in laws so a career as a lawyer was the option that made best sense to him. He had heard good things about Gonzaga, was finally accepted, but wasn't sure how he would pay for his education.
"Then I got a call from Gonzaga saying they thought I'd be a great candidate for the Thomas More Scholarship and urged me to apply," David says. "I asked, 'When is the deadline?' and the caller said 'tomorrow.'"
That made for a quick turnaround, completing the application and finding another supporter to write a letter of recommendation that evening. His application at first was denied, but his mother continued to support his dream.
"All for one and one for all," said Jovi. "We need to work together as a team" and we'll get through this. God opens doors. Wait and be patient, she told her son. David's patience paid off. Another call from Gonzaga and a subsequent interview led to him receiving the scholarship.
"I was blown away," David says. "Along with the financial benefits (tuition waiver), it allowed me to engage with like- minded community service advocates who share my desire to serve others. This scholarship, my Gonzaga Law education and the connections it provided have given me a clear direction for the rest of my career."
Celebrating 'Firsts'
Margarita Esquivel Torres had worked as a financial adviser for five years before she entered law school at Gonzaga – a role she continued for another two years while a student. She figured studying business law would enhance what she could offer clients.
But something happened along the way. Maggie, as she's known, began practicing family law in September with Gravis Law, which has offices in seven states besides its 10 Washington locations.
Her "pivotal moment" came when she received the inaugural Lukins & Annis Law, Ethics and Commerce Scholarship, providing both financial assistance and a summer associate position at the firm in 2021.
"Lukins & Annis allowed me to get into multiple practice areas," she said. "Litigation was enjoyable and opened my eyes. I took a turn in choosing classes after that. I started exploring classes like Criminal Procedure."
Deemed an outstanding graduate by faculty and staff, the impression Maggie had made during her time at Gonzaga led to the law firm's scholarship. In addition to working in the Catholic Charities Immigration Clinic at Gonzaga Law, she volunteered as a student liaison for the Washington State Minority and Justice Commission and other entities focused on advancing diversity efforts in Spokane.
"We are thrilled to have Maggie be the first recipient of the Lukins & Annis scholarship," Mike Maurer, president, said at the time.
"As a first-generation law student, she has firsthand knowledge of the hardships that many like her face and will use her law degree to advocate for advanced education, diversity, and tolerance in our legal community."
Maggie is familiar with "firsts."
Born in Mexico City, she moved with her family to Othello, Washington, as a child and became the first in her family to earn a college degree when she graduated from Washington State University in 2011.
Studying in Florence last summer was her first trip abroad. She spent a month there with fellow Zags and students from other schools such as Idaho and Kansas in an experience she called "magical."
In another "first" of sorts, she came full circle to Othello during an externship working with the Adams County Prosecutor's Office in Ritzville, 60 miles southwest of Spokane. Maggie handled the District Court docket in Othello. "I decided to go out of my comfort zone," she said.
And the day she graduated from law school, her parents attended both that event and her younger sister's commencement ceremony at WSU. Their brother, the middle child, is a University of Washington graduate. Talk about proud parents!
Maggie has been an ambassador for the law school the last couple of years, taking many phone calls and emails from young women. She said she emphasizes "the type of community that GU is founded on" and "that we are provided the tools to go out in our immediate community and make a difference."
She also shared with inquirers that "our professors are really invested in us and try to make sure we get the most out of our education."
"Don't be afraid to give it a shot," she told them.
The Impact of Politics
Find the story about Sead Muradbegović and how politics led him to Gonzaga Law:
Academics
Alumni
School of Law
Gonzaga Lawyer