Hackathon challenges students to create solutions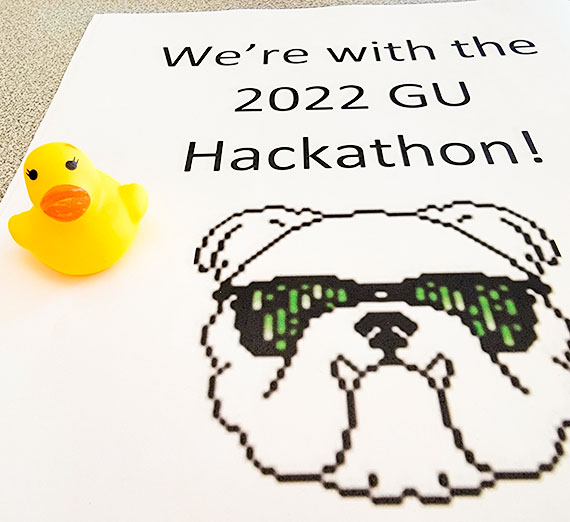 ---
When in doubt, talk to the duck.
This odd-sounding advice was a theme of the 2nd Annual Hackathon, held Oct. 15 by the Computer Science department with Gonzaga's chapters of Women In Computing and Association for Computing Machinery.
Each of the 100+ participants received a rubber squeak duck as an instant sounding board.
"When you get stuck with a bug or an issue, you tell the duck what the problem is; then look at [the code] you wrote, think of how you want it to behave, and it helps you get un-stuck," explained Aaron Crandall, Assistant Professor of Computer Science and event organizer. "Normally you'd have another person in the room, but people are expensive and hard to come by, so start with the duck."
Of course, teams had many more resources than just a duck. Computer science professors and professionals joined the Hackathon student staff in mentoring the various projects teams wanted to put together.
Teams didn't necessarily know what those projects were to start with. Each team brought an idea or a problem to solve, then talked it through with the mentors to bring that idea or solution to life - digitally, at least.
Most of the 85 team members came from Gonzaga, with a few participants from WSU, Whitworth, and area high schools. Teams and solo students scattered through the Paccar and Bollier buildings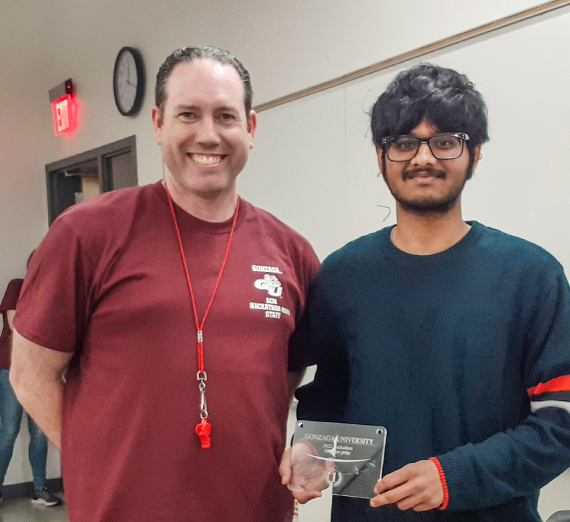 Judges chose GU sophomore Suyash Kushwaha, majoring in computer science, as the ultimate winner of the day.His project communicated data between two computers using short-range, high-frequency sound. One computer took text or pictures and turned that content into sound that was barely detectable by human ears. The other computer 'heard' the data with a microphone and displayed the content. This truly wireless and off-line technology is an inexpensive way to connect devices. Kushwaha developed his entire project during the event, including error checking and other features to make sure the data sent successfully.
Two judges represented the WSU Center of Advanced Studies In Adaptive System: research engineer Brian Thomas and Ph.D. student Chris Pereyda. The two other judges were Nicholas Cemenenkoff, a software engineer from Schweitzer Engineering Laboratories, and software engineer Harley Davis ('20, computer science).
Software engineer Evan Conrad ('18, computer science) gave a keynote presentation encouraging students to enter the tech workforce after graduation.
Thank you to donors 2Barrels, Schweitzer Engineering Laboratories, Crowdstrike, and the School of Engineering & Applied Science department of Computer Science.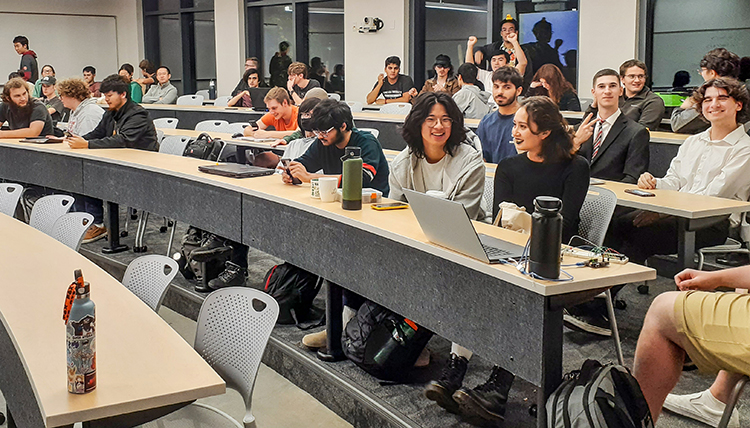 Above: Teams gather at the end of the Hackathon.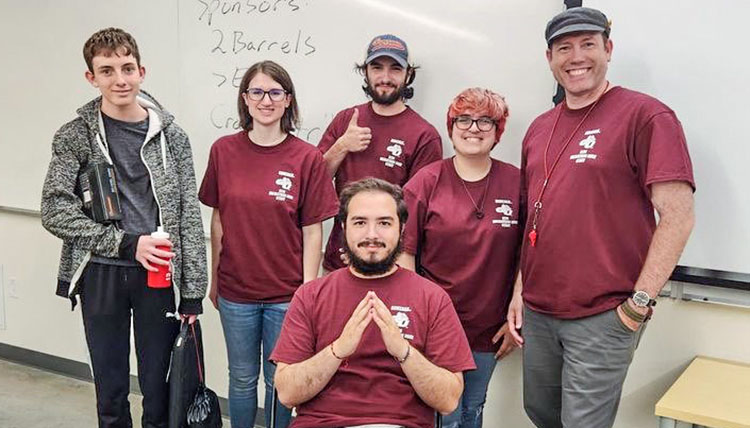 Above: Student staff join Dr. Crandall for a photo.
Students who made the Hackathon possible are seniors Linden Beemer, Sarah Hagen and Jonathan Smoley; juniors Nisa Meshal and Jesus Espinoza; freshman Jaxon Froderberg; and high school sophomore Perry Crandall.
More about Computer Science in the School of Engineering & Applied Science