Best Questions to Ask Your Tour Guide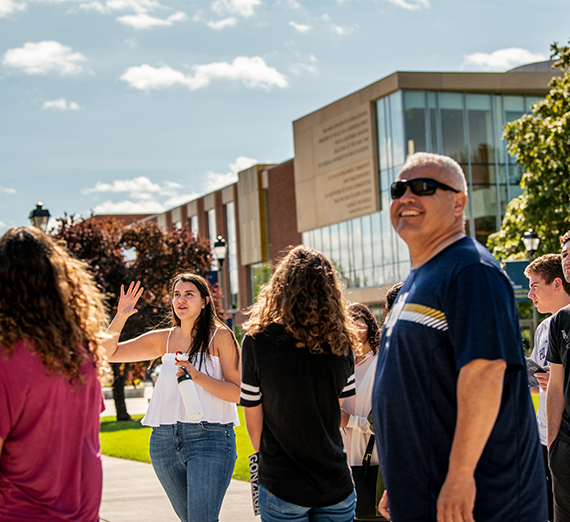 ---
Hello prospective families! Our names are Katie Rangel and Matt Braatz and we are two current student ambassadors hoping to give insight about how to get more out of your campus visit. We work in the Visit Office in addition to giving tours to prospective families. This upcoming school year we are also both serving as Ambassador Program Coordinators and are very excited to lead our ambassador team. Our goal is to make tours as personal and welcoming for each student and family.
Here is a list of some helpful questions that are some of our favorites to answer on a tour:
Why did you choose Gonzaga?
We love answering this question! Every ambassador has a different reason why they chose GU and allowing your ambassador to describe what drew them to Gonzaga offers such a cool perspective. It will help you relate to your ambassador on similar interests and values when choosing a college.
What does it mean to be a Jesuit university?
There are so many benefits of a Jesuit university and hearing about the core classes, community outreach, and holistic outlook tied to the Jesuit foundation is so important. Being able to hear the ways in which your ambassador has experienced the many facets of a Jesuit education may be able to help prospective families understand what the Jesuit mission looks like. It appeals to everyone for different reasons, so it is interesting to hear how each student ambassador has connected to the mission!
How does Gonzaga prepare you for post-grad?
Being a Zag means you are a Zag for life! Allowing your student ambassador to discuss how each relationship made on campus helps them excel in and outside of the classroom is very beneficial. No matter the discipline, each student has a special connection with faculty, staff, and alumni. Your student ambassador will be able to share many stories of how the relationships made in the Gonzaga and Spokane community contribute to immediate success after graduation.
Gonzaga's Career and Professional Development office (CPD) is also a great resource for students, both as students and as alumni.
What is your favorite

e

xtra

curricular

activity?
Our campus has so many exciting opportunities and resources for students to participate in! With so many different options, there is something for everyone to get involved in. GU has activities in athletics, student government, service, professional development, and so much more. Being able to hear what our student ambassadors participate in is an excellent way to learn about the culture on campus and begin to picture yourself at Gonzaga.
What is it like in Spokane?
Since Gonzaga's campus is so close to downtown Spokane, there is so much to do for students off campus. Downtown Spokane has so much to offer that each student ambassador will have their own unique and favorite spot in the city. With parks, restaurants, and active small business communities around Gonzaga, the opportunities to explore Spokane are endless!
When you arrive on campus as a freshman, you are immediately introduced to the many different opportunities available on campus. There are so many ways that students can find outlets to channel their passions. By asking your ambassador, you are giving them the chance to talk about what they did to be active with their interests, and that might just give you some ideas for your future!
What has been your favorite class?
Each student ambassador will have a different answer with a class specific to their major and one outside of their major. The core curriculum encourages all students to explore classes across disciplines and your student ambassador will have the opportunity to go into depth about how the classroom environment and faculty create an enriching and positive experience.
Lastly, a

ny question is a good question!